Improve Your Dental Hygiene
In honor of National Dentist Day on March 6, Dr. Joshua Austein of West Ridgewood Dental Professionals shares some tips you haven't heard before about how to best maintain your oral health.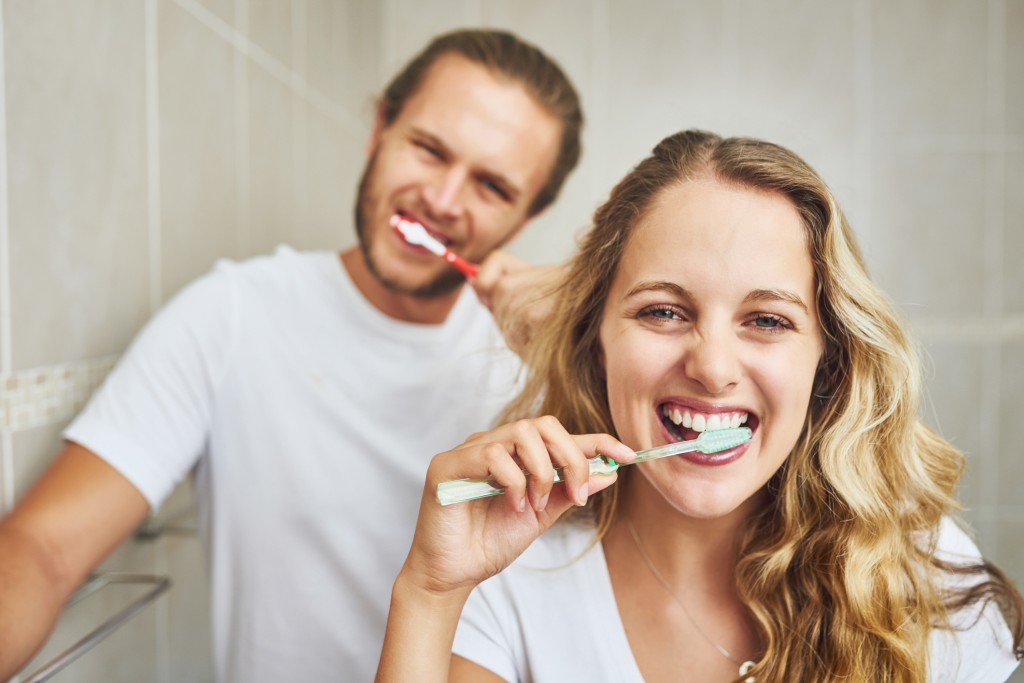 It's always a good idea to maintain your dental hygiene, which generally involves brushing your teeth at least twice a day, flossing daily and eating healthy foods that won't cause cavities. But it's especially important on March 6, National Dentist Day, to brush up—no pun intended—on the best ways to do so. So BERGEN asked Dr. Joshua Austein of West Ridgewood Dental Professionals in Ridgewood for some tips and tricks that you haven't heard before about how to maintain and improve your oral health, which in turn improves your health overall!
Pick the perfect toothbrush
A regular ol' toothbrush will get the job done, says Dr. Austein, as long as you replace it regularly, ideally every three months or as soon as the bristles look frayed or worn. But if you prefer the electrical variety, opt for a rechargeable toothbrush over a battery-powered one. "Electric-powered ones have power meters which show you when it is time to recharge if you do not leave it charging constantly," he says, "but you may not be aware that the battery-powered toothbrushes start to weaken gradually as the batteries die." FYI, electric toothbrush heads should be replaced at the same frequency of a handheld toothbrush, the doc advises.
Floss to improve your overall health
Yes, we all know it's imperative to floss to get at the plaque between our teeth, but did you know if you're brushing well but not flossing you may only be cleaning 60 to 70 percent of your tooth structure? To get to that ideal 100 percent, Dr. Austein recommends flossing minimally every 48 hours but ideally every day to maintain overall bodily health. "This is one small change that may take 30 seconds and will significantly decrease the amount of bacteria in our mouth, therefore decreasing the potential for this bacteria to systemically travel through our body and cause unnecessary inflammation," he says. "We need to remember that the mouth is a main entry point to spread bacteria."
Avoid certain foods—and load up on others
The Ridgewood doc says the key to preventing cavities is to avoid cariogenic foods, aka foods that promote cavity formation by dropping the pH level in our mouths. Some examples include "sugars, carbohydrates and carbonated beverages including bottled seltzer and seltzer made at home in the soda stream," he says. He suggests loading up on cariostatic foods, or foods that "don't decrease the acidity in your mouth and thus don't drop the pH level, which results in fewer cavities." These include "some soft cheeses, some yogurts, many plant-based foods and sugar-free gum or sucking candies."
Brush your tongue
People with longer tastebuds—or a "visibly coated appearance" on the tongue, advises Dr. Austein—may need to scrape their tongues more routinely since their tongues retain more bacteria than those tongues with a smoother pink appearance. "But brushing your tongue or using a tongue scraper is okay for everyone," Dr. Austein advises. Just ask your dentist if you're not sure where on the spectrum your buds fall.
See your dentist more than twice a year, if needed
The accepted idea of going to a dentist every six months for cleanings is not rooted in medicine at all—it came about in the 1900s by an advertising executive named Claude Hopkins, who created the saying "use Pepsodent every day, see your dentist twice a year." But the more regularly you get your teeth cleaned at the dentist, the more preventative and proactive you're being about avoiding issues such as gum disease. "There has been research and connections noted with people who have more gum disease having higher risks for heart attacks, preterm childbirths, uncontrolled diabetes or early onset Alzheimer's disease just to name a few," he says. "The mouth has millions of bacteria and we need to control the balance between the good germs and the bad."
For more dental tips, follow Dr. Austein and the rest of his practice on Instagram @westridgewooddental.