Improving Diabetes Care
Classes at SBMC's Center for Diabetes Wellness and Prevention are designed to teach patients how to manage and control Type 2 diabetes.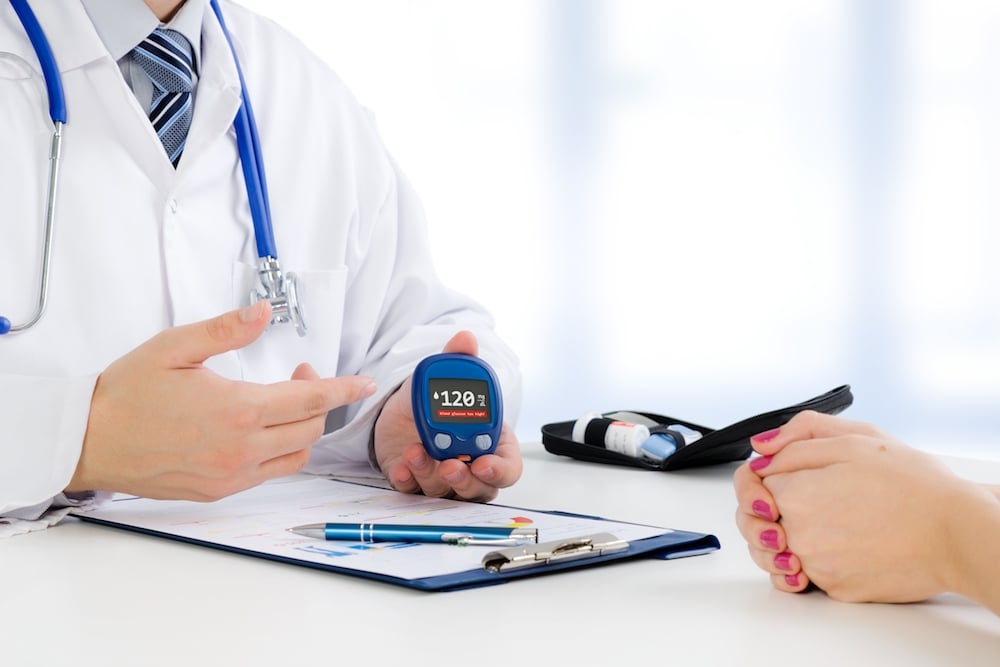 Type 2 diabetes is a disease that needs continual self-management and support in order to be treated successfully. Yet according to the American Association for Diabetes Educators, "fewer than 60 percent of people with diabetes have had any formal diabetes education." Research shows that people who have received diabetes education are more likely to use primary care and preventative services, take medications as prescribed, control their blood glucose, blood pressure and cholesterol levels and have lower health care costs.
Saint Barnabas Medical Center's Center for Diabetes Wellness and Prevention offers classes in self-management education and support, taught by certified diabetes educators who are specifically trained to work with such patients. Each group class includes eight hours of diabetes education taught over four sessions and a one-hour support group one month following the class. (Individual nutrition and diabetes counseling sessions are available as well.) Spouses and family members are welcome at no additional charge. Diabetes self-management education and support provides a foundation to help persons with diabetes navigate the decisions of self-care and has been shown to improve health outcomes.
Among the topics covered are:
How diabetes affects the body.
How diabetes medications work.
How to create a healthy eating plan and exercise plan.
How to use a glucometer and what the numbers mean.
"We teach each person with diabetes everything they need to know about how to manage their chronic condition," says Jennifer Meyers, a dietitian, certified diabetes educator and clinical coordinator for the Center for Diabetes Wellness and Prevention, located at Barnabas Health Ambulatory Care Center in Livingston. "We have fantastic outcomes in terms of blood sugar improvements, weight loss and improved quality of life. We help them stay well so they can stay out of the hospital."
The center has added a new program, recently approved by the Centers for Disease Control, called "Prevent T2." This is geared toward the estimated 86 million U.S. adults who have prediabetes, a condition in which blood sugars are elevated but not high enough to be diagnosed as Type 2 diabetes. Having prediabetes places patients at an increased risk of developing Type 2 diabetes without lifestyle intervention.
To be eligible for this year-long program, enrollees have to be over age 18 and overweight, based on a body-mass index (BMI) of 25 or greater (or 23 or greater for Asian Americans). "We have had three groups go through the program already, and have heard great feedback as well as positive outcomes from the program," Meyers says. "People love the group support and focus on disease prevention." The program requires weekly classes for the first four months, then every other week for the next five months, then monthly. Research shows this program can help participants with prediabetes reduce their risk of developing Type 2 diabetes by 58 percent.
Thanks to programs like these, Saint Barnabas Medical Center was recently named a Best Hospital for 2019-20 by U.S. News & World Report for Diabetes and Endocrinology. "We have put so many years of hard work into supporting this population that it's fantastic to be recognized for it," Meyers says.
*For more information, call the Center for Diabetes Wellness and Prevention at Saint Barnabas Medical Center at 973.322.7007.