Inoculations For All Ages
Keeping vaccinations current is important for adults as well as kids.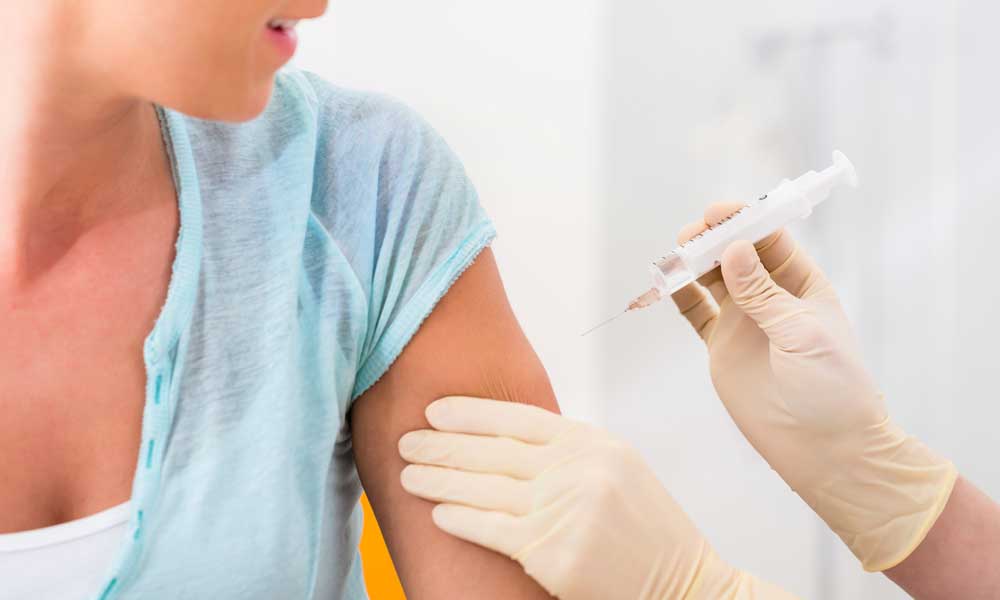 IT'S A COMMON MISCONCEPTION that vaccinations are only for the young. That's unfortunate, because there are a number of vaccines that help keep you healthy long after childhood. Discover the four vaccines adults shouldn't miss.
Influenza
You might not think the flu is a big deal, but according to the Centers for Disease Control and Prevention (CDC), the disease sends upwards of 100,000 people to the hospital each year. While the CDC recommends an annual flu shot for all adults, it's strongly advocated for adults over 65.
Pneumonia
The CDC also reports pneumonia is taking a heavy toll, resulting in about 18,000 deaths of older adults annually. Vaccination is recommended for all adults over 65 and also for younger adults who smoke, have asthma or a weakened immune system, or suffer from certain long-term health conditions.
Shingles
Shingles is caused by varicella zoster, the same virus that gives you chicken pox, and it can lead to a painful, blistering rash. Anyone who's had chicken pox can develop shingles, but it's more likely as we age. That's why the shingles vaccine is advised for adults 60 and older with a history of chicken pox.
Tetanas-Diphtheria-Pertussis
Pertussis, or whooping cough, was nearly eradicated in the U.S. thanks to vaccines, but it has returned in recent years, resulting in 48,000 adult cases in 2012. Adults should get the booster (Tdap) every 10 years.
Visit cdc.gov/vaccines/adults to find an Adult Immunization Schedule and make sure you're on track.
Test Your Flu IQ
Fall is a wonderful time of the year, full of leaf-peeping drives, tailgate parties and holiday feasts. Unfortunately, it's also the start of flu season. Take our quiz below and find out just how much you know about the flu—then tally your score and see where you rank in flu smarts.
1. Which of these symptoms is more specific to flu than a common cold?
a.Cough
b. Body ache
c. Congestion
d. Sneezing
e. None of the above
2. Which of these are good steps to implement to avoid contracting the flu?
a. Avoid infected individuals
b. Get a flu vaccine
c. Drink lots of fluids and maintain a balanced diet
d. Wash your hands often
e. All of the above
3. When you're exposed to the flu, how long does it typically take for you to become ill?
a. One to four days
b. One week to 10 days
c. An hour or two
d. A month
e. Instantly
4. Who is not among those at highest risk for developing serious complications from the flu?
a. Pregnant women
b. People over 65 years of age
c. People who work more than 40 hours per week
d. People with chronic illnesses like asthma and diabetes
e. Young children
5. Which of these are recommended to help avoid the spread of flu?
a. Cough or sneeze into the crook of your arm
b. Wash hands frequently with warm water and soap
c. Stay away from work if you have symptoms
d. Avoid touching your eyes, mouth and nose
e. All of the above
Your Flu Grade
How many did you get right, and where do you rank?
5: You're flu-prevention smart
4: Your flu facts need a shot
3: The flu is in your future
0–2: You have no clue about the flu
Key: 1. b; 2. e; 3. a; 4. c; 5. e
Protect Your Child
Talk to your physician about your child's vaccination schedule. Children need these regular vaccines:
• Chicken pox (varicella)
• Diphtheria, tetanus, and pertussis (DTaP)
• Hepatitis A (HepA)
• Hepatitis B (HepB)
• Haemophilus Influenzae Type B (Hib)
• Human papillomavirus (HPV)
• Influenza (flu)
• Measles, mumps and rubella (MMR)
"You should get your flu shot at the beginning of the traditional flu season, which runs from columbus day to memorial day. The vaccinations last for the duration but take about two weeks after the injection to begin protecting you—so the sooner, the better. once the weather gets colder and we start spending time indoors, the flu virus will spread more quickly."
— Gary Munk, Ph.D., director of Clinical Virology at Hackensack UMC
Did You Know?
Measles vaccinations prevented 15.6 million child deaths from 2000 to 2013. Vaccines can protect adults from 14 deadly diseases. 1 child dies every 20 seconds from vaccine-preventable diseases worldwide.