Instant Spring Glam
We asked interior designer Jennifer McGee of Ridgewood for her favorite spring finds.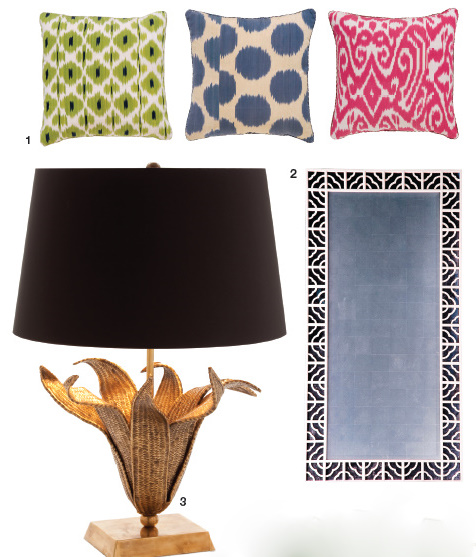 WE ASKED INTERIOR DESIGNER JENNIFER MCGEE OF RIDGEWOOD (KNOWN FOR HER FUNCTIONAL YET GLAMOROUS STYLE) FOR HER FAVORITE SPRING FINDS.
Perk up any piece of furniture with Ikat throw pillows, $450 each, by Madeline Weinrib, available in 76 dif ferent colors and patterns. ABC Carpet & Home, Hackensack, 201.641.3400.
"Floor mirrors are always on my 'must have' list," says McGee. "They add instant glamour and dimension to any room." Try the Anna mirror, $3480, from Julian Chichester. It has a bleached oak fretwork frame and an eglomise back. julianchichester.com.
In decorating any room, a key element is lighting. "I love the architectural leaf design of the Maize vintage lamp by Arteriors," says McGee. $1,575 at P. Smith & Co., Ridgewood, 201.670.3500.
Function meets fashion with heavy-duty indoor and outdoor rugs by Dash and Albert, which are washable and fade-resistant. Shown in a diamond pattern in lighthouse denim and white. Wostbrock Home, Ridgewood, 201.445.0807.
"With this fresh, bright lacquer color, I can't wait to sit in my garden!" says McGee of this Chippendale curved garden bench, by O'Brien Ironworks, $3,900. thewellappointedhouse.com.
"There's nothing like walking into your home and smelling the beautiful scents of lilies, peonies and roses," says McGee. Place small bouquets around your home in brightly colored vases like the peony vase in Hampton links, $58, by Jill Rosenwald. etsy.com/shop/jillrosenwald.
Take classic natural planters like the Devonshire urn from Elegant Earth, and fill them with moss or flowers for an architectural addition to your garden or entryway, suggests McGee. elegantearth.com.