Intensive care for troubled minds
In treating mental illness, a new program first in between hospitalization and weekly therapy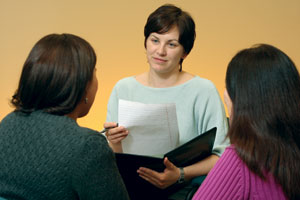 These days, if you suffer from a serious mental or emotional illness, you're most likely either hospitalized or going to weekly sessions with a therapist or doctor. Common sense suggests that there's a level of need in between these two situations, and IOPs intensive outpatient programs—have stepped in to fill it. This February, Monmouth Medical Center launched its own version, the Pavilion IOP, which provides 3 1⁄2 hours of therapy three times a week to help patients get their bearings—in many cases making rehospitalization unnecessary.
"Monmouth's program is for patients with mental illness who don't require hospitalization, but do need comprehensive care," says Jorge Cagide, administrative director of Monmouth's Behavioral Health Service.
As Stephen Theccanat, M.D., chair of Monmouth's Department of Psychiatry, explains, today's health care cost pressures make IOPs a timely innovation. Insurers are shortening covered hospital stays, and many patients with mental or emotional illnesses find themselves released from the hospital still needing a high level of care. The once-a-week visits provided by traditional outpatient programs sometimes aren't enough for them as they struggle to find the right mix of medication and counseling support they need to function.
"In the past, patients would stay in the hospital 30 days or more," says Dr. Theccanat. "Now it's just five to seven days. Then they find themselves waiting for outpatient care." It's no surprise that many of them wind up back in the hospital a short time later. But the IOP helps make such rehospitalization unnecessary in many cases. That means it's good for patients and for society's bottom line.
The Pavilion IOP now serves about 30 eligible patients. It provides care for all types of mental illness, including major depression (that lasting longer than four weeks that is not related to a traumatic occurrence such as job loss or a spouse's death), bipolar illness, schizophrenia, anxiety and co-occurring substance use disorders.
A team consisting of a psychiatrist, a nurse, social workers and administrators provides support for the program, located in the Alexander Pavilion. "We offer an array of services, including individual, group and family therapy and medication reviews," says Cagide. Therapy sessions cover mental health education, overall wellness and recovery, family issues, substance abuse and whatever else may be a contributor to the illness.
"It's like an acute cardiac rehab center, but for psychiatric patients," says Dr. Theccanat, who does the initial evaluation of each patient, sets the course of treatment and meets with patients weekly to manage their medications. The short-term program lasts six to 10 weeks, and then the patients are referred to the Pollak Outpatient Clinic at Monmouth Medical Center or similar programs in the community. "We want people stable enough to prevent rehospitalization," he says. "When they are better, they can move into a regular outpatient program."
Dr. Theccanat hopes to add staff so that the program can eventually handle up to 50 patients. "I think it's already making a huge difference," he says. "Our inpatient units are pleased to have a place to discharge patients safely. Patients are glad to be able to see doctors more often and be treated in a more acute manner. And the IOP also benefits our psychiatric screening service, providing a place to refer those who may not need to be hospitalized but do need a high level of care."
For more information on the Pavilion Intensive Outpatient Program at Monmouth Medical Center, call 732-923-6749. Anyone may come in for a mental health assessment without referral.