Interior Design: Shore Thing
Bring the beach home with tips from New Jersey designer Michael Maher.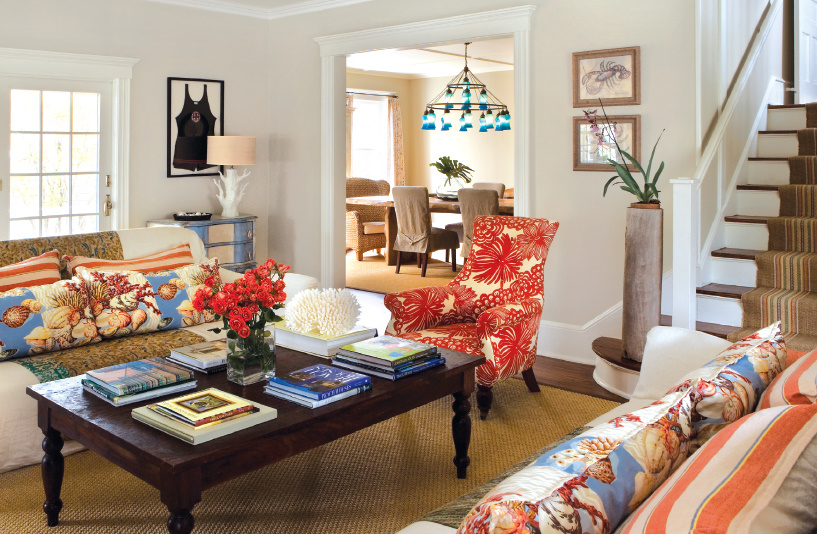 The owners of a six-bedroom, cedar-shingled summer home on the Bay Head waterfront (with access to the ocean on one side and bay views on the other) wanted to capture the casual spirit of the Jersey Shore when they updated the home's 1930s interior. So they turned to New Jersey designer Michael Maher, a friend they trusted to imbue the home with the upbeat vibe of the beachfront community they loved.
"We wanted a place that would exude casualness and warmth, where every element felt personal," explains the owner. Maher began by painting the kitchen, living room, dining room and entry the same soft-sand hue to give the smallish rooms continuity and an airy feeling. Natural colors such as seaside blues, white and coral punctuate the space.
When it came to furnishings, the owners had a wealth of romantic, vintage-inspired pieces to cull from: They are co-founders of the retail chain Anthropologie. Maher paired unique pieces from the store—like a shell-encrusted chandelier—with flea-market finds and family pieces for a space that says "seashore."
With a few décor tips from Maher, you can evoke the same sense of casual chic—whether you're looking to revamp a vacation home or add a beachy feel to your everyday residence. First, don't get caught in a color rut. While whites and blues are typically associated with beachside homes, there are plenty of other hues that can create a shore-like atmosphere. Maher recommends incorporating vibrant colors such as lime green, persimmon or aqua. Those going for a bolder look can use these shades on the walls or floors.
Maher is a big fan of painted floors—one beach home he designed contained a room with two-tone, aqua-hued stripes under foot, while another was done in turquoise and a deep persimmon with a woven yellow plaid rug as a finishing touch. Those looking for a more subtle statement can integrate bright hues into accessories— perhaps trimming a linen curtain in a chartreuse shade, for instance. Bright plaid and floral patterns also make great accents in the form of throw pillows or upholstery and require only minimal commitment.
To keep continuity in the feel, Maher also suggests that décor be kept light. Seek out furniture and accessories that have a natural feel—wicker, rattan, seagrass and linen, for example. Soft lines and rubbed, antiqued finishes offer a relaxed, unfussy feel. Skip heavy chandeliers and opt for simple lighting, like beautiful candlelit hurricanes or a fixture similar to one he installed in the Anthropologie home, which was crafted of translucent blue Persian oil lamps.
Though Maher creates all kinds of interiors, seaside homes are among his favorites to design. "You have a little more artistic license with these spaces," he says. "It doesn't have to be as serious. It's a destination and people want it to be different from their regular home— they're willing to go a little bolder." Follow his tips, and that comfortable, upbeat, beachy vibe can be yours.