Interior Design: The Natural Look
California sunshine, ocean blues and healthy living inspire a fresh interior in New Jersey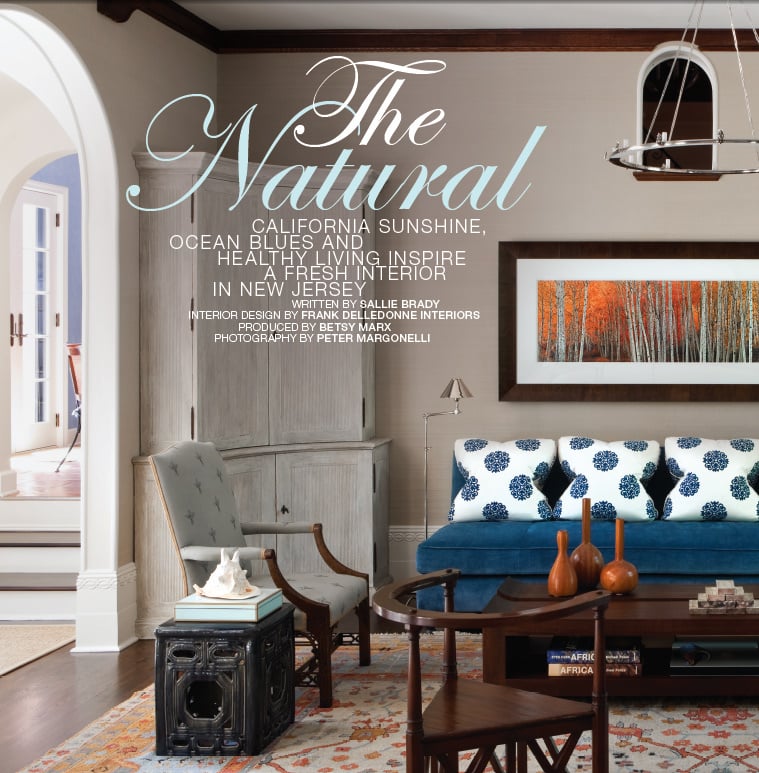 House-hunters Jennifer Barry and her husband, Michael, who lived with their three children in a Hoboken apartment, were determined to find the perfect home in New Jersey. When they pulled up to a 1930s Mediterranean revival, their real estate agent said, "This house really reminds me of Pasadena." "I knew then that we might have to buy this house," says Jennifer, "because I grew up right near there in San Marino."
The orange hue of the California stucco on the home's exterior, the small leaded windows and exposed wood beams in the living room and the rounded doorways throughout the house all looked wonderfully familiar to the Golden State native, and it wasn't long before the family was unpacking boxes. While the couple liked the bones of the 8,000-square-foot house, they felt it needed finishing. They also had to marry their tastes—hers was more traditional, his more contemporary. They wanted to work with an interior designer, but they didn't want the house to become stuffy or formal; they preferred to maintain a fresh look that took its cues from nature. "I love being outside by the pool or in the garden," says Jennifer. "I wanted bright colors to liven up the rooms and a lot of windows to let the sunshine in."
Summit-based designer Frank DelleDonne understood and went to work to interpret the couple's vision. He started by building up the Mediterranean flavor of the house, adding authentic wainscoting and architectural detailing where it had been lacking. His palette was inspired by coastal landscapes— golden yellow Venetian stucco for the dining room; ocean blues everywhere from the kitchen granite countertop to living room sofas and the powder room; and a delicious ripe cherry for the library to contrast with toasty white oak walls and the brown leather floor. A very fine oatmeal-colored hemp worked for wall coverings.
There was one design element, however, that the designer didn't dare pursue actively with the Barrys. "Jennifer was terrified of window treatments," says DelleDonne. "She is from California and wanted maximum natural light." His solution? Simple silk curtains for the living room. The environmentally-minded couple also wanted to try to use wood from the trees that had to be cleared for the addition to the home. "We wanted to make floorboards, but that didn't work," says DelleDonne. "Now we're going to make a table."
Accustomed to lots of outdoor activity, Jennifer also charged DelleDonne with creating a Mediterranean-style pool area and requested trees such as crape myrtle and Southern magnolia that reminded her of home. "I love being outside," she says. "I love gardening and always involve the kids. I play tennis every day—even in the winter—and my husband is crazy about running." "We were really able to redo this house to suit this modern family's lifestyle," says DelleDonne. The result brings some of the joys of California right here to New Jersey.
Click the gallery photos to view the home design.