Island Life
A quest for an island in a slightly too-narrow kitchen inspired a unique solution from one intrepid local designer.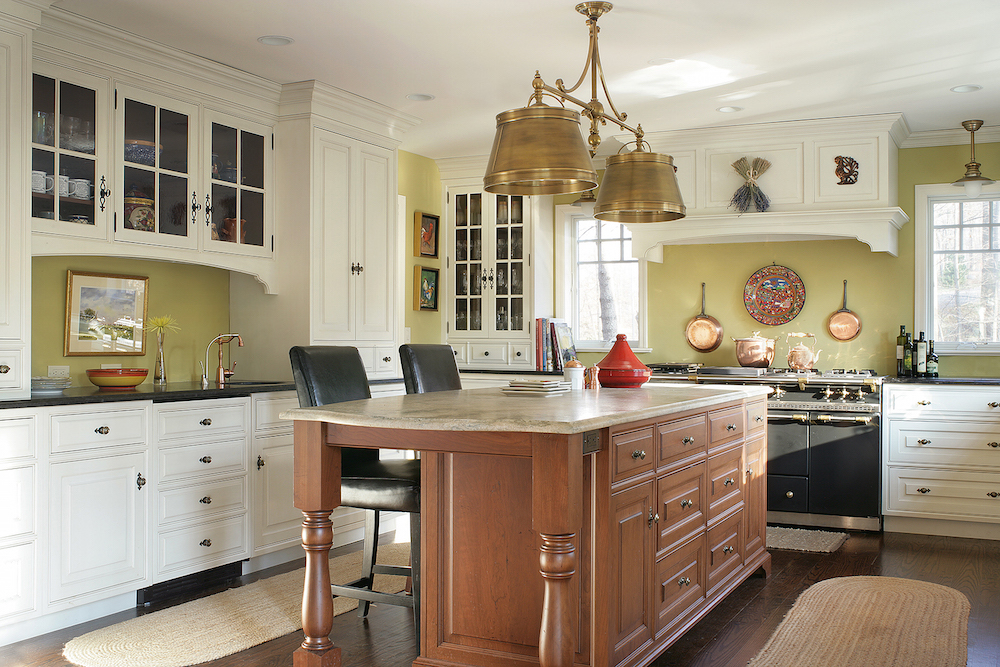 Design by Thyme & Place Design
Photography by Peter Rymwid
When homeowners in Franklin Lakes decided to redo the kitchen of their Dutch Colonial home, one of their main goals was to fit an island into the somewhat narrow space without having to build an addition. So when they saw the architect's initial design, they were disappointed that it featured a peninsula, which is what the kitchen already had. "I suggested a cantilevered bump out of about two feet, which would give them more space without having to dig a foundation," says designer Sharon Sherman of Thyme & Place Design in Wyckoff. "After that happened, everything else fell into place."
The sink area and built-in refrigerator were now back far enough to allow a beautiful island with a traditional furniture-like feel featuring cherry turned legs and a chocolate travertine countertop, in keeping with the design style preferred by the homeowners. Custom off-white inset cabinets, glass cabinet doors and a custom wooden hood over a Lacanche French stove carry the traditional feel throughout the space. "
The homeowners found that stove and fell in love with it, and I designed the whole room around it," says Sherman. "The kitchen has an old-world look because the homeowners have a lot of antiques and wanted to keep true to the Dutch Colonial feel of the home."
Another goal of the project was to bring in as much natural light as possible, so a large window was installed over the sink—in addition to French doors leading out to the back patio. "The seating area used to be the laundry room," explains Sherman, "so we moved the laundry room upstairs and were able to gain more space for the kitchen and access to the beautiful backyard.
Because of the abundance of windows, there aren't many upper cabinets, so Sherman designed a lot of storage in the island including peg drawers for dishes. "That's one of their favorite details," she says, "along with a built-in spice rack."
The lack of upper cabinets also allows the wallcolor, Timothy Straw by Benjamin Moore, to take center stage. "The homeowner liked the color so much, she didn't want a backsplash," says Sherman.
They were also thrilled to gain a second sink and beverage area along one wall. Faux drawers hide a beverage cooler below an antique brown granite countertop. "They have a large family and entertain a lot, and they love to be able to put drinks on that counter and food on the island," says Sherman.
A copper faucet, copper pots and pans, antique bronze knobs on the cabinets and a spun brass light fixture by Visual Comfort add character and shine.
The project took about three months, and the homeowners love it, says Sherman—especially the new island.