Jason M. Auerbach, D.D.S. (River Edge); Sung Hee Cho, D.D.S., MD (Westwood); Michael Perrino, D.D.S., MD (Englewood); Justin P. Richer, D.M.D. (River Edge)
Riverside Oral Surgery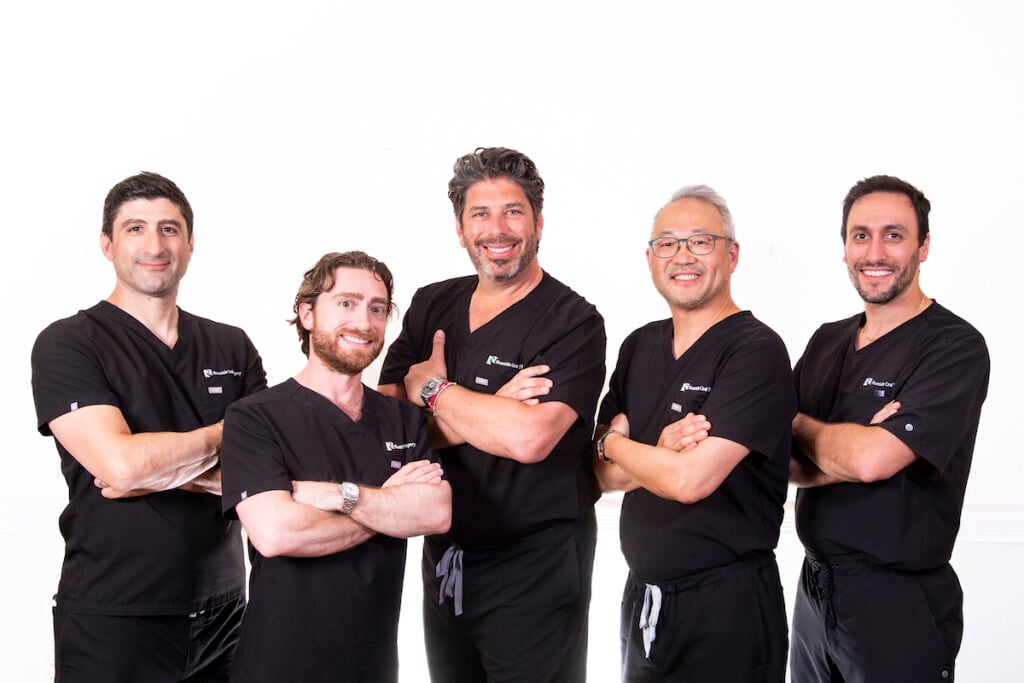 River Edge | Westwood | Englewood | Livingston | Edison | Chatham | West Orange | West Caldwell | Warren
In 2007, when he founded Riverside Oral Surgery, Dr. Jason M. Auerbach knew that in his hopes to create an unparalleled practice, that he would never compromise on one thing – always redefining and cultivating the optimal patient experience. Today, with the recent strategic partnership with Oral Surgery Group, the practice, now with 13 locations, is the preeminent full scope oral and maxillofacial surgeon-led specialty platform in the northeast.
With the profession experiencing a rise in consolidation through the growing involvement of Dental Service Organizations (DSOs) and private equity firms often prioritizing financial goals, Riverside Oral Surgery has stayed true to its vision by upholding its commitment to growth while never losing touch with its patients and to its responsibility to provide the latest in clinical excellence. Although there are certainly financial benefits to consolidation, the like-minded team of distinguished practitioners at Riverside maintain their focus on providing the highest level of patient care rather than being driven by the bottom line. Additionally, as the growing concern around the loss of autonomy and control mounts with the consolidation model, Riverside places a premium on surgeon autonomy and integrity, independent practice identity, and a comprehensive and diverse approach to oral care provided by fellowship-trained and board-certified specialists.
At the forefront of clinical and scientific innovations in oral and maxillofacial surgery, collectively, the specialists understand their responsibility to further the profession. In addition to a clinical practice, Riverside Oral Surgery provides professional skill advancement through its world-renowned training program and has developed an extensive CE program in partnership with the American Association of Oral and Maxillofacial Surgeons (AAOMS). As thought leaders for professional education, they share their expertise in the nuances of patient care, advancements in technology, cancer awareness, and why the integration of dental medicine into primary care and behavioral health leads to overall good health and wellness. In trailblazing the field, they lead conversations and encourage ideas; always doing so with compassion, grace and respect.