Jersey's Cherry Blossom Festival
Did you know that there are more cherry blossom trees in New Jersey than there are in Washington, D.C.? Visit Branch Brook Park for a Mother Nature production- the best show on earth.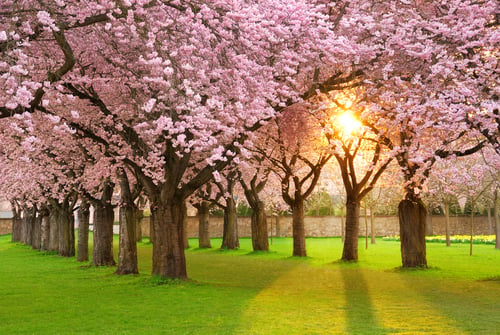 Cherry blossoms mark the beginning of Spring and have been prized for centuries in Japan for their magnificent and fleeting bursts of color.
Here in the States, most people think of Washington D.C. at the mention of the cherry blossom tree. But Branch Brook Park in Newark actually has more flowering cherry blossom trees than our nation's capital, and the most diverse collection of cherry blossom varieties than anywhere else in the world. Jersey's own festival attracts thousands of people each year. The 2012 Essex County Cherry Blossom Festival will be going on throughout the month of April and includes a bike race, fun runs, live music, Japanese festivities, food, activities, and a craft marketplace.
You can also skip the organized events and just enjoy a traditional cherry blossom viewing picnic with some family or friends. If you're going solo, then take the new self-guided tour with your smartphone by scanning barcodes at different locations in the park.
Cherry Tree Planting Campaign
The general public and business community can participate in a fundraising campaign to purchase and plant Cherry Trees in Essex County Branch Brook Park. Each new Cherry Tree can be purchased for $250 from the Essex County Parks Foundation, a 501(c)3 non-profit organization. Contributions to the foundation are tax-deductible, checks can be made out to "Essex County Parks Foundation" and mailed to the Essex County Parks Foundation, 115 Clifton Avenue, Newark, NJ 07104. Please write "Cherry Blossom Campaign" on the memo line of the check. Through this campaign and an aggressive planting program initiated by the County Executive, the number of cherry trees in Branch Brook Park has grown to 4,300.
Donations are being recognized in a "Cherry Blossom Giving Tree" located at the entrance of the Essex County Cherry Blossom Welcome Center. Donations of $250 are recognized with a leaf on the Giving Tree and donations of $1,000 or more are recognized with special plaques on the Giving Tree wall. Donors can choose to have their name inscribed on the Giving Tree or make the contribution in memory of a loved one.
Many of the original Cherry Trees planted in Branch Brook Park were donated to the Essex County Park System by the Bamberger and Mrs. Felix Fuld family in 1927. At its height, there were about 2,500 Cherry Trees in Branch Brook Park. According to the Branch Brook Park Alliance, the original Cherry Trees began to die because of old age and, in 2006, it was determined the original collection had diminished significantly. Essex County's original Cherry Trees are more than 85 years old, which is 10 years longer than the average lifespan. As the trees get older, they stop blooming and eventually decay.
The Essex County Park System was created in 1895 and is the first county park system established in the United States. The Park System consists of more than 6,000 acres and has 20 parks, five reservations, an environmental center, a zoo, Treetop Adventure Course, ice skating rink, roller skating rink, three public golf courses, golf driving range, a miniature golf course, three off-leash dog facilities, a castle and the Presby Memorial Iris Gardens. Branch Brook Park was created in 1895 and is the first park in Essex County's system. At 359.72 acres, it is the largest county park in Essex.
Related Read: Get Outside!