Jersey's Going To Pot
Legal cannabis is now a fact, and two-thirds of Bergen voters approve. But will the financial benefits go mostly to other parts of the state?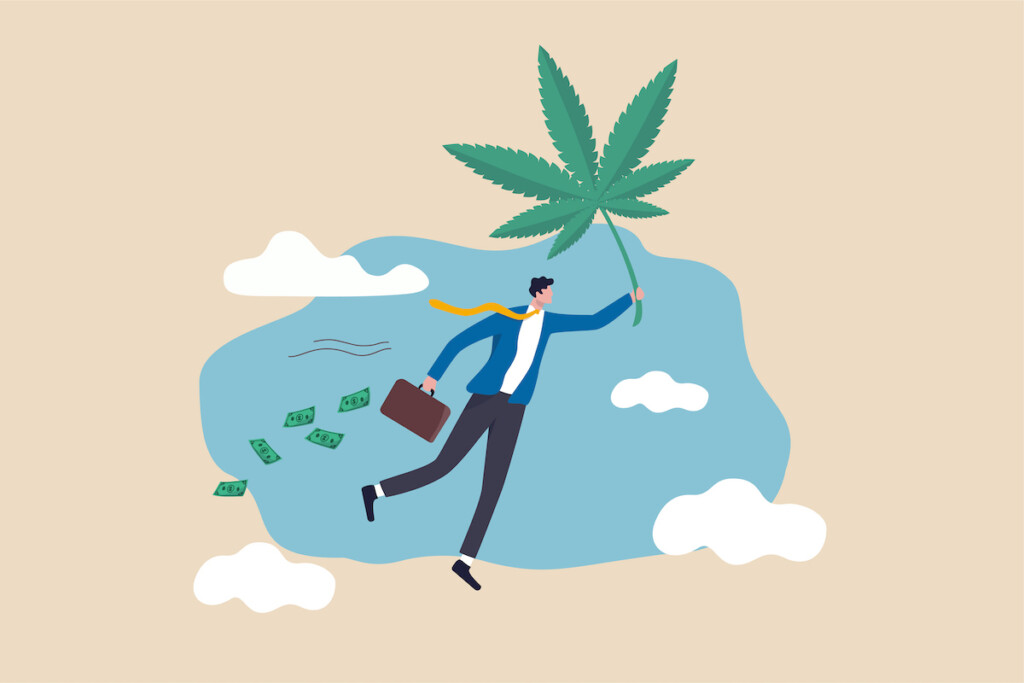 I'm not sure what I expected, but it wasn't this. Maybe something like the friendly local smoke shop—small, intimate, a place to pop in and chat with the amiable proprietor while picking up, say, a pre-rolled joint or a couple of gummies? Or maybe something closer to the head shops I remember from my youth: a jumble of bongs and rolling papers and back issues of High Times, but with legal weed thrown in? Instead, the first legal cannabis dispensary I visited—the Apothecarium on Route 17 in Lodi—was more like a cross between a specialty pharmacy and the gift shop in a high-end spa.
The floor was clean enough (as they say) to eat off—should the munchies strike. So were the shiny counters bearing designer dipsticks and gleaming glass jars filled with crumbly sage-green flower buds. The air was perfumed with something pleasantly floral, and it would be easy to miss the barely perceptible undertone of skunk. As upbeat pop music issued unobtrusively from hidden speakers, a half-dozen customers—all of them, on this weekday morning, grayhaired and grandparently—waited patiently in line to pick up their orders. I don't know who was in the cars steadily streaming past the drive-through windows, but I heard neither words nor beeps from any of them.
Welcome to the world of legalized cannabis—a world you may already know. A recent survey out of Stockton University indicated that 70 percent of New Jerseyans have purchased legal cannabis from a retail dispensary. The percentage of Bergen residents having done so may be somewhat lower, since there are, as of this writing, only four dispensaries in the county, one of them solely selling medical-use marijuana (Rise Paramus), the others dispensing both medical and recreational cannabis (Ascend Fort Lee, Ascend Rochelle Park and Lodi's Apothecarium). In fact, a year after cannabis became legal in New Jersey, most Bergen municipalities seem steadfastly opposed to allowing weed-based businesses within their borders, despite the fact that 66.5 percent of Bergen County residents voted to legalize marijuana in a statewide election in November 2020.
Like affordable housing, legal cannabis is popular in concept but not for most Bergen backyards, especially in the northern section of the county. Starting in 2021, all New Jersey municipalities were given the opportunity to opt either in or out of the legal marijuana business. "If they opted out, they could really opt in any time after that, so early on very few municipalities in Bergen opted in," says Gabriella Wilday, a Ridgewood resident who, with her father and brother, is in the process of opening Molly Ann Farms, a dispensary in Haledon in Passaic County.
One reason Wilday chose to open outside of Bergen: Haledon was more welcoming. "I think there's a tremendous willingness in Haledon to help drive a vibrant downtown community, whereas the towns that I looked at in Bergen County already had that," she says. "I really felt that, as a business owner, I could make the most impact there, not only because of the size—it's a postage stamp of a town—but also because of the willingness and passion of the local government."
That willingness, in Haledon and other weed-friendly communities, is driven in large part by the economics of legal cannabis in New Jersey, where municipalities reap 2 percent of the profits from any cannabis-based business— retail dispensary, cultivation or manufacturing facility or warehouse—that they host. Those profits are not inconsiderable. In 2022, sales of legal cannabis in the state topped half a billion dollars, rising from about $56 million in the first quarter to more than $177 million in the fourth. That may help to explain why less wealthy communities in the state's southern portion are more eager to support the cannabis industry than well-to-do northern counties like Bergen. And some towns, says Carol Rauscher, president of the North New Jersey Chamber of Commerce, are just more conservative than others. She notes that when Englewood's Greenhaus Boutique—a shop selling CBD and related products—opened, many residents were angry and alarmed, although in fact CBD (short for cannabidiol) is a part of the cannabis plant that doesn't induce a high. Perhaps not surprisingly, Englewood was one of the towns that voted to opt out of the legal marijuana business.
Bergen's prevailing not-in-my-backyard sentiment hasn't deterred every business owner from applying here. Jonah Smith, Joshua Perez and Joe Spiegel, for instance, founded the dispensary business Deo's Garden in 2021 with the intention of opening a retail dispensary in their hometown of Teaneck. "Early on," says Perez, "we were optimistic that that would happen. We got our letter of resolution from Teaneck in February 2022, and then we got our conditional license"—a temporary state permit that gives applicants 120 days to find a site and secure municipal approval—"in June. So we were moving fast; we were ready to go. And then the township slowed us down."
The area zoned for cannabis in Teaneck had seven potential retail spaces in it, but all were occupied by light manufacturing. They were told that their application couldn't move forward until after the next municipal election. After a series of additional setbacks, the partners decided to apply in Maywood, and they're hopeful the application will go through.
Like Wilday, the proprietors of Deo's Garden are independent owners, but that isn't true of Bergen's other dispensaries, all run by multistate operators (MSOs)—essentially, national franchises. And MSOs have a much easier job securing licenses, as they already have a track record of, among other things, complying with regulations. But one of the touted benefits of legal cannabis was helping those most damaged by the war on drugs—that is, minorities, who had a higher-than-average likelihood of being prosecuted for marijuana offenses—and the MSOs are currently crowding many of them out. Should Deo's Garden get the green light, it will be the only so-called minority-equity dispensary in Bergen County.
"I find myself wondering if the folks who designed the rules really wanted to create a fair, equitable and inclusive industry," says Spiegel. "Why should it take most of us one to two years and hundreds of thousands of dollars to get licensed? Most independent entrepreneurs simply can't afford this."
Of course, the climate in Bergen could shift, if individuals and municipalities become convinced that their fears of legal cannabis were unfounded. One Englewood resident speaks for many Bergenites when she worries that "retail storefronts could become a place for people to hang out and smoke on the street and just bring down the family feeling of downtown; they could also attract underage kids and encourage them to try the drug." Other objections are the fear that downtowns could end up smelling like midtown Manhattan, where the skunky odor of cannabis has replaced roasting chestnut as the city's signature perfume, and a fear that dispensaries will bring in unsavory "outsiders." On the other hand, Mike Morse, a resident of Midland Park who voted in favor of legalized cannabis, wouldn't mind a dispensary in his town. "Even though I don't do it anymore," he says of cannabis, "I'm a big proponent of it because I think it's much less dangerous than drinking. I guess it would be good if a dispensary weren't too close to a school, but otherwise I'd be OK with it."
Proponents of legal weed often cite the need for greater education about the realities of legal dispensaries and the benefits of cannabis. "Legal cannabis dispensaries have tested products that are safe and packaged properly," says Christine Ianuzzi, CEO of the Cannabis World Congress & Business Exposition (CWCBExpo), a Bergen-based business that sponsors an annual legal cannabis trade show at New York's Jacob Javits Center. "Once that can be established and communities can get comfortable with it, they might rethink their opposition." Robert DiPisa, chair of the Cannabis Law Group at the Hackensack legal firm Cole Schotz, says that "as each year goes by, cannabis is becoming less and less taboo. Individuals, their family members or close friends who have some kind of medical illness are treating it with cannabis, and that's starting to change people's minds."
By the time more of those minds are changed, though, it may be too late for many communities to reap the benefits of legal weed. "In the next five years we're going to see a significant amount of saturation in the market, and what's going to happen is that only those who are running a very lean operation are going to survive," says DiPisa. "As more dispensaries are opened and delivery service comes online, you may have to court one of these operators to open a dispensary in your municipality, instead of the other way around." In fact, cannabis delivery services may be allowed in New Jersey starting this summer.
There is a way for towns to rope in their 2 percent from legal cannabis without having to allow a dispensary within town limits, and that, says DiPisa, is to host nonretail businesses such as cultivation, manufacturing and warehousing operations. "They offer municipalities the tax revenue and the jobs without the negative aspects that they believe the cannabis will bring to their municipality," he says. "A lot of these facilities have no signage and look like any other warehouse within an industrial park. The odor mitigation has improved so much that they're indistinguishable from any other industrial facility. And sometimes I find myself scratching my head as to why municipalities, who need to continuously raise taxes on their residents, aren't considering these alternative cannabis uses."
Meanwhile, another cannabis business appears to be booming in Bergen County: the illegal weed trade. In September 2021, narcotics investigators busted an Englewood business called Dirty Jerzy Supplies that was operating as an illegal marijuana dispensary. A year later, the proprietors of the shop THC Jarz in Garfield were arrested for selling recreational weed without a license. Wilday believes that "the stronger the illicit market is, the more likely we are to see something other than cannabis in weed. And that really scares me."
She notes that legal cannabis is strictly regulated in New Jersey, and she's read the 900-page book of regulations that proves it. So far, though, those rules, which appear to be stringently enforced, haven't convinced most Bergen towns to open their arms—and their coffers—to the business of weed. And as that business is becoming entrenched in the state, their opportunity to do so may already have gone up in smoke.