Just Around the Corner: Spring Gardening
Local landscape experts tell how to bring back the lush beauty that's been awaiting you outside all winter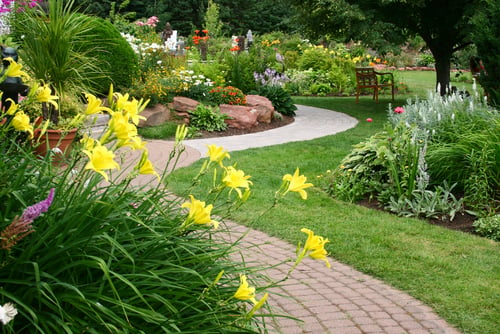 Spring cleaning isn't only about your home's interior. What's outside—from your garden to your pool—needs to be properly awakened from its winter slumber. Once you dig in, roll up your sleeves and get your hands dirty (literally), you can get your garden looking like something out of a landscape design book. Remember though, that sometimes gardening requires Zen-like patience. "You have to be careful in early spring," says Gail Tunis, garden designer and head of garden maintenance and design for Borst Landscape and Design in Allendale. "The weather can surprise you. We've had snow and frost in April." Once the temperature starts to climb, you can begin creating your outdoor sanctuary. Follow these 10 rules of (green) thumb from top landscapers in Bergen County to get your garden spring-ready:
1 SURVEY THE DAMAGE.

Put on your investigator's hat and inspect your property. "After a rough winter, it's important to check the integrity of things," says Chris Cipriano, president of Cipriano Custom Swimming Pools and Landscaping in Ramsey. "If you have a wooden deck, for example, check for mold." This is also a good time to see if there are any cracks in the swimming pool, dead plants or trees that need replacing, or anything else that is out of sorts after the snow and freezing temperatures. Once you know what needs fixing, you can devise a plan.
2 MAKE YOUR LAWN LUSH.

Grass does not start growing until about one month into spring, says Mitchell Knapp, owner of Scenic Landscaping in Haskell and principal of Tapestry Landscape Architecture, also in Haskell. Once the lawn has thawed, you should dry rake or use a power rake or thatcher to remove dead patches. Activate growth by applying fertilizer and crabgrass control, he adds, beginning around the third week of March and throughout April—roughly the same time the forsythia flower blooms. Looking for a natural product? Try Jonathan Green organic fertilizer for the lawn, which is 100 percent organic and safe for children and pets.
3 PRUNE PERENNIAL PLANTS.

Perennial plants survive the winter thanks to their underground roots. As they return to life, you should cut them back to promote healthy growth if you haven't done so already in the fall. Ornamental grasses, Russian sage, black-eyed susans and butterfly bushes are among the plants that should be pruned in spring. Timing is everything when pruning. Woody ornamentals such as lavender, for example, have to be cut back in late spring or you risk losing the plant, says Tunis. But take care: Improper pruning, such as cutting the flower buds off hydrangeas, is a common mistake among first-time gardeners, warns Knapp. When in doubt, go online and research your perennials to find out how and exactly when to prune each.
4 FERTILIZE YOUR PLANTS.

Now is the time to nourish your plants. These days, thanks to the "green" movement, there's more interest in composting than ever before. Using organic material from your own garbage (think eggshells and leftover salad) as fertilizer will work if you turn over your compost pile before applying it, says Cipriano. Another idea is to use animal manure from pigeons, horses or cows, which you can buy at your local nursery in a ready-to-use form. It's important to apply the right fertilizer for your particular plants and what you hope to accomplish. Tunis suggests Osmocote for balanced soil, Plantone for perennials and Perlite to prevent the reduction of soil pore space and promote root expansion.
5 PLANT AND TRANSPLANT.

When landscapers do spring cleanups, their clients often ask them to add a little color to their gardens, and you can do the same. Perk up your curb appeal by planting cool-temperature annuals, which can stand up to the frost, such as pansies, violas, primroses or snapdragons, says Tunis. Early spring is the perfect time to split your perennials, adds Knapp, to get more plants out of them and move them to other parts of the garden. " This is the window Mother Nature gives us," he says.
6 DEFEND AGAINST BUGS.

Even if you do not have pests in your garden, you may want to take preventive measures by applying pesticides. There are many options, from spraying a fine dust to adding ladybugs to control other insects. Two organic treatments to try are insecticidal soap and hot pepper wax spray. You can search online to find the method or product that is right for your garden and then follow the manufacturer's instructions.
7 CHECK YOUR SPRINKLERS.

Starting in the first week of May, water your garden for 30 minutes each day, in the early morning or in the evening. (In June, begin watering twice daily.) Your sprinkler clocks have to be set accordingly, and you'll want to make sure they're turned on and working properly. Switching to a low-volume sprinklerhead will help you conserve water, says Cipriano, who recommends a Hunter ICC clock, which adjusts the level of watering according to the weather.
8 MIND YOUR GUTTERS.

You'll be tempted to clean out your gutters at the very start of spring, but wait until around the third week in May after the pollen has fallen, says Knapp, because pollen clogs gutters. Then have them cleaned of debris and washed out.
9 IMPROVE LIGHTING, DECKS, AND PATHWAYS.

Re-stain wood decks, make sure pathways are free of limbs and debris left over from winter storms, and replace any light bulbs that no longer work. You might want to try fiber-optic spotlights, which can be placed in water features, too, and come in a variety of colors, says Cipriano.
10 PREP THE POOL.

Although early spring is too soon for a swim in this area, some people open their pools simply for the look of it. Knapp says he likes to open his in April. "You get to see what the water is like, if anything got in the pool over the winter or if any algae grew," he explains. "You can also test and adjust the PH levels well ahead of schedule, and you can use the hot tub if you have one." Cipriano recommends having your pool's special features such as waterfalls, fountains and infinity edges, plus drain covers, lighting and tile surfaces inspected annually by the builder or a pool professional. "If all aspects of the pool are inspected at the time of opening, small issues can be resolved so they won't become larger problems during the season," he says. Whatever you do, don't put off prepping your garden. "The earlier you get started, the better," says Knapp, "because if you wait too long, the good landscapers will be booked and the plants will be gone. By the end of winter, you should get the wheels in motion for whatever you want to do outside."
RELATED ARTICLES: Get some inspiration from these three glorious Bergen gardens.