Keep the Kids Safe This Winter
Safeguard your children in five kinds of outdoor play.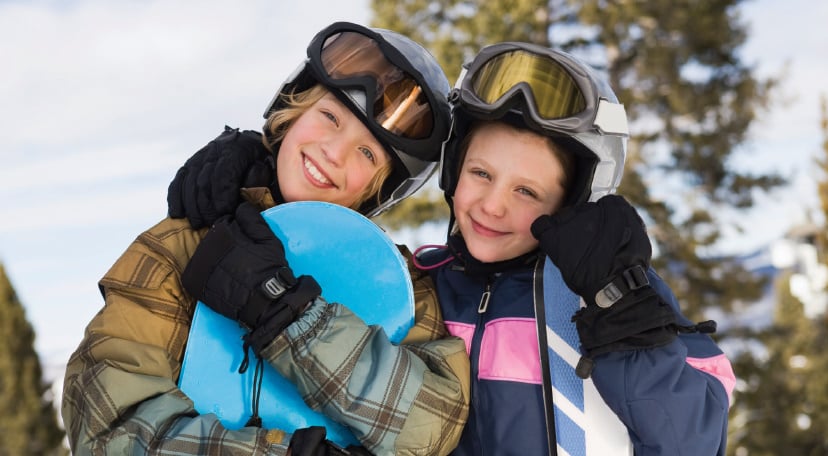 Whether your children get a thrill from racing downhill on a sled, doing figure eights on a frozen pond or catching air on a snowboard, they have plenty of opportunities for outdoor winter fun. For parents, the challenge is keeping them safe while they're out there. "There's no reason to avoid sports or outdoor activity during winter," says David Markenson, M.D., Chief of Pediatric Emergency Medicine at Westchester Medical Center. "In fact, the more exercise families can get together, the better. But it's important to have good supervision and the right location and equipment." First, make sure your kids stay warm. The American Academy of Pediatrics recommends they wear thermal long johns, a turtleneck, one or two shirts, pants, a sweater, a coat, socks, boots, gloves or mittens and a hat. Then coach them on safe steps to winter fun:
SLEDDING.
"The key to sledding safety is using the right sled," says Sharon Marino, R.N., Nurse Manager of the Pediatric Emergency Department. "Sleds should be 'steerable' and have no splinters or sharp edges. Inflatable tubes or plastic discs may be tempting, but they don't allow riders to steer clear of obstacles. We see a lot of children who lose control of whatever they're riding on— they hit a tree or a rock and end up with head trauma." Choose a sledding site that is not too steep; has no obstacles such as trees, bushes or rocks; is covered with snow, not ice; and ends with a flat runoff. Don't let children sled headfirst; never pull sleds with a snowmobile, truck or car and—finally—get a good helmet. "I insist my own kids wear helmets while sledding, which is recommended by the American Academy of Orthopedic Surgeons," says Marino.
ICE SKATING.
Never allow children to skate on frozen ponds that have not been tested and approved for skating by local police or recreation departments. "You can't tell whether a pond is safe just by looking at it," says Dr. Markenson. Also make sure your children wear the right gear. To be safe, ice skates must fit properly—while doubling up on socks is appropriate protection from the cold, kids shouldn't need extra socks to fill out a too-big skate, or squeeze feet into skates that are too tight. In addition, children should wear helmets. Wrist guards are also needed when they are learning to skate. Children playing ice hockey need all the protective gear official teams wear, including padding and a hockey helmet. And kids should never skate alone.
SKIING AND SNOWBOARDING.
"Children will be safer if they've been instructed in these activities before trying them on their own," says Dr. Markenson. As with other sports, safety depends largely on the equipment. Ski boots and bindings should fit the child's feet. Snowboarders should always wear knee and elbow pads and wrist guards. Helmets are needed to protect against head injuries, and goggles must be worn to keep the eyes safe from tree branches and other things.
SNOWMOBILING.
Younger children should never ride on a snowmobile, and no one under 16 should operate one, says Dr. Markenson. All snowmobile passengers should wear helmets designed for high-powered motor vehicles, not bicycle helmets. Always obey speed restrictions, and only snowmobile in areas designated for this activity. A good safety rule of thumb when you're driving the snowmobile and you have a child with you: the younger the passenger, the slower you should go. Finally, no matter what the outdoor activity, remember that the snow reflects the sun. So don't forget the sunscreen (SPF 15 or higher).
---
Protecting Children During the Coldest Weather
Ask Carey Goltzman, M.D., Chief of Pediatric Intensive Care Medicine at Maria Fareri Children's Hospital at Westchester Medical Center, who he worries about most in winter's cold, and you may be surprised: It's not the tiny tots.
"Babies and toddlers are usually well bundled up by their parents," he explains. "But some stubborn teenagers want to wear T-shirts when it's frigid out. My own kids used to make me nuts when they'd walk to school in shorts on a 30- degree day." And some teens experiment with alcohol, drugs or cigarettes—especially dangerous outdoors in winter because they impair the body's defenses against cold.
As Dr. Goltzman knows all too well, sustained exposure to very cold temperatures can become a serious medical issue if people—kids or adults—aren't properly dressed, are lost outdoors or become stranded because of car accidents or other mishaps. They can develop hypothermia (a core temperature of 86 degrees or less), which in the severest cases can lead to irregular heartbeat or even death.
A more common danger is frostbite, in which freezing of the fluid in body tissue causes cells to die. Frostbite—most common in the fingers and toes, nose, cheeks and ears—can cause the affected area to turn a bluish or whitish color and become numb or painful.
If you think your child has frostbite, warns Dr. Goltzman, "don't rub the frozen parts—you could make a bad situation worse." Instead, he says, bring the child into a warm place, remove any wet clothing, wrap the child in warm, dry blankets and wrap any discolored digits lightly in cotton gauze or gauze strips if you can. Remove any rings, bracelets or necklaces, as they may become constricting and cause swelling. If there isn't noticeable improvement in a few minutes, call your pediatrician's office or 911.
It's better, of course, to prevent hypothermia and frostbite in the first place. To do so, says Dr. Goltzman, make sure children dress in layers, wear double pairs of socks, don waterproof (not just water-resistant) shoes, cover their faces (except the eyes) and avoid not only alcohol, drugs and cigarettes, but also caffeine. Says the doctor: "It can cause vasoconstriction—tightening of the blood vessels—near the skin's surface, intensifying the effect of the cold."