Keep Your Kids Safe
The children's COVID-19 vaccine is here, but danger remains. Two pediatricians offer advice on making sure youngsters stay healthy this winter.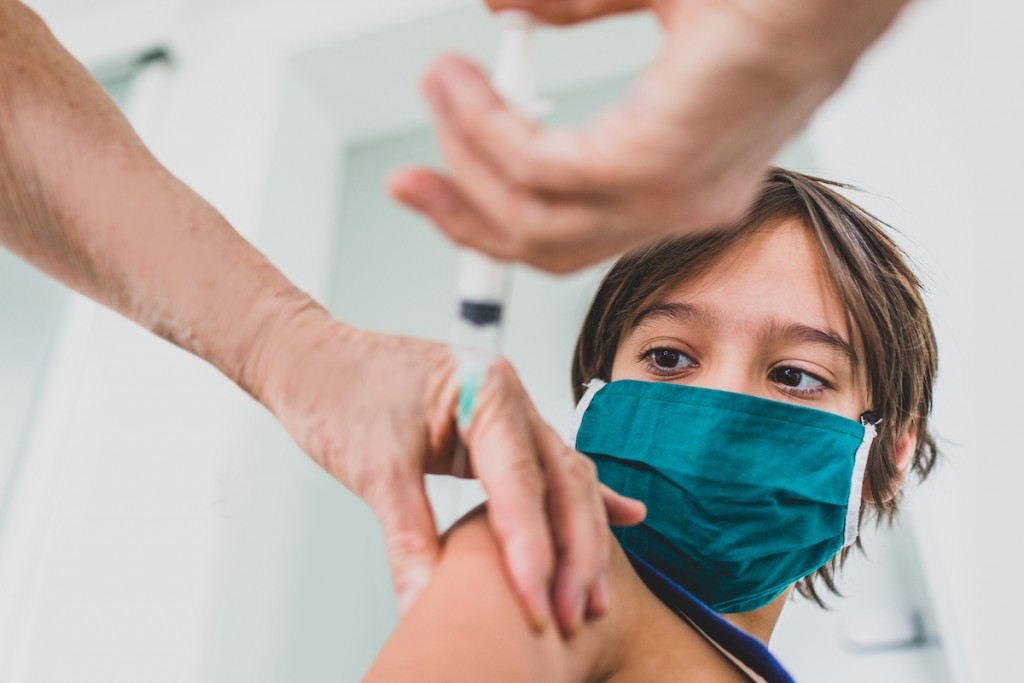 Tired of the coronavirus? You've got company. Unfortunately, though, the virus isn't finished with us, and we know that young people are vulnerable. Many parents with young children have renewed concerns as events and activities shift indoors for the colder months. It's especially worrying now, with holiday get-togethers in full swing.
Happily, the Centers for Disease Control and Prevention (CDC) eased some of those worries a bit last month, when it greenlit Pfizer's pediatric COVID-19 shots for the 5-to-11-year-old age bracket. The move opened vaccine eligibility to roughly 28 million kids in the U.S. and was good news for anxious parents. As soon as the CDC gave the go-ahead, many in Bergen County immediately began scheduling appointments for their children to receive the first dose at the area hospitals, pediatric offices, pharmacies and similar sites.
This doesn't mean, however, that we should let our guards down. Parents are urged to continue protecting their children, especially in indoor environments.
"Vaccinating children over age 5 is one of the best things we can do to keep them safe," says Harry Banschick, M.D., a pediatrician at Holy Name Medical Center in Teaneck. "We urge kids who are high risk—if they're obese, are immunocompromised, live in multi-generational families—to get vaccined first."
And Katrina Munteanu, M.D., a pediatrician at Broadway Pediatric Associates in Westwood, reminds us that kids who aren't fully vaccinated—even if they're around vaccinated family at their homes—are vulnerable at schools, for instance, because many might be around classmates who have been exposed. That's why well-fitting masks are still encouraged for the younger ages. "At this point, it's still recommended that unvaccinated children wear masks indoors," she says. "We don't know who else will be in a store or a movie theater—we still don't know who's been vaccinated and who hasn't."
And parents should still be cautious even if their kids have received the first of the two-dose COVID vaccine. Dr. Munteanu reminds moms and dads that everyone, regardless of age, must complete a five-week wait period (three weeks after the first shot plus two weeks following the second) until they are considered fully vaccinated. In other words, pediatric patients who received a COVID shot during the first week of November are not fully protected from the coronavirus until early to mid-December.
"Kids who just have the first dose have to be careful, as they can still get sick," she says. "They can take their masks off in outdoor settings, but inside at a theater or a restaurant, it will depend on how crowded and how ventilated the space is. If it's crowded, leave the masks on."
In high-transmission areas and places where kids may gather close together, such as daycare facilities, and on social occasions such as children's playdates and seasonal get-togethers with family and friends, masks are strongly recommended until all parties are vaccinated, Dr. Banschick says. The CDC also recommends taking precautions during in-person gatherings, as the vaccine is not 100-percent effective and breakthrough cases still occur.
"Holidays are going to be tricky because there will be individuals who are and aren't vaccinated," Dr. Munteanu adds. "Kids should be safe if parents and family are vaccinated, but it gets complicated when an unvaccinated person comes in. A lot will depend on everyone's comfort level, but it's best for children to leave [masks] on—especially around older grandparents and those who are at-risk—because family members can still get exposed."
Parents should also continue to teach children to wash their hands with soap and water for at least 20 seconds, use hand sanitizer that is 60-percent alcohol or higher and cough and sneeze into a tissue or into their arm or elbow, advises Dr. Banschick. Remind kids to dispose of tissues properly.
How else can parents mitigate risks this season? As in 2020, creating bubbles or pods with just families and close friends is an option. While it's not necessary this year, it's not a terrible idea, Dr. Munteanu says. But she cautions that even those protective environments can break down as people start to feel comfortable.
"It's not foolproof, but it's one way to help mitigate the spread of the coronavirus," she says of this tactic. "The virus doesn't have a conscience and doesn't select who it infects. So, the best advice we have is to get vaccinated if you can, wear a mask, wash your hands and use common sense."
Those precautions are also tried-and-true methods to avoid the flu and other contagious illnesses. With people's high vigilance about masks, distancing and sanitizing in 2020, the "twindemic"—flu season hitting when COVID was at its height—ended up not being a special extra burden last year. That might not be the case this year, as many who are vaccinated have eased their attentiveness. Dr. Banschick recommends that anyone eligible for a flu shot should get one.
By Darius Amos