Keeping Downtowns Vital
To maintain its distinctive quality of life, Bergen County must tackle the problem of empty storefronts. Some towns are trying imaginative solutions.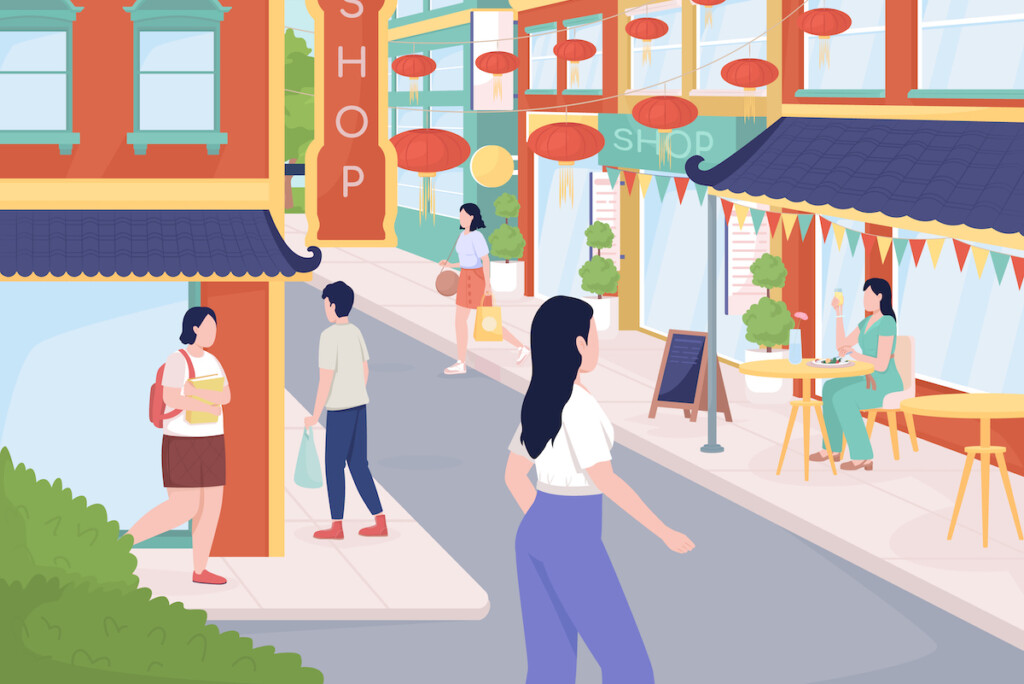 On a simmering Thursday afternoon in late summer, foot traffic on Rutherford's Park Avenue was virtually nonexistent. Still, you couldn't help noticing that this was a thriving downtown, as you passed music stores and a painting studio, a German bakery, cafés, several day spas, a taqueria, a kabob shop, a pancake house, a gorgeous French bistro and enough other eateries, high-end and low-, to satisfy what clearly must be a very hungry populace. A short drive to Union Avenue on Rutherford's west side, however, revealed a slew of vacant storefronts, their windows papered or soaped over or simply devoid of any sign that businesses might once have prospered there—or struggled, as the case may be.
In fact, a walk through most of Bergen's downtowns is likely to reveal similarly empty storefronts, with some towns doing a better job of filling them than others. The phenomenon isn't new—the small retail businesses that line main streets throughout the county have been struggling for years in the face of a number of factors that have changed the way consumers get their goods, from malls (now struggling themselves) to online shopping. The pandemic, of course, delivered the coup de grace to many small local businesses. Joanne Cimiluca, director of Bergen County Economic Development, says that "the governor's executive order closing businesses during the height of COVID for safety reasons unfortunately caused some businesses to close permanently due to loss of revenue during the time they couldn't operate." And she cites indirect effects of the pandemic as well, including inflation, rising interest rates, supply-chain issues and escalating rents, all of which have made doing business on Main Street a challenge over the past few years.
Still, downtowns aren't likely to disappear. They're not just a source of ratables for towns; they offer something that ordering a pair of socks or a Crock-Pot from Amazon simply can't: a sense of community. "Personally," says Louise Van Osten, president of the Ramsey Chamber of Commerce, "I think it's fun. It's always great to be able to walk in and out of shops and restaurants and see neighbors and know who the business owners are and develop relationships with them."
Thriving downtowns draw new residents as well as visitors, who spend money there and thus provide an economic boost. And the stores' power of attraction has a cumulative effect— make a planned visit to one establishment on an errand, and you may drop in on one of its neighboring stores spontaneously on the way— or the way back. Congenial, walkable downtowns help give Bergen an appeal that is lacking in suburban areas that boast only strip malls and parking lots—an appeal that, along with good schools, transportation and other services, supports residential property values. These are among the reasons why towns are working hard to fill their empty storefronts and keep ongoing businesses in place. Their efforts vary, from familiar methods of boosterism to new approaches that are actually changing the faces of the towns where they're applied:
IMPORTING CUSTOMERS
One of the most effective ways of attracting new retailers and keeping old ones from closing up shop is to place customers directly in their midst, as Hackensack has done over the past decade through the construction of a series of downtown luxury residential rental buildings. "There are thousands of brand-new luxury rentals available on Main Street," says John Peters, executive director of Hackensack's Main Street Business Alliance (also known as The Sack Business Alliance). "So right now we have a brand-new built-in market, and those folks are looking for new places to eat, to do takeout, to shop." Of course, this isn't an option for communities that lack the space and/or the public support to build apartments in the center of their downtowns. But like Iconic Coffee, the café that opened this summer directly across from The Brick, a new luxury rental high-rise, businesses may be more willing to move into an area where customers live and, these days, work among them.
GIVING STOREFRONTS FACELIFTS
In 2022, Fair Lawn began a pilot program to improve the facades of its downtown shops, offering eligible businesses $10,000 grants to improve signage and other street-facing elements. The grants cover both the cost of the construction and the initial design, whose purpose is to better communicate with shoppers what they're going to find beyond those storefronts. In addition, the improved facades are designed to attract new customers. And, says Fair Lawn Councilmember Gail Rottenstrich, "It sends the message that Fair Lawn is very supportive of its local businesses."
OFFERING FREE RENT
This year, Hackensack launched an initiative called Pop-Up on Main, through which prospective businesses can get two months' free rent in certain spaces. Most of these businesses, says Peters, will likely be looking to stay in those spaces long-term, though some may end up being seasonal pop-ups—shops whose wares are, for example, holiday-related, like Christmas decorations. The main impetus for the initiative, Peters explains, "is to connect entrepreneurs with landlords, and to get aspiring business owners to feel a little bit more at ease about opening." To reinforce that sense of comfort, the Main Street Business Alliance will walk would-be entrepreneurs through the entire process of starting a retail business in Hackensack, from securing a façade grant to promoting through social media and other marketing avenues.
MAKING REOPENINGS GRANDER
Grand openings, certainly, are a way to make customers aware that a new business has moved into the area. But in Rutherford, grand reopenings are equally important. If an existing business has changed its focus or expanded its fare, the town's chamber of commerce will broadcast that change with an official "grand reopening" celebration. Jennifer Ersalesi, executive secretary of Rutherford's chamber, cites the example of a pizza parlor that was on the verge of shuttering after the height of the pandemic. Instead, the shop decided to expand its menu beyond pizza and offer catering as well. The chamber arranged a grand reopening that allowed customers to sample the new menu items, check out the catering menu and meet the business owner and his employees.
DIVIDING TO CONQUER
Ridgewood has one of the most vibrant downtowns in the county, thanks in large part to some of the area's most popular restaurants. There are, says Tony Damiano, president of The Ridgewood Guild, very few empty storefronts in downtown Ridgewood, with the exception of large spaces that are 2,000 square feet or bigger, some of them former banks. "Most retailers," he says, "aren't going to take a chance and open a 3,000-square-foot store. And a 3,000-square-foot restaurant is kind of big, especially if you don't have a liquor license." But Damiano is currently talking with the owners of some of these buildings about subdividing them, which would make the spaces more appealing to new business owners who can't imagine sustaining the large rent that a large store would command. Another option, says Damiano, is to open a marketplace with multiple vendors in the more expansive spaces. He helped organize a warehouse sale with a variety of sellers in the old Capital One building—a 6,000-square-foot behemoth of a space—and though it was only a one-day event, he says it was wildly successful.
CALLING ALL CUSTOMERS
A more traditional method of boosting business, with the ultimate goal of keeping standing businesses in place, is to stage events that appeal to large numbers of shoppers and diners. For example, Celebrate Westwood, a nonprofit organization whose mission is to promote the town and its business district, sponsors regular events such as Music on the Avenues, a summer series that brings in buskers to perform throughout the shopping district. "Its goal," says Lauren Letizia, the organization's co-chair, "is to encourage increased foot traffic, lingering, strolling, shopping and outdoor dining." Similarly, Englewood's Sizzling Sidewalks promotion this summer invited local artists and artisans to sell their wares alongside the town's established retailers.
GOING HOLISTIC
Another reason that Hackensack's downtown is thriving, says Peters, is that it takes a "holistic" approach to its businesses and business districts. "It can't be done in little pieces—the city does its part and the alliance does its part, and nobody ever talks to one another," he says. A week doesn't go by, Peters reports, that he doesn't confer with the mayor, the deputy mayor, the city manager, the deputy city manager, the zoning department and the health department "to kick around ideas." One of those ideas became the city's Block Ambassador Program, in which every block in the downtown has an appointed business owner who's responsible for walking the block twice a month and reporting things that could mar the shopping experience—a broken window, a rusty railing, an unwanted sticker on a store window. When someone reported gum on the sidewalk, the alliance initiated a program in which all the downtown sidewalks were power-washed and workmen got down on their hands and knees to scrape up wads of gum.
RELAXING LOCAL ORDINANCES
To a local business owner, it can sometimes seem as if the powers that be are more interested in putting up roadblocks than in smoothing the road. Many towns in the county, for example, have ordinances that discourage or prohibit outdoor dining. But if the pandemic taught us anything, it's that people like to eat outside when the weather's nice. In Westwood, with that in mind, the Mayor's Economic Recovery Advisory group succeeded in passing a series of resolutions enabling an expansion of outdoor dining and shopping. "The governor's subsequent executive order relaxing local ordinance restrictions looked very much like what the Westwood mayor and council had already put in place," says Letizia. There's a lesson in that: If there's one move that can help downtowns thrive, it's giving the people what they want.