Keeping the Cook
A Franklin Lakes kitchen becomes a bright and airy visual treat for the homeowner, an artist who loves to bake. (It's practical too.)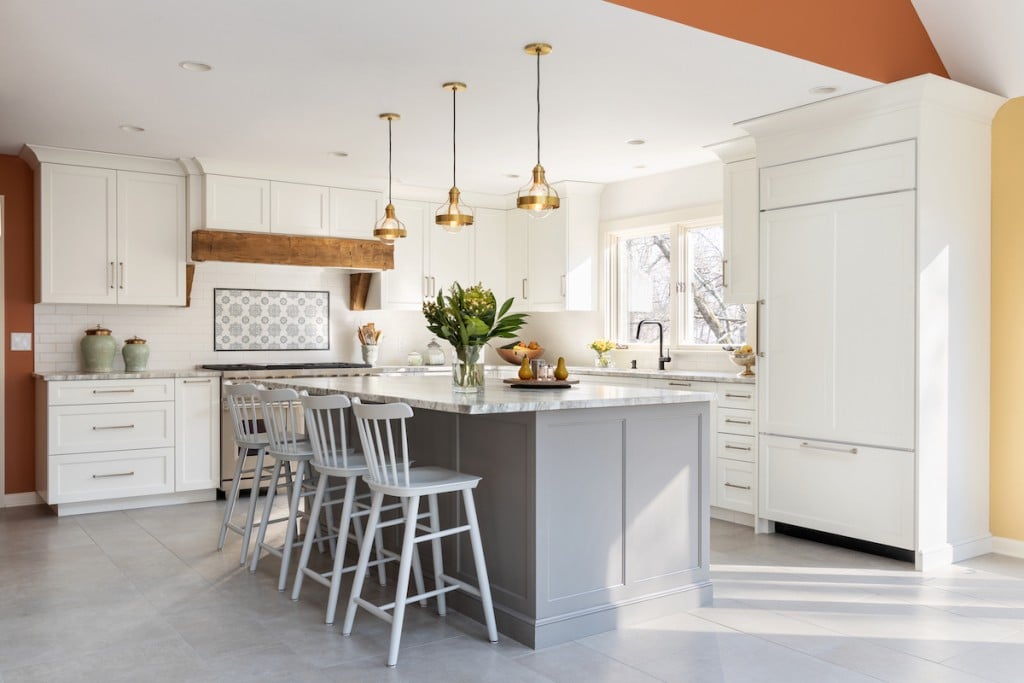 There's nothing an artist prizes more than light, and in the old kitchen, light was in short supply. So the Franklin Lakes homeowner, an artist trained in architecture, turned to designer Sharon Sherman of Thyme & Place Design in Wyckoff to create a kitchen for her family that was filled with light and other things the old space lacked: storage, hardworking appliances, enough room to entertain a large extended family, and that most elusive of aesthetic qualities, charm. The result was a kitchen with everything a devoted cook and passionate baker could want, in a space designed to please an artist's eye.
Even more impressive was the fact that Sherman and her team accomplished all this without expanding the old kitchen. Structurally, they removed two walls, opening the kitchen up to the family and dining rooms, raised the family room ceiling and installed a series of skylights. They also added a new sliding door to open up the view to the leafy backyard and all the sunlight it affords. With the confining walls gone, the area easily accommodates large gatherings. "So it's now this big, bright, light-filled area," says Sherman.
A deft use of color also helped brighten the space. While most of the cabinetry is white, the large island is painted a soft gray, and the wall behind the coffee bar is a deep, rich pumpkin, the color pulled from a vivid vintage poster that hangs above the bar. The bar itself is an ebonized maple that manages to reflect the light rather than absorb it.
The white subway tile backsplash might have registered as cold, but the designer added a black-and-white, marble-tiled inset in a pattern that reflected her client's fondness for all things Moroccan. "We didn't want a lot of color there," says Sherman, explaining her choice of dichromatic tiles, "because there's color all over the walls." She says she and her client were looking to add a touch that was at once simple, elegant and unexpected. The inset worked so well in the kitchen that they used the same tile on the fireplace mantel in the family room.
Another element balancing the white cabinets and subway tiles is wood, used in both an antique ceiling beam and the mantel range hood and its supporting corbels. "It's my twist on a farmhouse kitchen," says Sherman, who notes that her client wanted to add some rustic touches to the space to warm it up. The kitchen is also warmed by the honey-bronze cabinet hardware and the same finish on three pendant lights above the kitchen island and a pair of sconces above the coffee bar. And it's softened by the choice of traditional Windsor-style counter stools instead of something more modern and hard-edged.
Of course, even for an artist and her family, aesthetics aren't the only consideration. This is a kitchen that works—in every sense of the word. Extra-tall cabinets—as well as a dedicated corner cabinet for mixing bowls and colanders—and deep drawers hold all manner of essentials. There's pull-out storage for condiments and a microwave drawer that makes reheating a snap. And a spacious, glass-doored pantry houses staples, a full set of "holiday" dishes and oversized cooking and serving pieces. For the client, the pièce de résistance is a built-in mixer lift in the island, which also offers additional storage space. The coffee bar, which contains a refrigerated beverage center, provides even more storage for another set of dishes.
Surely a successful kitchen needs to accommodate more than just the accoutrements of food prep and dining. It needs room for people to sit, sup, cook and congregate. Here, in addition to an island that seats four, there's a large table and a dining room that's now open to the kitchen, all of that offering comfortable spaces to fit up to 20 diners. And for large cocktail parties, the newly connected family room easily accommodates a crowd.
Even the coffee bar offers seating, though on a much smaller scale. A single chair near the bar provides the ideal place not just for enjoying a morning jolt of coffee or an afternoon sip of tea, but also for reading and basking, thanks to the skylights above.
While most renovations on this scale present design challenges, this one, Sherman says, was a breeze. The only real challenge, she says, was to rein in the fertile imaginations of designer and client, the latter of which now calls the kitchen "my very own blissful space, a place that invites gather- ing and togetherness—and makes you smile." That description is proof that both the designer and her client/muse rose splendidly to the challenge, creating a space that makes cooking a delight and delights even the most discerning eye.
By Leslie Garisto Pfaff
Design by Sharon Sherman
Photography by Mike Van Tassell