Killer Kalbi
By Robert Austin Cho, owner, Kimchi Smoke, Westwood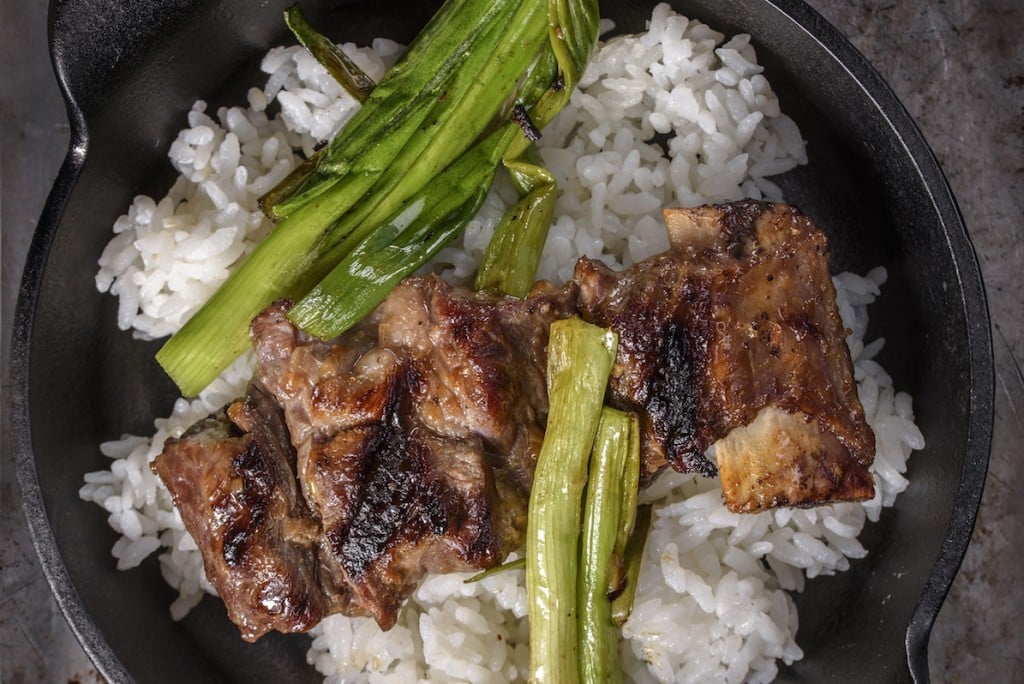 Yields 4 to 6 servings
INGREDIENTS:
4–5 lbs. flanken-cut short ribs
1⁄2 cup soy sauce
1⁄2 cup mirin
1⁄2 cup water
1⁄4 cup sesame oil
2 Tbs. sugar
2 Tbs. sesame seeds
2 tsp. ginger, minced
2 Tbs. gochugaru (red pepper flakes)
2 Tbs. garlic, minced
1 onion
3 scallion stalks, chopped
steamed rice, for serving
lettuce, for serving
kimchi, for serving
DIRECTIONS:
Cut and then grate onion in a food processor. Add 1 Tbs. of water. In a large, non-reactive mixing bowl, add all the other ingredients, onion purée and scallions. Add short ribs. Cover and allow the ribs to marinate in the refrigerator for at least two hours.
Heat grill for direct grilling. Place meat on the grill, turning every 2 minutes and making sure not to burn. Cooking time should be about 5-7 minutes. Allow meat to rest for 10 minutes before serving.
Serve with steamed rice, lettuce and kimchi.