Kitchen Visionary
A creative designer shows an Oradell homeowner a world of possibilities for updating the room where "everyone ends up."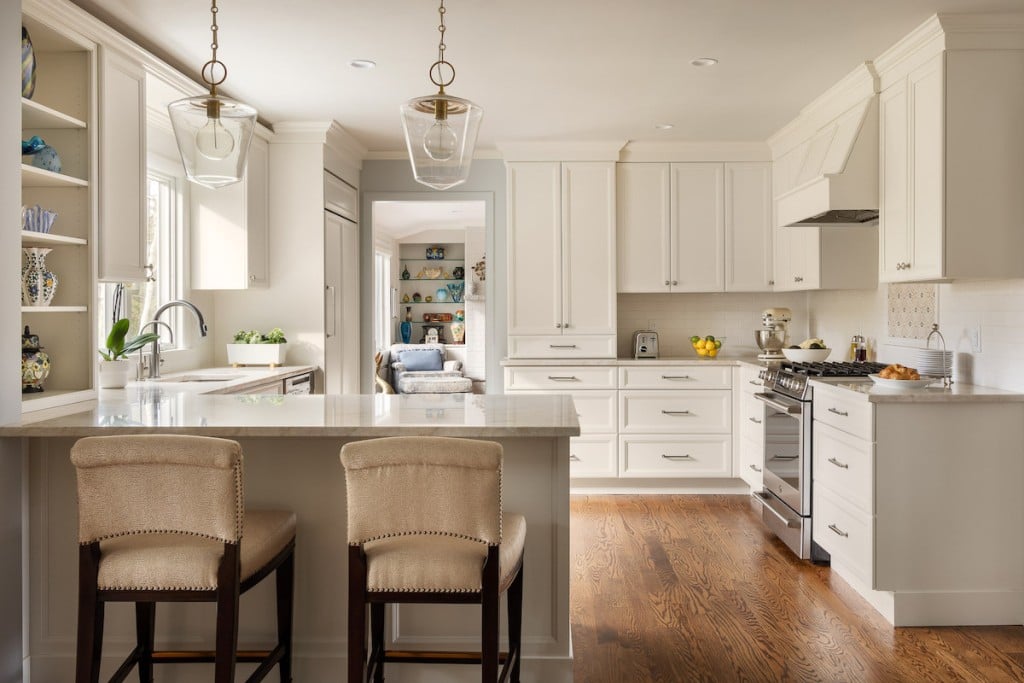 New countertops. That's all the owner of a 1958 Oradell ranch really wanted. And maybe a new backsplash. But when she contacted Sharon Sherman of Thyme & Place Design and began talking about the possibilities of her dated space, the project became a total kitchen makeover.
"Sharon just changed the whole vision of the room," says the homeowner, who grew up in the three-bedroom house and came home again several years ago to take care of her ailing mother. "She comes in and looks at the space and makes you think of things you never would have thought of. She is so creative."
The '80s-era kitchen previously had maple cabinets, peach Corian countertops and a beige tile floor that the homeowner hated. A wall of cabinets closed off the entryway from the garage into the kitchen, making the room feel small and enclosed. Sherman suggested removing that wall to open up the space and relocating the entrance door to the kitchen from the living room to accommodate the sink run of the cabinets. The doorway to the dining room would also be enlarged and a peninsula added, making the kitchen feel larger and function better for entertaining. "Sharon opened up my thinking to creating a much bigger and nicer space, and I'm glad I did it," says the homeowner.
Once the space was reimagined, design decisions had to be made. The homeowner knew she wanted the kitchen to be light and bright, but not too stark white. Sherman paired slightly off-white cabinets with Taj Mahal quartzite countertops for "a soothing feel that fits right in with the interior design of the home," she says. She chose a porcelain tile backsplash with a custom marble design behind the range and selected oak wood floors to add warmth and match the floors in the rest of the house. Slightly oversized pendants from Hudson Valley Lighting provide more warmth with their brass features.
One of Sherman's favorite parts of the design is the open shelves, which display a collection of blue glass. "I love that I get to look at my things from Italy and various trips every day and have nice memories," says the homeowner, "and it looks really beautiful." New appliances include a 36-inch Sub-Zero refrigerator, a Sharp microwave built into the peninsula and a wine fridge, because the homeowner loves to entertain.
"Everyone always ends up in the kitchen, and this new space with the peninsula has been great for having conversations," says the homeowner. "The whole room is much more open and inviting."
By Marisa Sandora Carr
Design by Sharon Sherman
Photography by Mike Van Tassell Architectural Photography