La vida locavore
The new oxford american dictionary defines locavore as a person who seeks out locally produced food.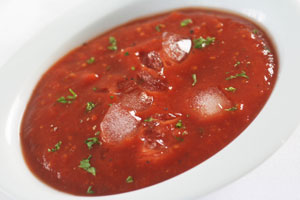 The New Oxford American Dictionary defines locavore as a person who seeks out locally produced food. And locals themselves can find such fare at D'JEET? (732-224-8887), chef/owner Casey Pesce's new haven for home cooking in Shrewsbury's Grove.
Pesce, a 30-year-old graduate of the American Culinary Academy and former chef at Rumson's Fromagerie, moved his eatery from smaller quarters in Middletown last August, but brought along a passion for recipes using local foods and seasonal ingredients.
"Our menu changes with the seasons," he explains. "For fall we've incorporated a lot of root vegetables and bitter greens, and we're doing more braising and slow cooking."
Casual yet elegant, the lunch menu features innovative burgers, wraps and salads, while the dinner menu skews to more substantial fine-dining entrées like "Gaelic & Garlic" short ribs and Clear Springs Rainbow Trout—dishes that clamor for a nice BYOB wine.
Patricia Supino of Middletown is a big fan of the chicken salad pita at lunch, going so far as to say it's the best she's ever eaten. "The freshness comes through in everything," she remarks, also noting that the daily soup specials are exceptional. "They certainly live up to their reputation, there's nothing run-of-the-mill about the menu.