Lakefront Living
This property on the water in Franklin Lakes turned out to be perfect—it just needed a brand new house.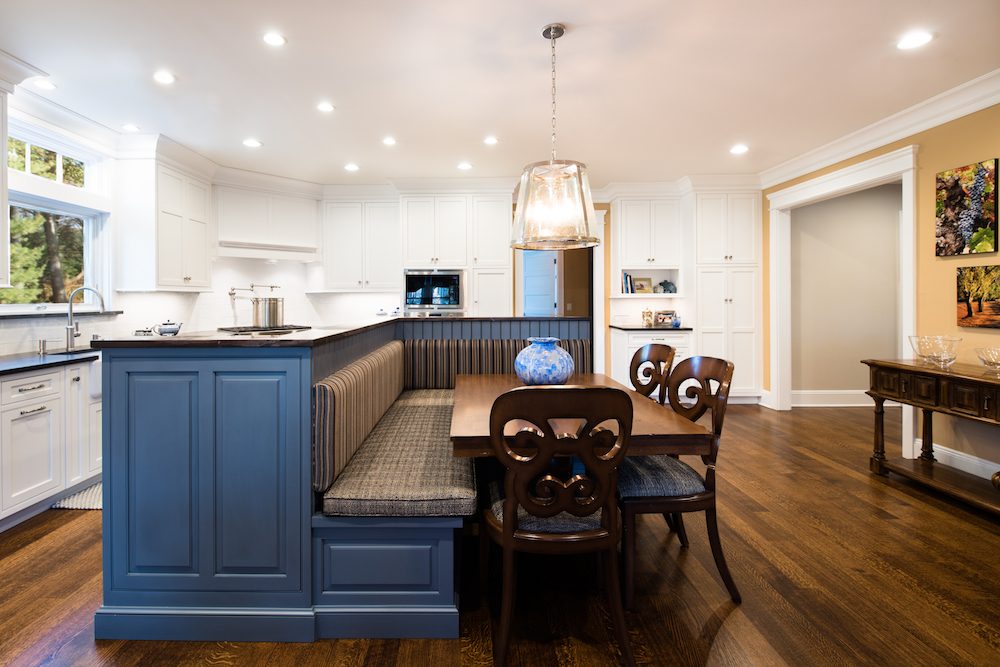 Design by Sandy Cabelis
Photography by Cara Polizzi
Busy professional Jani Hegarty saw a lot of potential in a large waterfront property she found on Shadow Lake in Franklin Lakes. Only problem? The 1960s ranch-style house that inhabited it was a "mishmash" of things she didn't love. So, after deciding to knock down the home and securing an architect, Hegarty hired Sandy Cabelis of Cabelis Interior Design in Montville to help her design a six-bedroom, six-bathroom traditional-style house fit for her needs and those of her grown children. Understandably, Hegarty wanted her new home to take full advantage of the serenity of the lake and truly celebrate the stunning property.
"When you come through the front door, you can see straight through to the lake in the back," Cabelis says. "She wanted the home as spacious as possible, with open entertaining areas and lots of windows so you can enjoy the whole space." The great room fills this purpose, with a custom "woodsy" concrete-topped bar in the corner, built-ins for both storage and displaying collectibles and a row of French doors that open to a porch with a fireplace, grill and phantom screens, perfect for waterfront hosting in the warmer months. And the kitchen, built by Kitchen Kaboodle in Hawthorne, is an entertainer's paradise too, centered on a custom banquette table, blue cabinets on the attached island and brown-gray quartzite countertops, which pay homage to the homeowner's love of wine country.
"This color combination reminds me of the shale mixed with warm earth found in many vineyards," Hegarty says. "The blue cabinets add warmth to the room."
In fact, design elements inspired by the homeowner's travels to California and Europe are found throughout the 5,800-square-foot home. There's a wine room off the kitchen, maps of Napa Valley hung on the walls and a nook in the master bedroom with a reupholstered antique wingback chair that's reminiscent of the delft blues of the Netherlands. "This strong blue-and-white print complements smaller elements in the home," she says.
The house is custom from top to bottom, and that meant incorporating a few other surprises. For example, there's a cozy window seat in Hegarty's daughter's bedroom, a fitness center in the basement and—at the suggestion of Kitchen Kaboodle owner Dan Holwerda—an outdoor shower beside it that the professional and mom loves to use post-workout.
The project took about two years to complete. That's not a crazy timeline considering it was a total knockdown, resulting in a modern, custom home that meets the owner's needs—and truly encapsulates her personal taste and style.
"Aesthetically the home is fresh and bright, but its warmth and energy come from the owner's personal belongings and the things that are sentimental to her," Cabelis says. Isn't it always that way?