Last Call
As winter winds down, there's no better time to hit the slopes: Deals and specials are being offered near and far, beckoning Bergen skiers to enjoy the great outdoors.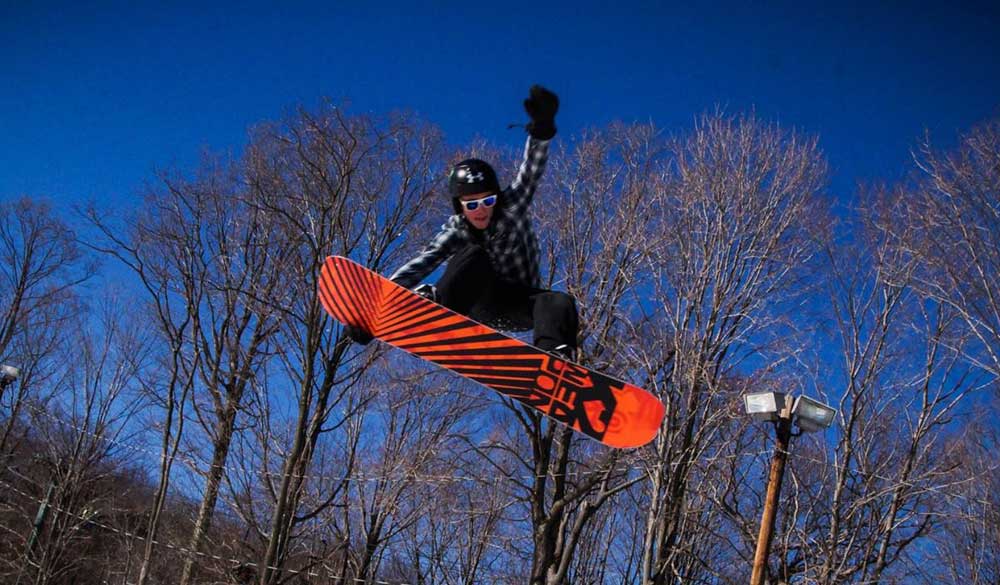 Tired of shoveling, dusting the white stuff from your car and driving cautiously during your evening commute? It's time to actually enjoy the snow!
Ski trips in February offer special benefits to those who can make them happen. In fact, this month is widely considered the best overall month to ski and snowboard: There is minimal risk of visiting a resort that is not fully open due to insufficient snow, and trail conditions are still chalky and winter-like rather than slushy and spring-like when mountains begin to warm.
So if you haven't gone downhill or slalomed yet, visit one (or two or three) of the following nearby resorts. They're all powder-packed with snowy fun for all ages!
Campgaw Mountain
Mahwah
Checking conditions at Campgaw in February is rarely necessary—just look outside the window! As Bergen County's only ski area, it's close enough that you don't need a lot of time to plan a trip: Just throw on a coat and go. It features a large course for beginners (lessons are available), two double black diamond trails for experts and everything in between, so there's a slope for every skill level. And if your local neighborhood hill has lost its luster, snow tubing at Campgaw is in full swing this month, providing thrills and spills (the fun kind, of course) for all ages. "My kids love snow tubing here," says Rutherford resident Jeannie Coady, 42. "They have everything we need, and it's a quick drive away."
Mountain Creek Resort
Vernon
Friends, families, couples and X-Games hopefuls drive an hour west of Mahwah to get an adrenaline rush at this bustling resort. A daily pass here is your ticket to eight lifts on four mountain peaks, each with trails suitable for all levels. Freestyle skiers and snow boarders head straight to the terrain park, where an assortment of moguls, rails, boxes and ramps await. Westwood snow boarder Seth Bryson, 28, travels to Mountain Creek because "it's a good course to do jumps and tricks—and it's not too far from home." The resort also holds a variety of events in February, including the Gate Crashers giant slalom race, the New Jersey Special Olympics Winter Games and the annual New Jersey Firefighters Ski Race.
Mount Peter Ski Area
Warwick, N.Y.
Macy's started the Mount Peter ski area in 1936 to show off the department store's ski apparel, and it's been one of the Empire State's most popular facilities ever since. Beginners can take advantage of free ski and snowboarding lessons, offered all winter long, while snowloving vets will get thrills on the 14 trails. "This has been my go-to ski area for several years," notes 46-year-old Mahwah resident Renato Villegas. "Many people prefer the larger mountains, but Mount Peter has a very friendly staff and an intimate feeling that my family loves." New for the season is the Quad Lift, a four-person chair that provides access to the beginner and intermediate slopes. A 600-foot snow tubing hill is open every day for all thrill seekers.
Hunter Mountain
Hunter, N.Y.
A two-and-a-half hour drive up the New York State Thruway leads to this historic ski destination. Renowned for its snow-making capacities—the facility was the first in the world to have 100 percent snow-making coverage of a mountain—this premier resort has 58 runs over 240 acres, including a pair of terrain parks for hot dogging boarders and skiers as well as a two-mile-long trail for marathoners. For those who aren't sure-footed, snow tubing and weekend ziplining over the snowy region is available. (Bundle up!) Various high school and college ski competitions fill the February schedule, but special programs like Ladies' Day (discounted prices for women every Wednesday) and the Kaatskillz Pro- Am Freestyle Event (Feb. 24) are open to all skiers.
Camelback Mountain Resort
Tannersville, Penn.
With 35 slopes covering nearly 170 skiable acres, it's easy to see why Camelback is one of the Northeast's winter hotspots. Nestled in the Keystone State's Pocono region, the mountain reaches an elevation of 2,133 feet and features the Nile Mile, a onemile trail that includes an 800-foot vertical drop. (Daredevils, rejoice!) Rookies and novices can catch their breath: Camelback offers ski and snowboarding lessons for all ages as well as the largest snow tubing park in the country. The resort hosts special weekend events throughout February, including the Boarding for Breast Cancer Fundraiser (Feb. 3), the Sam Adams 3D Air & Après Show with Olympic snowboarding bronze medalist Scotty Lago (Feb. 10) and the Freezin' for a Reason Polar Bear Plunge (Feb. 17).