Last Hurrah
The days are getting shorter, but there's still plenty of time to soak up some sun. Miles of beaches line the Jersey coastline, but there's much more to see than the ocean when you go down the Shore. Check out three of our favorites before brisk weather returns.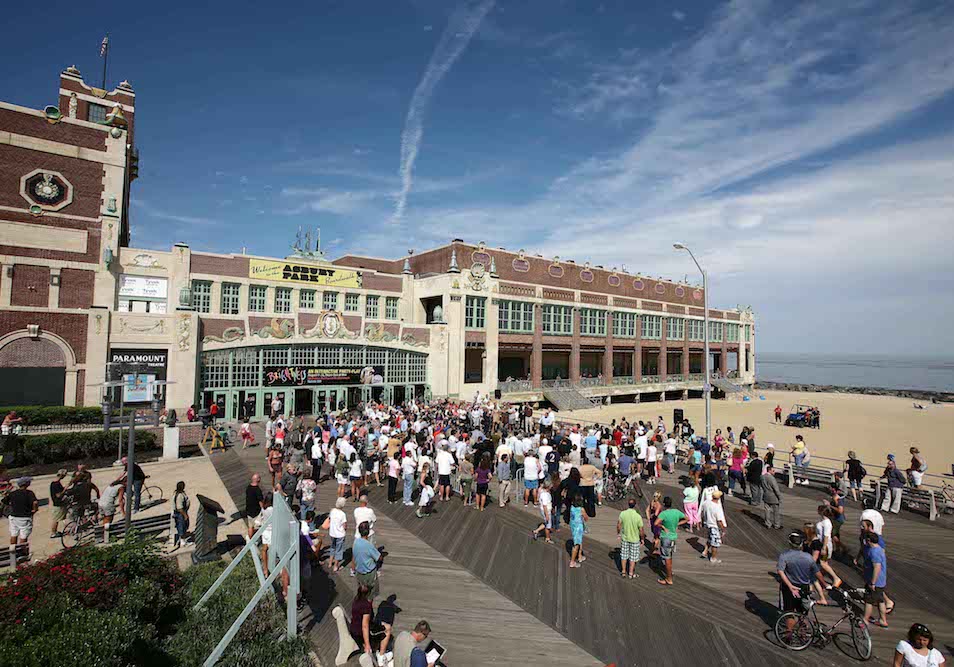 ASBURY PARK
DISTANCE FROM BERGEN: 1 hour, 20 minutes
DESCRIPTION: With a host of premier music venues, art galleries and streets lined with Queen Anne Victorian-, Gothic-, Federal Revival-, and Moderne-style buildings, this historic city along New Jersey's central coast has been a cultural mecca for a century.
BEACH FEES: $5 daily for adults, $7 on weekends; free for children under age 12.
BEYOND THE BEACH: The beach might rule by day, but at night you can catch a concert at one of the city's famous live music venues, such as Convention Hall and Paramount Theatre, both located on the boardwalk, and The Stone Pony, a legendary rock club that's hosted such greats as Bruce Springsteen and Jon Bon Jovi.
WHERE TO EAT: Live jazz, hearty Mediterranean-inspired cuisine, gorgeous views of Wesley Lake—you'll find this and more at the venerable Moonstruck (732.988.0123, moonstrucknj.com), a lively multilevel eatery on the south side of the city.
SANDY HOOK
DISTANCE FROM BERGEN: 1 hour, 30 minutes
DESCRIPTION: Once an important U.S. military base, this 7-mile-long barrier beach peninsula jutting into the Atlantic Ocean and Sandy Hook Bay is part of the National Park Service's Gateway National Recreation Area, which encompasses 26,000 acres of parklands in parts of New York and New Jersey. It features public beaches, salt marshes, a holly forest and numerous historical landmarks.
BEACH FEES: Free.
BEYOND THE BEACH: Discover the area's natural wonders, including more than 300 species of birds, on Sandy Hook's walking and bike paths and hiking trails. The Sandy Hook Lighthouse in the Fort Hancock district is the oldest standing lighthouse in the country.
WHERE TO EAT: Head to On The Deck (732.872.1424, onthedeckrestaurant.com) in the nearby town of Atlantic Highlands. There you can feast on the best food found on land and in the sea with views of the Sandy Hook Bay.
POINT PLEASANT
DISTANCE FROM BERGEN: 1 hour, 40 minutes
DESCRIPTION: This family-friendly town on the northern tip of the Barnegat Peninsula draws crowds with its sandy beaches along Ocean Avenue and the boardwalk filled with rides, games, food vendors and other activities.
BEACH FEES (JENKINSON'S BEACH): $9 for adults on weekdays, $10 on weekends and holidays; $2.50 for children ages 5 to 11; free for children under age 5.
BEYOND THE BEACH: Jenkinson's Boardwalk offers fun for all ages with a host of amusement rides and games, four dining facilities, three sweet shops and an aquarium where you can view Atlantic and Pacific sharks, penguins, alligators, seals and more. The older crowd can check out Jenks Club, a hip nightclub on the boardwalk featuring DJs and live bands.
WHERE TO EAT: Formerly known as the Sea Breeze Restaurant, Martell's Lobster House (732.892.0131, tikibar.com/seabreeze-dining) offers a variety of fine steak, seafood and pasta specials and stunning views of the Atlantic in a relaxed setting.