Laundry Room Upgrades with Cutting-Edge Washers and Dryers
SPONSORED CONTENT—Make laundry day brighter with a new washer and dryer designed to handle larger loads, get dirty clothes cleaner in less time, and use less water and energy.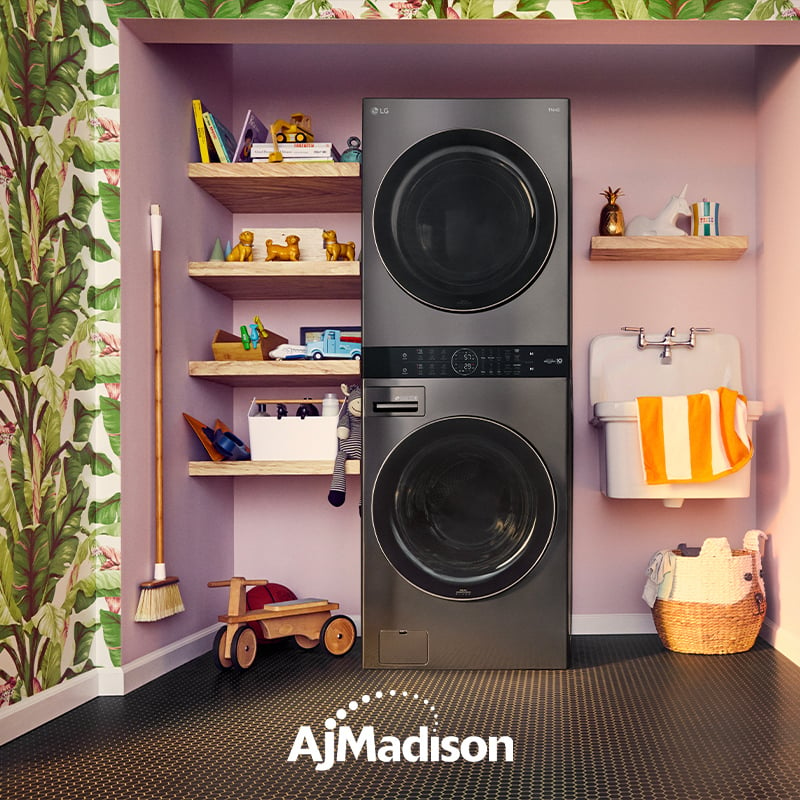 Explore laundry appliances designed to fit your lifestyle, space, and budget. At AjMadison find an incredible selection of in stock washers, dryers and laundry sets. Look for the Quickship icon for models in stock and ready to ship.
What's Trending Now?
Upgrade your washer with an energy efficient model and save money on your electricity bills. Energy Star ® labeled washers are 30 percent more energy efficient than the federal standard and use 50 percent less water. Energy-efficient dryers incorporate advanced moisture sensors to help reduce their energy use by automatically shutting off when clothes are dry.
To keep the peace, look for models with vibration and noise reduction features. Newer models offer special sensors to keep heavy loads balanced even at high spin speeds. This technology keeps noise levels low with fewer interruptions.
New washers and dryers are smarter than ever. Control your washer dryer set with your phone or smart speaker. With a smart laundry pair, you can initiate or stop a cycle, download new cycles, monitor cycle progress, and track the health of your machines.
Top Cycles for Brighter Cleaner Clothes
There are so many innovative cycles to provide the best cleaning results for every garment. Make laundry day brighter with these clean picks!
A steam cycle in the washer will power out stains. In the dryer, steam will release wrinkles and odors.
Washers with NSF Sanitizing cycles will eliminate 99.9 percent of microorganisms, including bacteria and viruses.
Dryers with moisture sensing detect moisture in the load and adjusts the duration for perfect drying results.
Quick cycles are fabulous for busy households and singles alike. Power through a small load or wash your favorite shirt in as little as 15 minutes.
Large Capacity Top Picks:
Washer and dryer drums are measured in cubic feet. Large capacity washing machines are greater than 3.5 cubic feet. For reference, a 4.5 cubic-foot capacity machine can wash 20 pounds of laundry per load, large enough for a family with two children or a king-size blanket. As a general rule, your dryer capacity is usually approximately double the size of your washer.
Naturally stacked, the LG WKGX201HBA Wash-Tower™ offers tremendous space savings. Unlike conventional stacked pairs, LG's exclusive Center Control™ panel is perfectly positioned at just the right height. Experience full size smart laundry in half the space. Equipped with AI and Smart Pairing™, the washer will automatically select the perfect wash and dry motions and temperatures for more advanced fabric care.
GE recently solved the problem of the front-loading washer smell. Keep your favorite garments clean and your washer smelling fresh for years ahead. The GE front loading washer dryer sets with the UltraFresh Vent System drain excess water from the washer gasket and dries the inside of the tub. Pre-load detergent into the machine to eliminate the guesswork in adding soap to your washer cycle.
Small Space Top Picks:
When tight on floor space, a stackable washer dryer can be a game changer. Compact 24-inch washers and dryers can fit in small corners, closets, and under kitchen counters. Most small space washing machines are smaller than 3 cubic feet of capacity, yet offer a wide range of cycles and features.
Beko 24-Inch stackable washers and dryers are energy efficient and built to last. A 2.5 cubic ft. washer can clean up to 14 large towels in one load. A fast spin speed results in less drying time and less energy used. Select from a super energy efficient ventless heat pump dryer or a vented model with a 2-year warranty.
Blomberg washers and dryers easily clean your garments and handle them with care. An organic wash cycle improves the performance of organic detergents. Both washer and dryer offer a sanitize cycle for a high temperature hygienic clean.