Leaders in Giving Back
Orthopedic Surgeon, James W. Cahill, M.D., is Honored to Provide Medical Care to Those Who Put Their Lives on the Line to Serve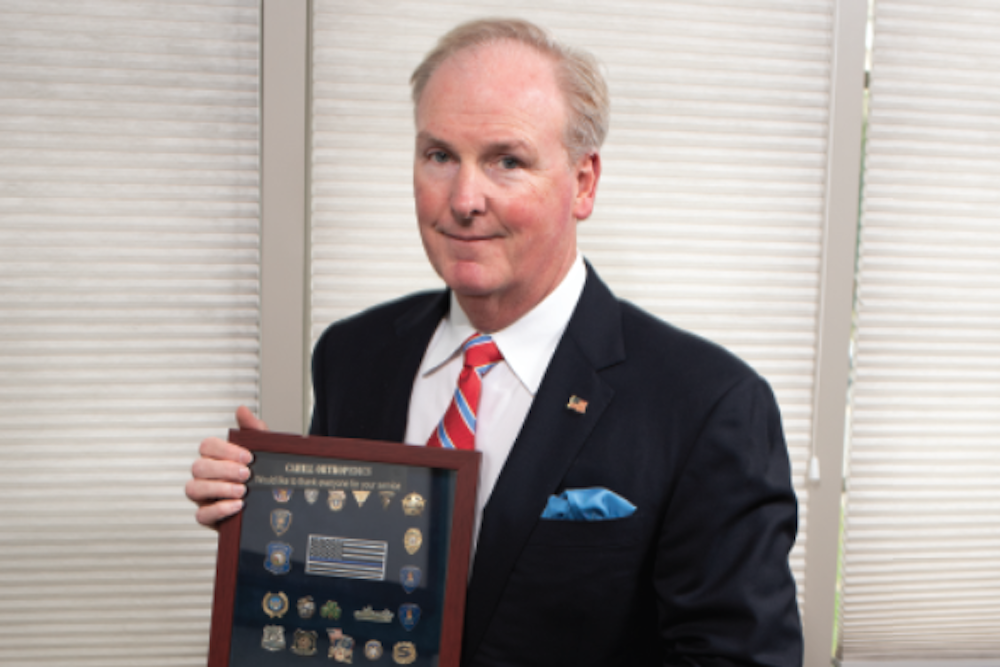 Dedicated to his profession and humble at heart, Dr. James W. Cahill, an orthopedic physician specializing in sports medicine and joint replacement, is a devoted supporter of those who protect our country both here and abroad. Growing up in a close-knit family with members who served in the military during World War II, Dr. Cahill became intrigued by our country's rich history. He quickly came to
realize that because of the sacrifices made by our military, police force and firefighters, we are able to live a life of opportunity and hope.
"We live in a country where we are allowed the freedom to pursue our dreams which in large part is granted to us through the selfless efforts of those who serve," says Dr. Cahill. "It's a profound gift which deserves our genuine respect and eternal appreciation."
The aftermath of 9/11 deepened Dr. Cahill's commitment and long history of philanthropy. His beloved brother, a Cantor Fitzgerald employee, was among the almost 3,000 victims of that horrific day. Recognizing with heartfelt gratitude the courageous first responders and men and women who were called to serve, Dr. Cahill felt a deep responsibility to aid in the medical needs of our vets and those in the line of duty.
To show their appreciation, the vets began offering their military unit pins to Dr. Cahill which he proudly fastened to his white lab coat. And so, as the caseload of veterans in need of medical care increased, so did the number of pins. Eventually the coat had no more room and the pins were transferred to a shadow box case displayed in a place of honor in the doctor's office. Dr. Cahill is also fortunate to provide orthopedic care to many of the police officers in neighboring counties and they too, bestowed upon him their official pins. Now two shadow boxes—along with a U.S. military hat and a New Jersey state trooper's hat—decorate his office and serve as a constant reminder that acts of kindness are rewarded with thankfulness and hope.
When Dr. Cahill's kindergarten teacher approached him about her son, an Army 82nd Airborne Trooper in need of two hip replacements, he was touched and honored. Joining efforts with Hackensack Meridian Health, Dr. Cahill successfully performed the procedures giving the patient the chance to pursue his career as a tradesman and participate as a functioning member of our society. "In thanks, the gentleman awarded me his original jump wings, but it was I who felt extreme gratitude in helping someone willing to sacrifice for the good of our country," remarks Dr. Cahill.
The Bergen Volunteer Medical Initiative (BVMI), a volunteer not-for-profit organization providing free primary and preventive medical care to low-income working people in Bergen County, also benefits from the skilled hands and kind heart of Dr. Cahill. "My charitable work continues to be without a doubt one of the most invigorating and fulfilling parts of my practice," Dr. Cahill adds. "I thought long and hard about becoming a military pilot, but for very personal reasons pursued a career as a surgeon. To this day, it's the efforts I make to help those who put their lives on the line everyday that motivates and gives true meaning to my work."
JAMES W. CAHILL, M.D. GIVING BACK
87 Summit Ave., Hackensack, NJ 07601 | 201.381.4688 | CAHILLORTHOPEDIC.COM