Let There Be Light
When a small, dark Edgewater kitchen was in desperate need of a facelift, a Wyckoff designer devised some bright solutions.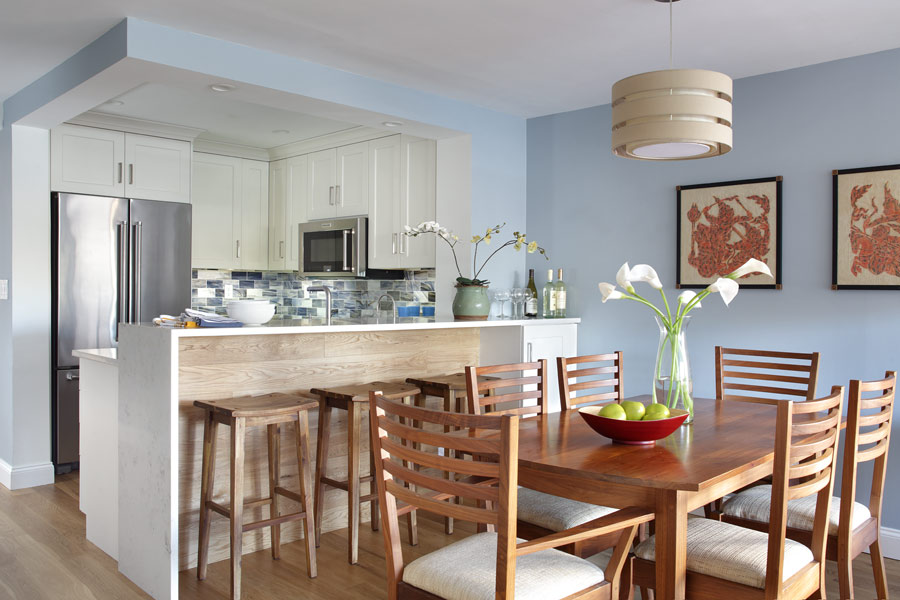 Design by Sharon Sherman
Photography by Peter Rymwid
When Dave McKeown and John Williams moved into their Edgewater condo along the Hudson, they loved how bright and sunny the living space was; however, that sunlight didn't reach the kitchen, which was dark, cramped and uninviting. So the pair called Sharon Sherman of Thyme & Place Design in Wyckoff for help. "They wanted a contemporary space with a lot of light, and they wanted to be able to cook and still be with friends when they entertained," she explains.
Sherman's first priority was making the cooking and dining spaces flow together, so she took out a large portion of the wall that separated the two areas and eliminated a side wall in the kitchen to add counter and cabinet space.
Another of Sherman's goals was removing the drop ceiling in the kitchen so that they could hang the cabinets higher, but when they did, they found an immovable HVAC line. The solution? They created a chase in the wall cabinet over the refrigerator to maintain the visual line of the doors while not sacrificing extra space. A small header was left around the perimeter to define the kitchen in this new, more open plan.
"The biggest challenge was trying to get as much as we could into a very small space," Sherman recalls. "Storage for all the things they need, the right lighting—it all had to come together." To that end, McKeown and Williams chose recessed LED ceiling lights and under-cabinet lights instead of any hanging fixtures that might block the river view. The raised waterfall-end eating counter keeps the visual line clean and provides counter space for dining or wine tasting.
The homeowners wanted a coastal feel, so they chose bright white painted cabinets with recessed panels and crisp white quartz countertops. Blue, white and taupe subway tiles made from recycled glass add sparkle to the backsplash, which is one of Sherman's favorite features, along with the new engineered wood flooring that they continued up the wall under the eating counter. The material is more visually interesting and more durable than painted sheetrock.
"It's night and day," says McKeown of the transformation. "It changed the entire unit. Not only does it look amazing, but I can't even explain the difference in the amount of storage space we have. Sharon's eye for space is just unbelievable."
The dining and living area were painted in Valspar's Woodlawn Silver Brook to add to the coastal feel of the two-bedroom condo. On the dining side, a former catch-all corner was outfitted with a shallow-depth cabinet, which became the perfect spot for storing the homeowners' many wine glasses and decanters. "We can fit so many more people now when we are entertaining," says owner Dave McKeown. "The whole place feels much more open."
Although they didn't increase the interior size of the kitchen, the cabinet added on the dining side (shown above) vastly increased storage space, as did higher wall cabinets (shown at right); the open feel, along with the new dining counter, hugely improved the function and esthetic of the kitchen. "I think it looks great," says designer Sharon Sherman of Thyme & Place Design. "It now feels bright and light and wide."