Let's Be Frank: 7 Hot Dog Joints to Try Now
Is it really summer if you haven't had a hot dog or two? Get your fix of franks at one of these magnificent seven joints in Bergen.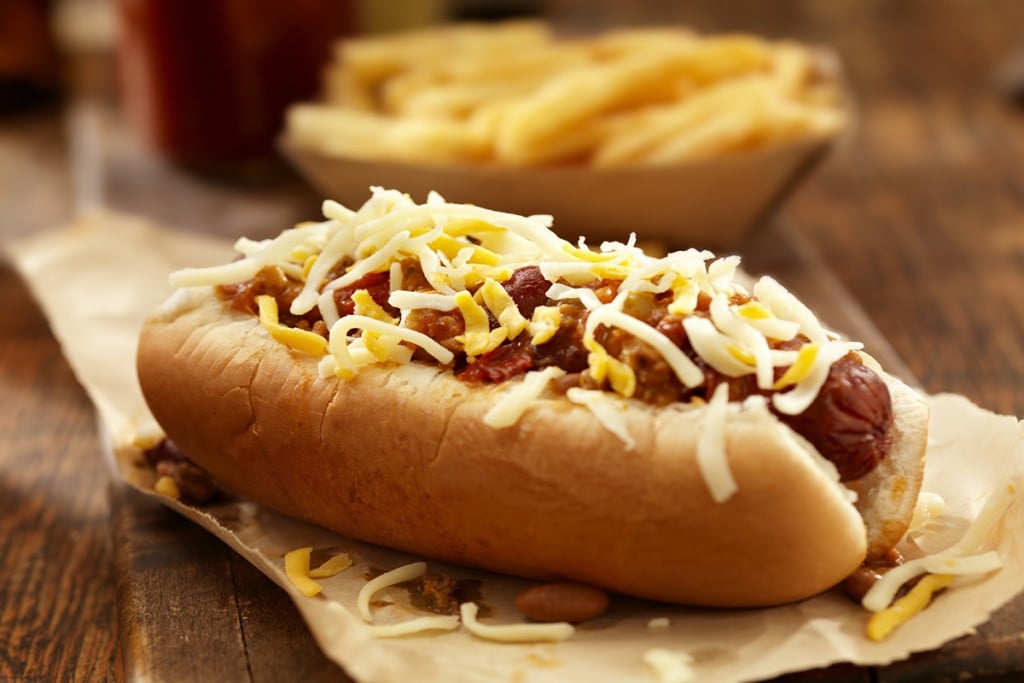 Pro eating champion Joey Chestnut said he "felt good" after downing 76 franks to win the annual Fourth of July hot dog eating contest on Coney Island. Congrats, Joey, keep doing your thing!
While we're fascinated with dudes who can ingest food in a flash, most of us live in a world where we savor every bite (and watch our calories)—meaning that one or two hot dogs would do us fine. That's easier said than done, however, because Bergen County is home to several iconic hot dog joints with seemingly endless options. Some of us prefer standard toppings like mustard, kraut, onions and chili, but others look for something special.
Here is a list of seven of our favorite hot dog stops, all of which go the extra mile (footlong?) to give you what you want. You probably can't scarf down 76 franks, but you know you would if you could.
Dog House Saloon, Washington Township. Skip the burgers and sandwiches (though we're sure they're good too) and sink your teeth into their hot dogs. The double bacon dog is a belly-filler, for sure.
*270 Pascack Rd., Washington Township, 201.722.1820
Hiram's, Fort Lee. This simple roadside stand is as popular as any hot dog shop in the world, thanks in large part to one of its all-time biggest fans, the late Anthony Bourdain. Get yours with cheese, with chili or with cheese and chili!
*1345 Palisade Ave., Fort Lee, 201.592.9602
Hot Dog Caboose, Midland Park. If the unique setting isn't enough to draw you in (the stand is an actual train caboose), the specialty dogs certainly will. The pulled pork-topped North Carolina dog and double-stuffed pretzel dog are our favorites.
*211 Greenwood Ave., Midland Park, 201.444.2531
Hot Dog House, Carlstadt. It's tough to miss the bright yellow shop in the Meadowlands area, and it's tough to pass on the deep-fried dogs here. Certainly, you'll be happy you stopped in for the Jersey dog (raw onions and pickle) or the deep-fried "Big One."
*510 Rte. 17 S., Carlstadt, 201.935.5803
Karl Ehmer Quality Meats, Hillsdale. You can't enter the specialty meat store without passing the little hot dog cart out front, run every day for the past 20 years by Dolores Santucci. Sausages and brats are available, but the basic hot dog has the snap that everyone craves.
*120 Broadway, Hillsdale, 201.664.1477
Johnny & Hanges, Fair Lawn. Get a deep-fried dog made with beef and pork or go "All the Way" with a full quarter-pounder topped with mustard, onion and chili sauce. Your mouth watering yet?
*20-23 Maple Ave., Fair Lawn, 201.791.9060
River View East, Elmwood Park. There's plenty to order at this 1950s eatery, but the Texas-style wieners are their specialty. The Italian hot dog, a Jersey classic, is a must; it's topped with home fries, peppers and onions.
*455 River Dr., Elmwood Park, 201.797.9258