Let's Go Dutch
Turn off that phone and enjoy the rustic sights and tempting tastes of Pennsylvania Dutch Country, surprisingly close to home.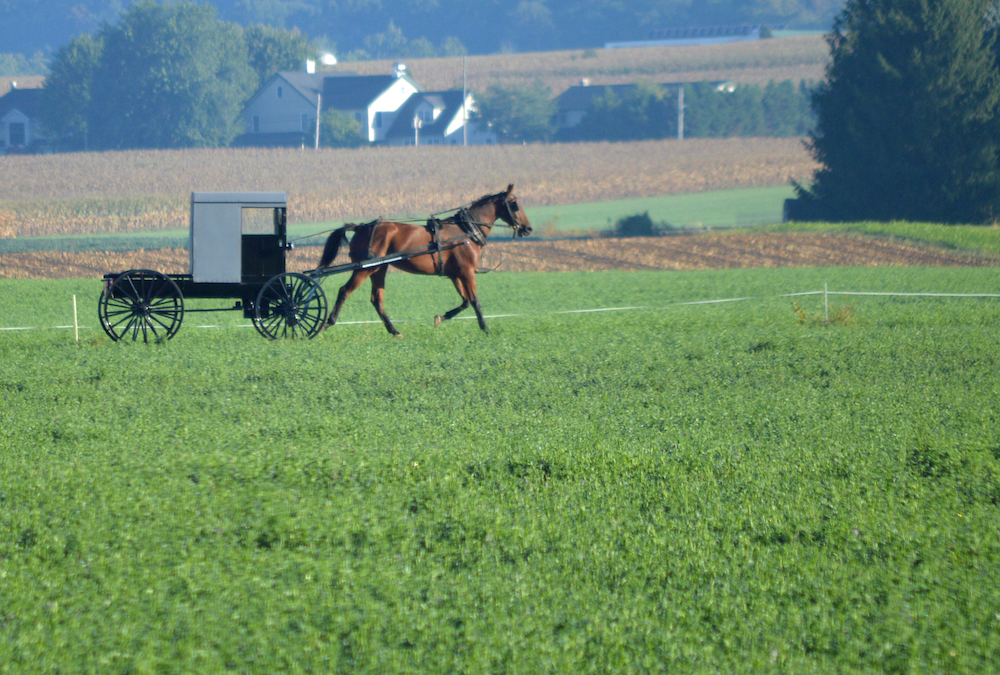 If you're short on time (and frequent flyer miles) and want to a show your family a different world without traveling too far, consider Lancaster, Pennsylvania. About 170 miles from Bergen, this city at the heart of Pennsylvania Dutch Country may be your quickest ticket out of the 21st century.
At first glance, the kids might not think cows nibbling on grass, bearded men in straw hats and apron-and-bonnet-clad girls are all that cool. But the Amish, who've been "Witnessed" by Harrison Ford (in the 1985 movie of that name) and spoofed on David Letterman's TV show aren't the only "attraction." (And truth be told, they are cool.)
"Pennsylvania Dutch" is a misnomer, as the Amish came here in the early 18th century from Switzerland, not Holland. Along with the the Quakers, Mennonites and others, they came to William Penn's land seeking religious freedom. They're a simple people who preach pacifism, eschew electricity (the better to avoid the influences of computers and TV) and encourage members to marry within the flock.
One of the best ways to learn about them and see the countryside is to take a buggy ride. We took one with Aaron and Jessica's Buggy Rides, conveniently located at the Plain and Fancy Farm. Guides— ours was a lovely young woman named Esther—are very open about their lifestyle and happy to answer questions.
Amish Country is famous for its smorgasbords, or all-you-can-eat buffets, where little ones who are always hungry will get their fill. At the Plain and Fancy Restaurant (part of the eponymous farm), food is served "family style." That means you'll be seated at a random table with strangers. You'll pass platters around the table and make small talk with people with whom you have little, if anything, in common. And yet, it's surprisingly pleasant to have an amicable chat with those whose views are not our own. Could this be the lost art of conversation?
With that conversation you'll get great fried chicken, carved roast beef, ham, corn bread, bread pudding, sausages, veggies and baked goods. Here too you can catch "Jacob's Choice," a short flick that explains what it means to be Amish. Or check out the Sight and Sound Theater where Bible stories—think Samson, Moses, Jonah—are brought to life on stage.
And speaking of food, don't miss a visit to the city's Central Market. The Romanesque-style building was constructed in 1889 and is home to ethnic foods, sweets (shoofly pie, anyone?), cured meats, plus plenty of fruits and veggies. It's the oldest continuously operating farmers' market in the U.S.
If you prefer an attraction with your shoofly pie, check out Dutch Haven. Yes, it looks like a tourist trap with its big windmill on the roof, but it sells more pies than any other bakery in the county. (Some folks swear that it's the perfect souvenir.)
Check out the Hans Herr House and Eastern Woodland Longhouse. Built in 1719, the house is the oldest building in Lancaster County. Guides point out a still-intact wood and iron steamer trunk, belonging to one of the original immigrant occupants. Leave enough time to visit the Native American Longhouse on the property. The 62-foot-long, 20-foot-wide structure was recreated to depict life during the early years of European settlement.
Train buffs will love the Strasburg Rail Road in nearby Strasburg. Hop aboard for a steam-powered 45-minute meander through the charming countryside.
Once the kids are good and tired (isn't that why you brought Grandma?), Mom and Dad might want to drop by one of the area's two outlet shopping malls. Better yet, check out downtown Lancaster, its streets teeming with chic art galleries, boutiques— antiques, jewelry, even midcentury furniture—and restaurants. There's a BYO French bistro, Citronnelle or Luca, where you'll find Italian favorites and wood-fire-oven-cooked pizzas. The Federal Tap House features more than 100 beers on tap and great pub grub, presented by super-attentive servers. And the Horse Inn, a horse-stable-turned gastropub, is a hotspot with good food and sips.
When it's time to return home, you'll leave the buggies behind— but keep that new perspective.
"Fulton Steamboat Inn is a great option for all ages. They have a playground, walking trails and provide food to feed the ducks. You can also adopt a goldfish during your stay and care for it in your room." —Megan Connell Blau, Hawthorne
Did You Know?
Many Amish children finish their formal schooling at the end of eighth grade? Women never cut their hair? And men only grow a beard after they're married?