Let's Party
This is your chance to go global and use your open invitation to the world's biggest soirees. Pack a bag, hop on a plane and have a good time!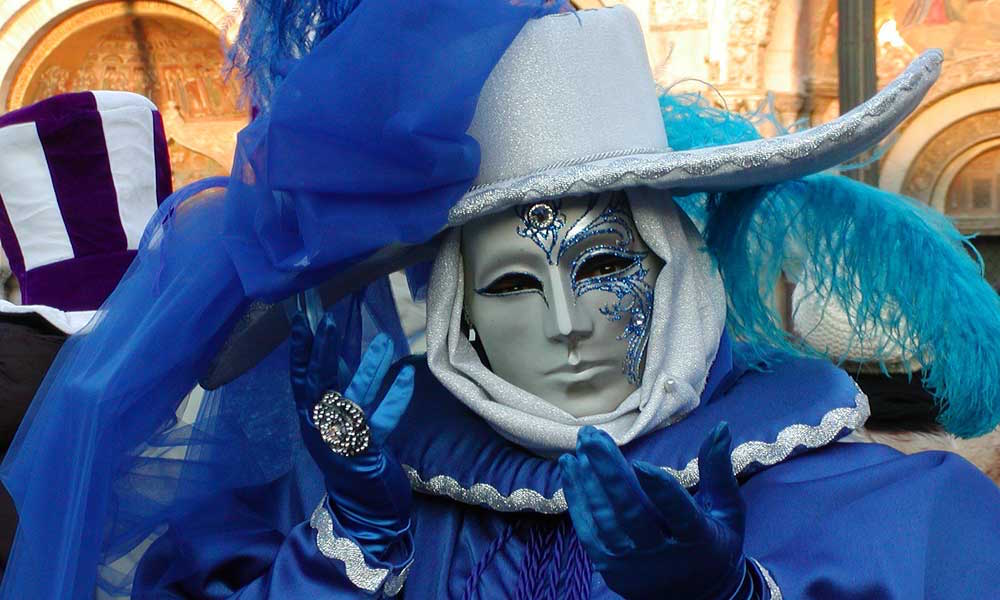 Venice, Italy: Carnival (above)
A masquerade ball is nothing without masks to obscure the identity of the wearer. And we have the Venetians to thank for this delightful subterfuge. This pre-Lenten festival of Carnival in Venice dates back to the late 1000s, with the practice of donning a mask making its mark centuries later. Elaborate costumes quickly became part of the tradition, as one could hide social standing, gender and religion behind the distinctive masks—themselves works of art and perhaps the most recognizable images from the celebrations. Today, the festival kicks off about two weeks before Ash Wednesday and comes to a close on Shrove Tuesday (Fat Tuesday). Revelers can don their masks at the elite Grand Masquerade Ball or watch the Flight of the Angel event, both of which are central to St. Mark's Square. But you'll find many other festivals—large and small—throughout the historic city, with enough daily parades, parties and food to keep you costumed and sated.
Rio de Janeiro, Brazil: Carnival
Widely considered the world's biggest party, Rio's Carnival boasts more than 2 million people on the streets during each day of the pre-Lenten festival—think of it as five straight days with a celebration twice the size of that in Times Square on New Year's Eve. Now these are some party animals! Younger than the Venetian holiday, the Brazilian version of Carnival began in 1723 and was essentially a combination of the European event with African dancing and music. That shaped the samba, which is now as much an integral part of Carnival events as are the myriad costume parties and balls. As in Venice, the wearing of masks is common during celebrations, particularly at upscale masquerade balls like the Magic Ball at the famed Copacabana Palace.
Oaxaca, Mexico: Day of the Dead
Death and taxes are life's only certainties, but Mexicans know how to make a party out of the former. Día de los Muertos (joyously observed Oct. 31– Nov. 2), a celebration of earthly delights that your ancestors can no longer partake of, is celebrated nationally. The folks in Oaxaca take the festivities to another level. You saw it in the opening sequence of the latest James Bond flick, Spectre—there are parades and parties full of zombie-costumed dancers, and people of all ages wearing skull-painted faces. Plenty of food and drink (a margarita or Oaxaca's famous Mezcal, perhaps!) are involved too. But there's an abundance of mystery, intrigue and spirituality behind the holiday: Families trek to cemeteries during the beginning of the three-day event with candles and marigolds (the flower of the dead); it's a sight unto itself.
New Orleans, Louisiana, USA: Mardi Gras
At some point in your life, you've probably ventured into a bar dubbed Bourbon Street. But there's only one true Bourbon Street—and it's the center of attention during Mardi Gras, America's observation of the Carnival season. This New Orleans thoroughfare (as well as Canal Street, St. Charles Avenue and much of the French Quarter) is lined with pubs, clubs and restaurants, while parties, daily parades and masquerade balls take place in the area leading up to the day before Ash Wednesday. A week of celebrations culminates on Mardi Gras Day (Fat Tuesday), when parades make their way through the city both day and night. Costumes and masks are commonly seen, but strings of beads have become the event's unofficial accessory. Traditional N'awlins cooking—Cajun and Creole styles—are usually associated with Mardi Gras, as are desserts like King Cake and drinks such as the Hurricane and Vieux Carré.
Taipei, China: Chinese New Year
Beijing? Hong Kong? Sure, China's mainland cities might spare no expense for the holiday, but Chinese New Year in Taipei (located on the island of Taiwan) is an experience unlike any other. Symbolizing prosperity and good luck, the color red appears everywhere during this time, from clothing to the traditional money envelopes given to children. The spirit of generosity leading up to the marking of the lunar new year is also evident on Ti Hua Street, where you can stuff yourself with samples of familiar and not-so-familiar foods—green tea, dried fish, octopus balls, seaweed and cheesecake. If street food isn't your thing, gorge yourself on local cuisine at one of Taipei's all-you-can-eat restaurants. Want more? Taipei opts for elegance during the celebrations—flowers and Chinese lanterns adorn the city—while concerts and parades allow revelers to celebrate their culture throughout the streets. Fireworks, a staple of any Chinese celebration, are especially plentiful.