Lido Restaurant
Updated Hackensack eatery will feed your Italian cravings.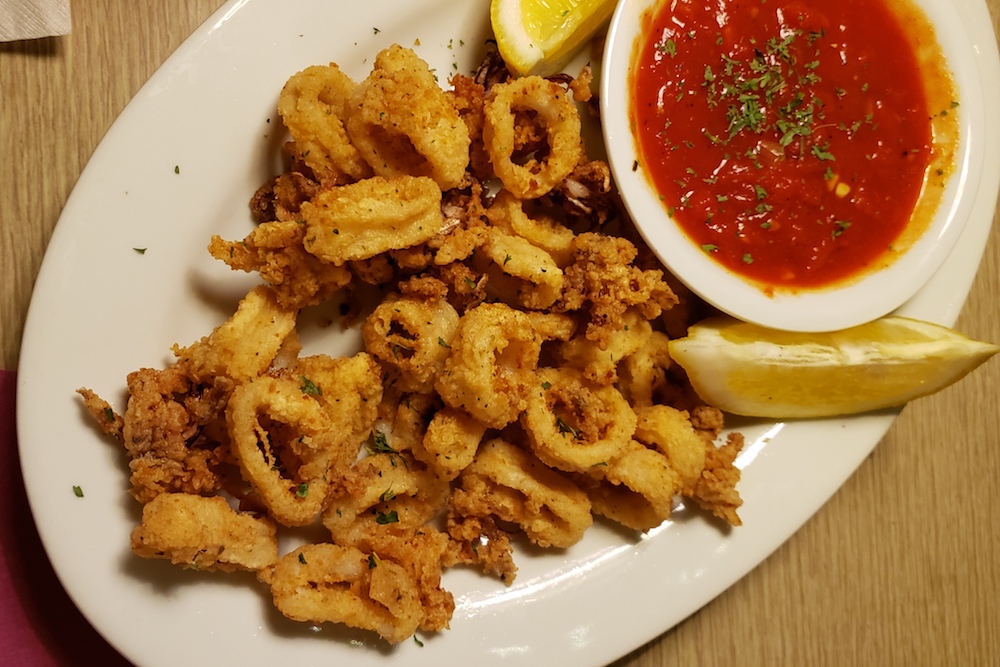 Hackensack is known for its history, but there's much more to Bergen's county seat than old buildings and Revolutionary War ties. Much of the city's culinary landscape has been there and back again; places like Lazy Lanigans, Solari's, General Poor's Tavern and White Manna are more than just neighborhood eateries— they're local institutions. Another longtime dining destination, Lido Restaurant, recently got a reboot when it closed for three months this year for a sweeping renovation. From the floors and ceilings to the bar (it's up and running!) and restrooms, all areas of the Italian restaurant were updated—all except the familiar menu.
It's a simple and family-friendly menu, one that surely brings the locals back for more. But simplicity in this case also means a lack of variety (when compared with newer restaurants), so Lido depends on old-fashioned flavor and taste to lure out-of-towners for follow-up visits. The restaurant scores major points for its calamari appetizer, a perfect portion for my friend and me. The morsels were lightly breaded and fried to a perfect crisp, and the accompanying marinara sauce gave a pinch of sweetness to every bite.
We passed on the remaining four apps (zucchini sticks, mozzarella sticks, shrimp cocktail and chicken fingers) and split a small pizza as a second starter. Kinchley's Tavern in Ramsey often takes top prize for its thin-crust pizza, but Lido's pies can stand toe-to-toe with the best. Considering the generous amount of sauce and glimmering cheese (the restaurant has improved lighting), the razor-thin crust had an exceptional crunch and just the right amount of char to give it a genuine brick-oven taste. Though this pizza could've passed any test with flying colors, we gave it higher marks thanks to the meatball topping. First timers shouldn't expect a long list of topping options—Lido offers six standard favorites: meatball, pepperoni, sausage, mushroom, anchovies and black olives.
Entrée options at this spaghetti-and-meatballs eatery include burgers, steaks and a handful of pasta dishes. If pizza is Lido's No. 1, the open-face sliced steak sandwich is its 1A. To feed my hankering for meat, I ordered a double steak: a hungry man's portion of thin-sliced sirloin piled atop two slices of bread. I'll admit that I did a double take when my meal arrived (it looked like a plate of medium-rare cold cuts), but the bread was there; I just really had to dig to find it. I likened the dish to a deconstructed warm roast beef sandwich, but instead of a horseradish dressing or spicy mustard it's topped with a mouthwatering onion butter. While the butter had extraordinary flavor, there was an overwhelming amount of it, so much that it pooled in several spots on the sirloin.
My friend also ended up with a buttery dish: shrimp scampi with spaghetti. Every ounce of the six large shrimp (tails on because they add flavor, I explained to my friend) absorbed the delicious garlic-butter gravy but the abundance of the sauce seemed to drown her pasta. An easy fix would have been some nice Italian bread to mop up some of the tasty leftover sauce, but we realized diners weren't provided table bread upon sitting.
Having filled up on carbs, dessert was out of the question. I kicked myself when I overheard our neighbors ordering a cake roll, vanilla ice cream rolled into chocolate cake. Perhaps I'll order that next time. After trying some of the must-haves, it's easy to see why locals have been flocking to Lido since 1956. The menu selections are dependable and rich with flavor, but pizza is the sure-fire bet here— the pies are every bit worth a first, second and third try.