Like Father, Like Son
For Fox News personalities Steve and Peter Doocy, Bergen County was the perfect spot to anchor.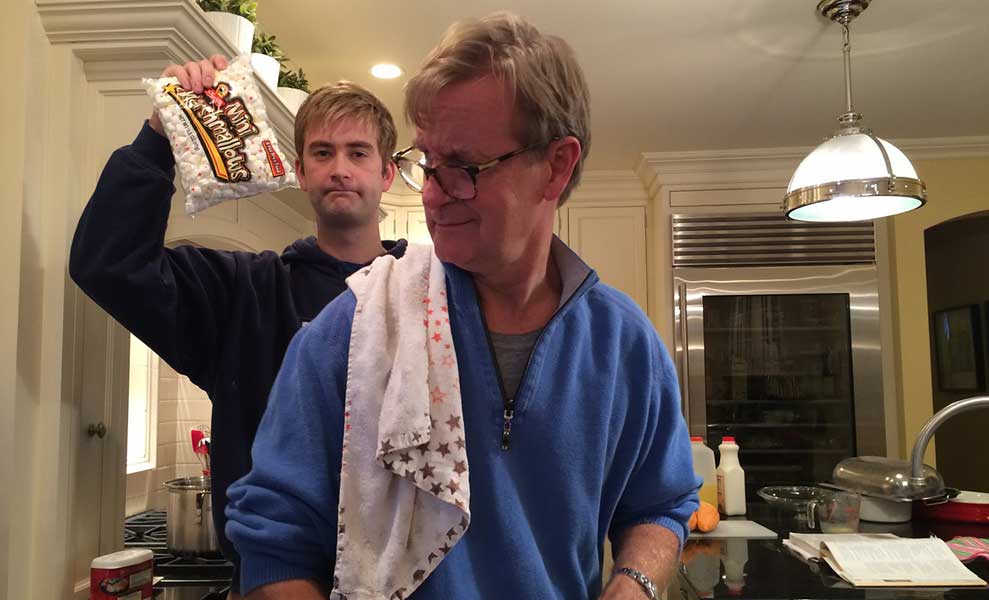 Many boys want to follow in their fathers' footsteps, and you can't blame Peter Doocy for being one of them. His dad, Wyckoff resident Steve Doocy, is an Emmy Award–winning TV reporter who has worked for NBC and CBS and currently serves Fox as the co-host of Fox & Friends. He's also a New York Times best-selling author—Steve has written two books on marriage and parenthood with his wife and Peter's mom, Kathy, also a journalist.
For Peter, growing up watching his father casually talk to the President of the United States and report on 9/11 seems to have produced a natural ease as a reporter. As an undergrad at Villanova University in 2008, he asked Senator John McCain a question at a public event, expressing himself eloquently—and closing with an invitation to do a whiskey shot with him, making the Republican Presidential nominee burst into laughter. That gusto, combined with guidance from his folks, helps Peter in his current position of D.C. correspondent for Fox News Channel.
From the start of his career, Peter has found his parents' advice invaluable. "As a young reporter, the best thing you can do is ask someone who has been there," he says. "My mom and dad have both been there." But now, with the platforms of journalism changing so rapidly, he gets to help his father too.
"I ask Peter a lot of questions about social media," Steve confides, adding that he realized he was making progress when Peter was working on a story and Steve was able to offer him some 21st-century assistance. "I made a suggestion to him on a Google search," he says. "I think he was actually surprised that a man who was born under President Eisenhower could have a good Google idea."
When Peter landed an enviable assignment— an exclusive interview with the Navy SEAL who killed Osama Bin Laden for a two-night documentary special that broke Fox viewership records—his dad was delighted, though he does admit to a bit of envy. "As a journalist I was jealous," Steve says with a laugh. "He got the exclusive! But as a parent I thought, 'The man who is interviewing that American hero is the guy who used to live upstairs.' I was very proud of Peter."
Whenever Peter decides to come back to New Jersey, that upstairs room is still available to him. The need for a consistent place to call home is what brought the Doocys to New Jersey in the first place—and kept them here. When Steve and Kathy moved the family from Virginia to work in the Big Apple, they decided on a house in Wyckoff, and from that day forward they stayed put. "It was important to me that we lived in the same house so that the kids always knew where home was," Steve says. "Ultimately, over the past 20 years, they still come back, and it's still home—that's what we were going for."
Staying in the area also has given Steve the chance to get to know other members of the community. He explains that when he visits the grocery store, he's stopped frequently by neighbors, who offer their opinions on issues he's discussed on TV. "Maybe because it's a small town, and I know a lot of folks, they freely give me their opinions," he says. "It's a great focus group." After the attacks on New York City on September 11, 2001, neighbors also brought Steve photos of their missing loved ones, asking him to show them on television—what he describes as his most challenging assignment to date.
Giving back to his Bergen County community has always been a focus for Steve, who balances the roles of family man and successful journalist. For instance, he explains, when Peter was having trouble getting play time on the baseball team, Steve stepped up as the coach. "I had zero experience other than having played 100 years earlier," he says. "We went to the town's 'world series' that year—it was kind of a Bad News Bears situation." Kathy was also active in mentoring kids, teaching CCD and serving as a Girl Scout leader.
Since his children are grown—Peter's two sisters, Mary and Sally, are finishing college—Steve explains that in the near future he and Kathy would like to add a third book to their list of credits, this one on being empty nesters. "In the beginning we thought it was going to be terrible, but now we have a lot more time," he says. "It's fantastic!"
As for Peter, he's busy in D.C. with his burgeoning career. But he still stops by home in Jersey for Mom's cooking, to see his sisters and to visit his favorite haunts. (See "Doocys Wild" on the facing page.) And he's still waiting for Senator McCain to call him about that whiskey shot.
DOOCYS WILD
Anyone can see Steve and Peter Doocy on television, but Bergenites sometimes get to see them in the flesh. Here's where:
STEVE: Catch Steve playing tennis at the Indian Trail Club in Franklin Lakes. "I'm not out to win," he says. "I'm just trying to get the ball over the net—and not get hit." And he occasionally finds himself conducting what amounts to informal focus groups at the Market Basket in Franklin Lakes.
PETER: When he's visiting his parents, you might catch him at Aldo's in Wyckoff ordering chicken Parmesan, or, like Pops, at the Market Basket, where he worked for years as a teen. "The 'turker' there is the best sandwich you'll ever have," he says.