Liquid Gold
Looking for a sweet treat that's actually good for you? Say hello to honey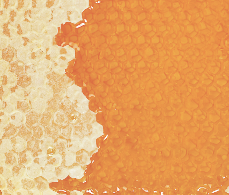 DID YOU KNOW? 

Honey has been a sweet staple for thousands of years, with the first recorded reference to it made by the Egyptians in 5550 B.C. Yet it didn't make its way to America until 1622, when honeybees were brought to the new world by settlers. Today, it's produced in all 50 states and most countries around the world.
Making honey keeps bees busy: they must collect nectar from flowering plants, then the nectar is broken down into simple sugars to start the honey-making process. It's then deposited into the honeycomb in a hive, where it slowly loses moisture to reduce into the sweet liquid we know as honey. Flowers are the key to honey's flavor—and how the approximately 300 varieties in the U.S. get their names.
POWER
Honey is beneficial both inside and out! Apply it topically to burns and scrapes to speed healing—it contains hydrogen peroxide, which helps ward off infections. Honey also has anti-inflammatory properties, making it great for soothing the itch of bug bites as well as taming acne flare-ups.
Add honey to your diet, and you'll give your immune system a big boost. That's because it's rich in antioxidants called polyphenols, which help protect cells from damaging free radicals. Worried it'll add pounds to your waistline? Don't be! When researchers gave overweight subjects 2.5 ounces of honey daily, the participants maintained their weight—and some even lost pounds. What's more, their cholesterol went down.
And while doctors advise against giving honey to children younger than 1, research has shown that it can help ease nighttime coughing in kids ages 2 to 18 with upper respiratory tract infections.
To get the biggest health boost, opt for raw honey, which hasn't been filtered and pasteurized—it'll have the highest concentration of nutrients. Another sign of a super-healthy honey? Its color. Honeys that are darker in hue tend to contain more antioxidants.
BUY · STORE · SERVE

The most commonly available honey 
is the clover variety. Often considered "table honey," it has a delicate, mild flavor. Other popular varieties: orange blossom, which is created from the flowers of citrus trees and works particularly well in cookies and cakes; and sage, which is sweeter and pairs well with cheese. For more 
local flavor, go for buckwheat honey, which is harvested in this region. It has 
a dark hue with a molasses-like taste and is often used in barbecue sauces. The best sources for honey? Check out farmers' markets or find your closest beekeeper at honeylocator.com.
Honey is best stored at room temperature—avoid putting it in the refrigerator because that can cause it to crystallize faster than normal. That said, if your honey does crystallize, place the jar in warm water and stir until it becomes liquid again. Substituting honey for sugar in a recipe? Since it's sweeter than the white stuff, use about half the amount of sugar called for. —Amanda Prost
RECIPE: Honey-Glazed Lamb and Zucchini Gratin
Courtesy of National Honey Board
Ingredients:
8 lamb chops

4 tbs. olive oil, divided

3 cups diced onion

3 cups diced zucchini

2 cups diced fresh tomatoes

4 tbs. chopped fresh mint, divided

2/3 cup honey

2 tsp. ground cumin

1 tsp. minced garlic

salt and ground black pepper, to taste
Preparation:
Season lamb chops with salt and pepper. Heat 2 Tbs. olive oil in a skillet over medium-high heat. Brown chops 5 to 7 minutes on each side; remove from pan and keep warm. Drain fat, leaving any browned bits. Add remaining oil and onion; cook over medium heat until softened. Stir in zucchini and cook until tender-crisp. Stir in tomatoes and 2 Tbs. mint; cook about 1 minute. Meanwhile, in small saucepan, combine honey, remaining mint, cumin, garlic, 1⁄4 tsp. salt and pepper to taste. Cook over low heat until honey is thinned. To serve, spoon vegetable mixture onto a plate, top with lamb chop and drizzle with honey glaze.