Local Buzz: A New Spin on Spinning
Meet the Realryder.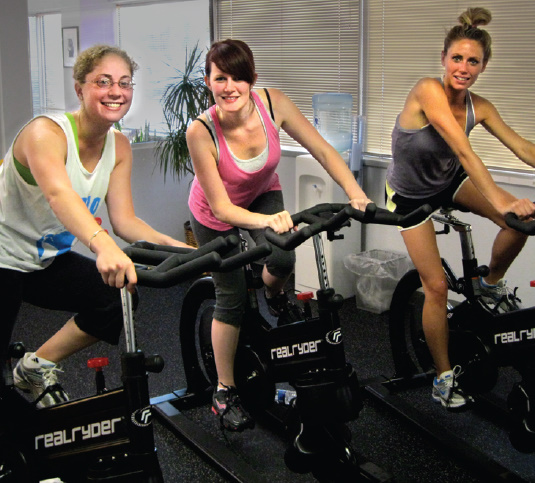 RealRyders (realryder.com) are all the rage these days—even Rihanna and the cast of HBO's Entourage are using these almost stationary bikes. While they may look like ordinary spin bikes, RealRyders use a cycle that allows you to tilt, lean and rock—and even turn the handlebars— for a total-body workout.
"The bike's ability to move side to side allows you to incorporate more of your upper body and core muscles into the ride," explains Anthony Sbarbaro, co-owner of Metro Golf and Fitness in Tenafly. "And because it does move, there's more you can do with the bike, which makes the workout not only more physically strenuous, but also more mentally engaging," he says.
---
Where to Ride
Don't be left in the dust. Head to one of these locations to try the RealRyder:
Indoor Ryder Cycling Studio
Waldwick, 201.421.1913
indoorryder.com
First-time riders ride free; Visit website to schedule.
Metro Golf and Fitness
Tenafly, 201.871.GOLF(4653)
metrogolfandfitness.com
Free class for new riders with coupon from website.
The Core NJ
Paramus, 201.262.6500
thecorenj.com
Free demo class for first-time riders.
---
Health & Life Staffers Go for a "Ryde"
After writing our Local Buzz story "A new spin on spinning" about an innovative spin bike called the RealRyder (realryder.com) for the September issue of Bergen Health & Life, I decided that I needed to try the RealRyder—for real. For those of you who don't know about this bike, let me explain. While it looks similar to a regular spin bike, the minute you hop on it, you'll know that you're in for a completely different experience. The RealRyder uses a cycle that allows you to tilt, lean and rock—and even turn the handlebars—so that you get a total-body workout.
I thought it would be more fun—and perhaps more entertaining—to attend a class with friends, so one Tuesday after work, Amanda from the marketing department, Meghan from art and myself from editorial headed to The Core NJ in Paramus for a demo class. The studio was small, just five bikes plus the instructor, but we were the only "students" so we were able to talk with and ask questions of our instructor, Elizabeth, as she took us through a typical 45-minute class.
When I first got on the bike, it swayed back and forth precariously. But soon I got used to the feeling, as well as the terminology that Elizabeth used to describe certain moves such as where to hold the handlebars, how much to turn the resistance knob and when to stand up. With fast, energizing pump-up music blasting, we rode for the duration of the class fairly smoothly.
Afterward, I was exhausted and sweaty, but I felt good. Elizabeth had to go teach another fitness class, but one of the owners of the facility, Brandon Picchierri, was kind enough to give us a tour. I was surprised to learn that The Core NJ is for more than just fitness. Besides the RealRyder room and a Pilates and yoga studio, the facility has rooms dedicated to physical therapy and massage. Picchierri told us about an upcoming renovation to expand the fitness area of The Core, and he showed us how the new rooms would be laid out.
I knew I would be sore the following day—a sign of a great workout—but it turned out not to be in the areas that I expected. I thought that my legs would be at the top of the list, given that the workout was on a bike. My shoulders and arms were actually the most sore, which made sense after thinking about how much I had to use those muscles to push and hold the handlebars left and right.
After just one class, I was hooked. The RealRyder is so much more than just sitting on a stationary bike, mindlessly rotating your legs while you watch TV in the gym. It's fun and exhilarating, and best of all, it's an incredible workout.