Local Jewelry: Lucky Charms
Don one of these intriguing pieces, we're told, and good fortune awaits.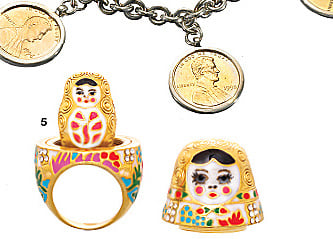 1 It is understood that an elephant raising its trunk to the sky brings strength and prosperity. Show someone how much you care with this 18K gold charm necklace, starting at $850, by Poor Cat. LaViano, Westwood, 201.664.0616.
2 They say that diamonds are a girl's best friend, and lucky diamonds are a fortuitous friend indeed. The horseshoe necklace, $1,075, is 14K white gold and diamonds. Devon, Wyckoff, 201.848.8489.
3 Messages found inside a fortune cookie are often vague. Determine your own fate in this gold-plated fortune cookie necklace, $65. emilyelizabethjewelry.com.
4 "Find a penny, pick it up, all day long you'll have good luck!" Englewood Cliffs' Beatrice Matiash of Tashka by Beatrice makes the Penny Bracelet with a sterling bezel and a rose gold-plated chain, $185–$498. Jewelry by Grace, Waldwick, 201.444.6995.
5 The Natasha Ring, $225, inspired by the Russian Matryoshka doll, symbolizes fertility and motherhood. The ring opens to display a smaller doll inside. noirjewelry.com.
6 When two people break a wishbone, the one with the larger half is granted one wish. This pair of Jennifer Meyer 18K gold studs, $275, is a wish come true. barneys.com.
7 The 17th-century English politician and writer Sir John Melton once said, "If a man in the fields find any four-leaved grass, he shall in a small while after find some good thing." Well, we found it for you. The Gold Clover Cluster Ring, $420, is waiting at ysl.com.
8 The Hamsa is believed to dispel jealousy. Defend yourself with this turquoise bracelet with a 14K white gold diamond Hamsa, $75. Red Velvet Luxe, Ridgewood, 201.689.1800.
9 With a simple design that makes a bold statement, this Evil Eye Bracelet, $57, is a talisman to ward off the covetous. lk-jewelry.com.
---
Related Article: Juicy Gems