Lolita's Mexican Cantina
Come for the food, enjoy the vibe at this Westwood eatery.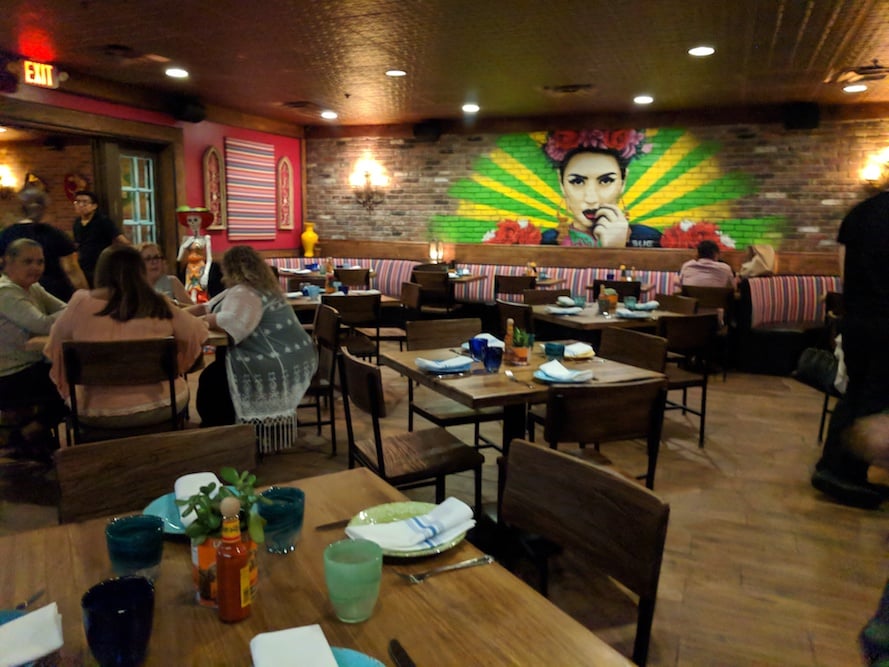 When the craving for south-of-the-border flavor hits, a burrito bowl from a nearby fast-casual chain might tame the hunger. But to truly satisfy a painful hankering, I'll search high and low for a good, authentic Mexican restaurant. So you can imagine my excitement when Lolita's Cantina—the next venture from the team running North Bergen's Sabor Latin Bistro—opened this summer around the corner from my Westwood home.
Locals know the location well: The space was formerly occupied by Burke's On Old Hook and most recently Recovery Room. Lolita's gave the highly-visible building a thoughtful facelift, both inside and out, creating the energetic vibe typically associated with a Cinco de Mayo fiesta. The menu generates similar excitement, from a lengthy drink list to a selection of traditional and inventive dishes. And there's no shortage of tacos, quesadillas and burritos too!
It's tough to dine at a Mexican restaurant without a drink, so my dinner companion and I ordered one each—a red sangria for her and a mojito for me. Chalk it up to growing pains or just an "off" night at the bar, but both drinks missed the mark. The sangria, my friend reported, was too sweet and strong for her taste, while the mint in my mojito overpowered all other ingredients.
Our appetizers, fortunately, made up for the subpar beverages. Elote, Mexican corn on the cob, is a delicious side dish that everyone should try at least once, and Lolita's doesn't disappoint. It's packed with flavor thanks to a mix of creamy cotija cheese, chili and lime. Meanwhile, the ceviche del dia boasted similar tanginess, with the citrus-cured seafood (mostly shrimp) blending nicely with the mix of veggies.
After our apps were cleared, we barely blinked an eye before entrees arrived—credit the staff for the service. (A pleasant surprise, considering my aforementioned "painful hankering" for food.) My skirt steak was cooked to a perfect medium-rare, drawing extra flavor from the arrachera rub and poblano chimichurri. The meat was accompanied by a serving of buttery and fluffy mashed potatoes, mixed with and curiously tinged the hue of cooked green peppers. I typically prefer firm, almost raw peppers, but the cooked-down variety meshed well with the mash.
As I soaked up the delightful flavors on my plate, I noticed my friend struggling with her dish, the cochinita pibil. Although tender, the slow-roasted pork was too salty to enjoy on its own, she noted. With each forkful of meat, she added either a sweet plantain or rice to neutralize the biting taste.
Mexican food isn't always as heavy as other cuisines (though it can be easy to fill up on rice and cheese), so we had plenty of room for dessert. Our choices: crispy churros and molten lava cake. Essentially fried dough, the churros were served with two sweet dips: caramel and smooth Oaxacan chocolate. I was surprised to have preferred the latter (I'm not a chocolate lover), but I was caught more off guard by my fondness for the cake. The cake itself— including the molten middle—was moist and sweet. Together with the vanilla ice cream on top, it was the perfect cap to the meal.
As expected from any new eatery, Lolita's is still ironing out the kinks. But the lively ambience, top-notch service and varied food and drink menu make it worth a return visit and recommendation.
—Darius Amos
Lolita's Mexican Cantina, 65 Old Hook Rd., Westwood,
201.666.7998, lolitasmexicancantina.com