Long Time Snapping
Former Don Bosco Prep star Thomas Hennessy has achieved impressive tenure on football's New York Jets in the specialized role of long snapper.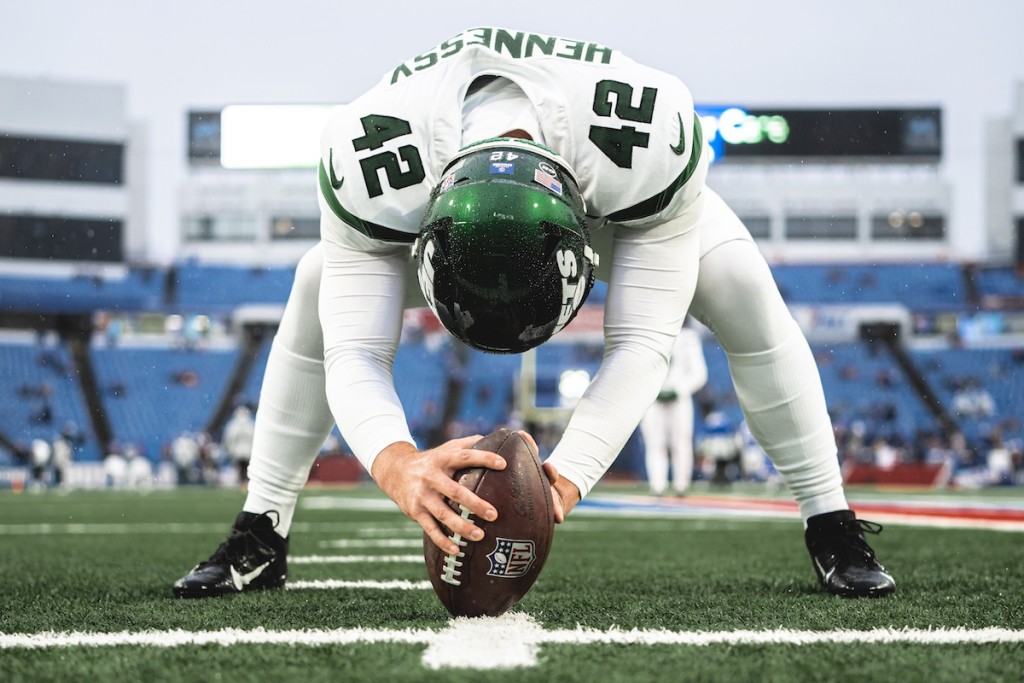 Good news is no news; make a mistake and you'll be talked about for days by the fanbase. That's long been the case for an NFL long snapper. This special-teams role, one of football's most specialized, doesn't usually get the glory lavished on quarterbacks, running backs and receivers. But Thomas Hennessy is beginning to change that.
The former Don Bosco Prep standout and current New York Jets long snapper is so consistently good at his job—which requires him to precisely hike a football between seven and 15 yards on punts and kicks while a 300-pound defensive lineman is standing over him—that it's hard not to notice him.
Success wasn't easy for Hennessy, but he was determined to make a name for himself. He worked his way up the ladder in Don Bosco's nationally ranked program and again on the collegiate level at Duke University. Un- drafted after his Duke career ended in 2016, he battled to earn a spot in the Indianapolis Colts' organization before he got the call that he was being traded in 2017—to the home- town New York Jets. Though he's come full circle, returning to his old stamping grounds in New Jersey, Hennessy has never stopped trying to make a lasting impression—and it shows. The 27-year-old, who lives in Madison with his wife Christina and son Jack, just completed his fifth season with Gang Green, making him the team's longest tenured player at any position.
BERGEN caught up with Hennessy just as the Jets' season concluded.
What was the biggest highlight this past season?
For me personally, it was playing against my younger brother, Matt, when we played the [Atlanta] Falcons in London. We have both worked really hard to get to where we are in our careers and have overcome long odds to make it to the NFL, so it was awesome to be playing in the same game. The highlight as a team was just seeing us grow as the season went on. We played some really good foot- ball, especially in the second half of the year.
And you were one of the most consistent parts of the Jets' second-half resurgence.
My goal is to be the guy who, when he comes into the building every day, people know what to expect of him from a performance and professionalism standpoint. That is important at every position in the organization, but especially for a long snapper.
What kind of work goes into being a successful long snapper?
I prepare by practicing good habits. We kick two times per week before each game, so it is critical to treat those practice reps like game reps to get yourself mentally and physically ready to execute on Sundays. Our special teams coach, Brant Boyer, does a great job helping us get ready for every game. I try and treat every snap the same whether it is in practice or in the game. That way no moment is too big and I am relying on muscle memory.
Did you always want to be a long snapper?
As a kid I wanted to play quarterback. I grew up a Giants fan, so my idols were Eli Manning, Justin Tuck and Zak DeOssie. But I knew in my freshman year at Don Bosco that [long snapper] was something I wanted to do. I wanted to find a way to contribute to the team, so my dad helped me zero in on long snapping. It's specialized, and I had a knack for it. My goal was to play at a Division I college, and as I grew and got serious about lifting weights I knew junior year that it was a possibility. I went to several national long- snapping showcases during my junior year to receive a national ranking, which helped with college recruiting, and then I started during my senior year at Don Bosco.
What memorable moments did you have playing at Don Bosco?
The lessons I learned from challenging myself to be part of a great program were invaluable. My favorite games were beating Manatee High School in 2011 and then winning the state championship against Bergen Catholic at MetLife Stadium the same year to secure our No. 1 national ranking.
It must've been a great feeling coming back to MetLife as a member of the Jets.
I got on a flight to Newark about four hours after I was told I was traded [in 2017]. I had one game to snap for a chance to win the job—against the Eagles at MetLife. I was really just focused on doing my job, but there was some sentimental value playing in my hometown and in a stadium where I grew up going to games.
Speaking of growing up, you lived in Rockland County, N.Y., but now live in North Jersey. What have been your favorite spots, then and now?
I shuttled back and forth to Ramsey to go to Don Bosco and spent a lot of time hanging out at the Pascack Community Center and the Palisades Center Mall. Today, we like to dine at The Committed Pig, Shanghai Jazz, Porta and Namkeen, while my favorite places to shop are the Short Hills Mall and the Garden State Plaza.
How do you regard being a part of the community?
It is really important to give back, and especially to be a good role model. It was not too long ago that I was a kid looking up to professional athletes, and it meant a lot to me when an athlete took time to sign an autograph, take a picture or come speak to a team I was on. I have taken some opportunities to speak at local schools, visit the children's hospital or give out turkeys on Thanksgiving.
What moments are you most proud of?
The highlight was signing a contract extension in October 2019. That moment signified belief in me on the part of the coaches and management and was ultimately the start of another chapter of proving everyone right who has believed in me to get here.
My proudest moments off the field were getting married to my wife, Christina, and the birth of my son, Jack. I take football seriously and love what I do, but coming home to a family every day puts things in perspective.
By Darius Amos