Lunches for Little Ones
Hidden veggies in these comfort-food classics means these yummy meals are both parent- and kid-approved.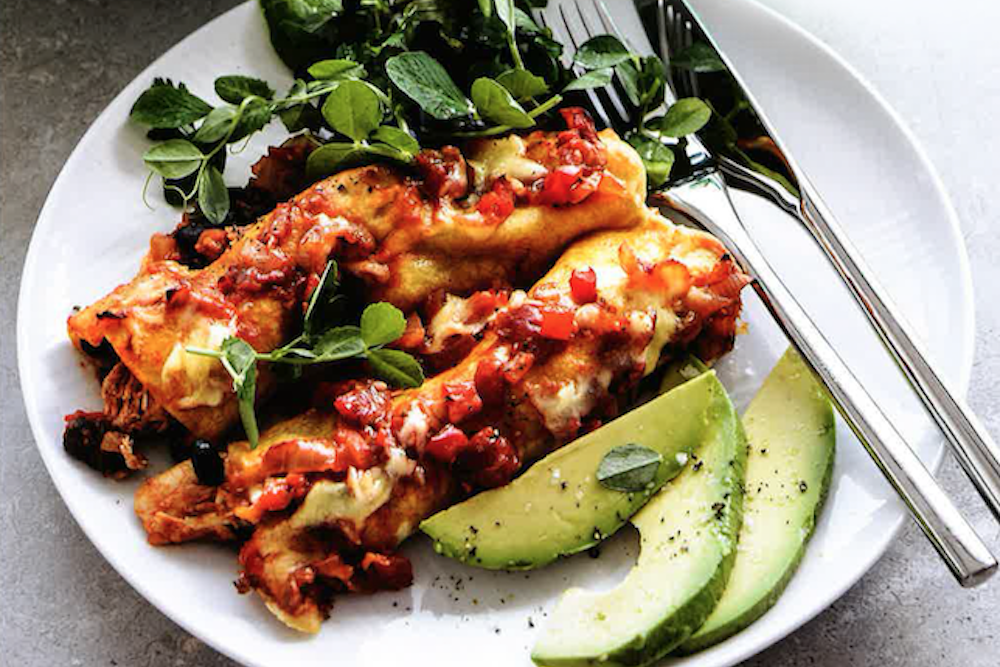 CHEESY CHICKEN ENCHILADAS
Yields: 4 servings
INGREDIENTS
14 oz. onions, finely diced
10½ oz. red peppers, cored, deseeded and finely diced
14 oz. can chopped tomatoes
9 fl. oz. water
1 chicken stock cube, crumbled
1 Tbs. smoked paprika
1 tsp. oregano
2 garlic cloves, minced
1 tsp. corn flour, mixed with a little water to form a paste
10½ oz. ready-cooked roast chicken pieces (like a rotisserie chicken)
14 oz. can black beans, rinsed and drained
8 soft corn tortillas
3½ oz. mature cheddar cheese, coarsely grated
DIRECTIONS
Place the onions, red peppers, tomatoes, measured water, stock cube, paprika and oregano in a saucepan. Bring to a boil, then reduce heat and simmer for 25 minutes. Preheat the oven to 425°F.
Stir the garlic and corn flour paste into the sauce until completely combined, then cook for another minute or two until thickened. Transfer half of the mixture to a bowl and set aside. Stir the chicken and beans into the remaining sauce in the pan.
Spoon a few tablespoons of the chicken mixture into each tortilla, then roll them up and place seam-side down in a large baking dish (about 12×8 inches and 2¾ inches deep). Top with the reserved sauce and scatter over the cheese.
Bake for 20 minutes until the chicken and beans are heated through and the cheese is melted.
"Consider using lowsodium and low-fat chicken stock instead of the water and chicken stock cube, which is often high in sodium and full of artificial ingredients and MSG. You can also buy low-sodium canned tomatoes and low-sodium black beans to reduce the overall salt content in this dish."
—Jackie Baumrind, registered dietitian, Pediatric Endocrinology Associates, Tenafly

MAC AND CHEESE
Yields: 4 servings
INGREDIENTS
1 Tbs. extra virgin olive oil
10½ oz. red pepper, cored, deseeded and finely diced
10½ oz. sweet potato, finely diced (no need to peel)
10½ oz. onions, finely diced
10½ oz. dried macaroni
2 Tbs. sherry
1 chicken stock cube, crumbled
14 fl. oz. milk
½ tsp. dried garlic granules
2¾ oz. mature cheddar cheese, grated
3 Tbs. corn flour, mixed with a little water to form a thin paste
4 spring onions, finely sliced
2 Tbs. panko breadcrumbs
2 Tbs. smoked lardons or diced bacon n salt and pepper
DIRECTIONS
Heat the olive oil in a large, shallow saucepan over low heat, add the peppers, sweet potato and onions and cook for about 30 minutes, stirring occasionally, until completely softened and golden brown. Meanwhile, cook the macaroni in a saucepan of boiling water for 2 minutes less than the packet instructions, then drain the pasta.
Preheat the oven to 400°F. Add the sherry, stock cube, milk and garlic granules to the softened vegetables and give it a good stir to deglaze the pan. Cook for another minute or two, then take off the heat and blitz together using a stick blender until you have a smooth sauce.
Stir in the cheese, drained macaroni and corn flour paste and season well, then pour the mixture into a large baking dish (about 12×18 inches and 4 inches deep) or four smaller individual ones. Scatter over the spring onions, breadcrumbs and lardons or diced bacon, then bake for 20 minutes until golden and bubbling. Leave to stand for 10 minutes before serving.
"Red peppers, sweet potatoes and onions are loaded with antioxidants, including vitamin C to power up your child's immune system. Onions, which are known for their anti-cancer properties, are a rich source of quercetin, a plant polyphenol that fights the inflammation behind allergies, asthma and hay fever. This triple play of veggies also sneaks in about 5 grams of fiber per serving, which is a win for a child's digestive system."
—Susan Taylor, integrative nutrition and eating psychology coach, Susan Taylor Nutrition, Ridgewood

PHILLY CHEESESTEAK SANDWICH
INGREDIENTS FOR THE SANDWICHES:
2 demi baguettes
1 tsp. olive oil, plus extra for drizzling
7 oz. sliced onions
7 oz. green pepper, cored, deseeded and sliced
6¼ oz. minute steak, finely sliced
butter, for spreading
4 mature cheddar cheese square slices, cut in half
pepper to taste
FOR THE MUSHROOM PEPPERCORN SPREAD:
1 tsp. extra virgin olive oil
5¾ oz. fresh shiitake mushrooms, finely diced
1 tsp. white wine vinegar
1 tsp. coarsely ground black peppercorns
2 Tbs. Greek yogurt
DIRECTIONS
First, make the mushroom peppercorn spread. Heat the olive oil in a frying pan over medium heat, add the mushrooms and fry for 5 minutes until softened, then tip in the vinegar and continue to cook until the liquid has just evaporated. Combine the cooked mushrooms with the remaining ingredients in a small bowl and set aside.
Slice the baguettes in half horizontally, without cutting them all the way through. Open them out, then cook under a preheated grill for a few minutes until toasted. Set aside. Heat the olive oil in a frying pan, add the onions and green pepper and cook over medium heat for 10 minutes until softened, stirring occasionally.
Place the steak in a bowl, add a light drizzle of olive oil and a generous sprinkling of pepper and toss together. Clear a space in the center of the pan and add the beef. Fry for 1 minute, or to your liking, then remove from heat.
Spread the mushroom mixture over the base of each baguette, then butter the top halves. Place two half-slices of cheese on top of the mushroom spread, then divide the steak and vegetable mixture between the sandwiches. Top with the remaining cheese and close the sandwiches. Wrap each sandwich in kitchen foil, then place under a preheated grill for 5 minutes, or until cheese has melted.
"Mushrooms are a great source of fiber for kids, especially those who are picky eaters when it comes to vegetables. While shiitake mushrooms add great flavor, some kids may shy away from their meaty taste and chewier texture. You could substitute cremini mushrooms or even button mushrooms in this recipe, as both are more familiar-looking and have a milder taste."
—Jackie Baumrind, registered dietitian, Pediatric Endocrinology Associates, Tenafly