Lunchtime!
While you're packing lunches for the kids, why not make one of these portable meals for yourself too? Midday will be healthier—and more interesting!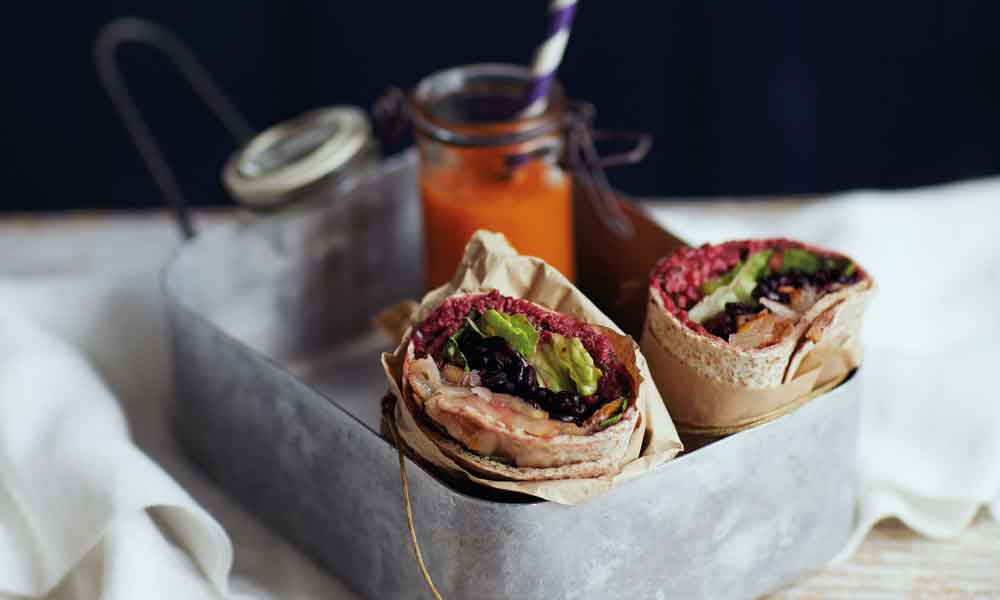 Beet, black rice and pear wraps (makes 4)
Ingredients
4 whole-wheat tortillas
2 large romaine lettuce leaves, torn in half
1 large pear, grated
sea salt
For the beet paste
2 cooked beets, roughly chopped
1 garlic clove, crushed
Small handful of fresh cilantro
Small handful of fresh flat-leaf parsley
1/3 cup walnuts
1 tsp. coconut oil
2 tsp. apple cider vinegar
For the black rice
1 cup water
½ cup black rice
½ tsp. caraway seeds
Finely grated zest and juice of ½ lime
Scant ¼ cup golden raisins
Scant ½ cup slivered almonds, toasted
Insructions
To make the beet paste, throw everything into a food processor, add a pinch of sea salt to taste and blitz until a paste has formed. Transfer to a bowl for later.
To make the black rice, put 1 cup water in a saucepan and bring to a boil. Add the rice, caraway seeds and a pinch of sea salt. Reduce the heat to low, cover and leave to simmer for 20 to 25 minutes, or until all the water is absorbed, then let cool. Once cooled, transfer the rice to a bowl and add the lime zest and juice, golden raisins and almonds. Stir well.
Place 2 Tbsp. of the beet paste in the middle of each tortilla and cover with one of the lettuce leaf halves. Top with a couple of heaping spoonfuls of the black rice filling. Sprinkle with the grated pear and fold or roll the tortillas to create a wrap.
Baked tofu and apple on mixed greens and wakame (serves 2)
Ingredients
1 lb. firm tofu
1 Tbsp. olive oil
1 Tbsp. tamari
1 Tbsp. apple cider vinegar
1 Tbsp. lemon juice
1½ Tbsp. dried wakame
3 cups mixed salad greens
1 apple, cored and thinly sliced
2 scallions, chopped
2 Tbsp. sesame seeds
1 Tbsp. olive oil
1 tsp. dried chili flakes
Baking sheet lined with parchment paper
Instructions
Pat the tofu dry with some paper towels. Line a plate with some paper towels and place the tofu on top.
Place another small plate on top of the tofu and weigh it down with something heavy (such as a can of beans). Leave for 15 to 30 minutes for the liquid to seep out. Remove the plate and cut the pressed tofu into cubes. Mix the olive oil, tamari, apple cider vinegar and lemon juice together in a small bowl. Pour this over the tofu and leave it to marinate for 30 minutes. Preheat the oven to 350˚ F.
Arrange the tofu on the prepared baking sheet in a single layer. Depending on how large your cubes are, bake the tofu in the preheated oven for 25 to 40 minutes, until golden.
Meanwhile, soak the dried wakame in lukewarm water for 10 to 20 minutes. Pat dry with a dish towel or paper towels, and coarsely chop. Put the salad greens, apple, scallions, sesame seeds and wakame in a large bowl, and toss with the olive oil and chili flakes. Top with the baked tofu and serve.
Radish and avocado salad with chia-tahini dressing (serves 2–4)
Ingredients
About 24 radishes, roughly chopped
2 small red bell peppers, seeded and chopped
Large handful of black or kalamata olives
Large handful of fresh cilantro, roughly chopped
1 small avocado, peeled, pitted, and diced
½ red onion, thinly sliced
1 scallion, chopped
For the chia-tahini dressIng
2 Tbsp. chia seeds
2 Tbsp. tahini
½ Tbsp. cumin seeds
Juice of 1 lemon
1 Tbsp. chopped fresh flat-leaf parsley
½ tsp. tamari
1 Tbsp. raw honey
Pinch of sea salt
Pinch of chili powder
Instructions
Put all the salad ingredients in a large salad or serving bowl.
Put all the dressing ingredients in a blender or food processor and blitz until smooth. The dressing will be quite thick, but as you mix it through the salad, it will coat the ingredients nicely.
Pour the dressing over the salad, toss together until well combined, and serve.
Excerpted from Superfoods: The Flexible Approach To Eating More Superfoods by Julie Montagu by arrangement with Quadrille Publishing, distributed by Chronicle Books, Copyright © 2015 by Julie Montagu.