Make A Splash In A Natural Swimming Pool
Backyard pools are great, but our area's lakes and ponds are a refreshing—and nostalgic—way to beat the heat.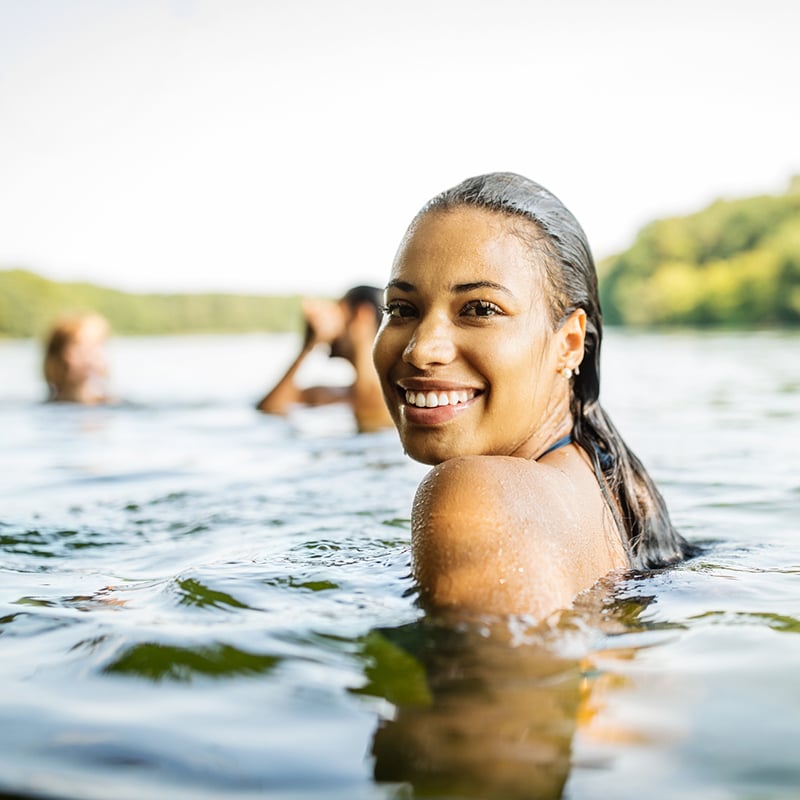 Having hot fun in the summertime means spending time in the great outdoors, but you'll want to cool off when the temperatures rise. Swimming and splashing in water is our favorite way to beat the heat, but what happens if you don't have access to a pool or if you'd rather not deal with Shore traffic? One solution is to check out North Jersey's natural swimming holes.
While we love Bergen's sandy-bottom pools like Graydon Park in Ridgewood and Crestwood Lake in Allendale, we're talking about bodies of water sans chlorine or chemicals—just Mother Nature keeping them as clean as possible. Taking a dip in these lakes and streams is not only refreshing, but doing so may bring back fond memories of your youth when you waded barefoot through neighborhood brooks and ponds.
Below are five of our favorite bodies of water where you can get wet and cool off. Note that lifeguards are not staffed at all of these locations, and swimming is at your own risk. Employ the buddy system and respect the rules governing these parks.
Highlands Natural Swimming Pond, Norvin Green State Forest, Ringwood. The natural pool is carved into a rocky hill side and is perfect for wading and lounging after a long day of hiking the adjacent trails. Lifeguards are on duty during summer.
Lake Hopatcong, Hopatcong State Park, Lake Hopatcong. One of North Jersey's largest lakes is host to some of North Jersey's best boating, jet skiing and other water sports. It's also a popular swimming spot, with public beaches in the Landing and Mount Arlington sections. The main lake has heavy boat traffic, making the water difficult to navigate for swimmers. Lifeguards are on duty during summer.
MacMillan Reservoir, Ramapo Valley County Reservation, Mahwah. A quick hike uphill from the parking lot will lead to this destination. Follow the 2.8-mile loop around the lake and take a quick dip in the water to cool off. Lifeguards are not on duty.
Pine Meadow Lake, Harriman State Park, Stony Point, N.Y. There are countless hiking paths in one of New York's largest state parks, but the Pine Meadow trail has perhaps the most rewarding finish. After hiking up a mountain ledge, you'll come across the crystal clear lake, perfect for a splash on a warm summer day. Lifeguards are not on duty.
Turtle Beach, Hardwick Township. If you're spending a day near Delaware Water Gap, be sure to stop at this area, the only designated swimming spot on the Jersey side of the Delaware River. The grassy beach has picnic tables, restrooms and plenty of hiking trails. Lifeguards are not on duty.
What's your favorite swimming hole in the tri-state area? Share your picks on Instagram @bergenmagnj.