Make a Splash
Whether you own a boat or just want to go for a swim, Morris County offers many places for you and your family to get wet on hot summer days.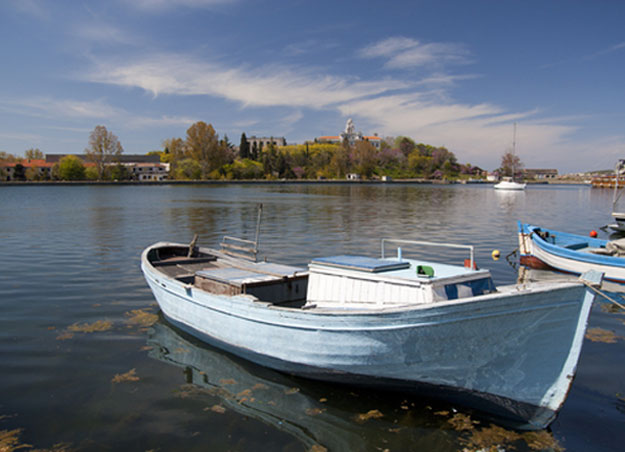 Row your boat
Canoes, large motorboats, sailboats, jet skis-you can launch them all from the boat ramp at Hopatcong State Park in Landing, which sits on picturesque Lake Hopatcong, the largest freshwater lake in New Jersey. Boating is free Memorial Day weekend through Labor Day, but entrance fees into the park are charged per vehicle ($6/car on weekdays, $10/car on weekends).
You can also launch boats up to 30 feet long on Lake Hopatcong from the three boat ramps at Lee's County Park Marina in Jefferson Township, open through November 30 for a fee of $15/boat.
Don't own a boat? You can rent paddleboats at the lake at Silas Condict County Park in Kinnelon, available on weekends from 10:30 a.m. to 6:30 p.m., Memorial Day through Labor Day ($5 for 30 minutes).
Looking for a bit more adventure? Sign up for a special guided paddle through Splitrock Reservoir in Rockaway on July 31 hosted by Hackensack Riverkeeper, an environmental organization based in Hackensack. The paddle begins at 10 a.m. at the boat launch on the southern end of the reservoir on Split Rock Road; reservations required ($30/paddler with kayak rental; $10/paddler with own boat).
Dive In!
Morris County offers plenty of idyllic places to take a dip on hot days…
Sunrise Lake Beach Club, a sandy public beach area located within Lewis Morris Park in Morris Township, permits swimming from 11 a.m. to 7 p.m. weekends through June 27, and daily from June 28 through Labor Day weekend ($5 for adults, $4 for seniors and children 5 to 17, free for children 4 and under). Extra fun comes from the club's new Wibit inflatable water obstacle course ($3 for 30 minutes)-a circuit that features a cliff, a bridge and other features to scramble over or jump off. It's open to guests 7 and up who pass a 30-meter swim test.
You can also soak up some rays or get a swimming lesson at Budd Lake in Mount Olive. Its swimming areas are open from noon to 6 p.m. Fridays through Wednesdays and noon to 7:30 p.m. on Thursdays, June 19 through August 29 (free for Mount Olive residents, $4/day for visitors).
Gone Fishin'
Grab your rod and reel and head to one of the count's prime fishing spots…
You can snag catfish, sunfish, trout and more at Hedden County Park in Dover, which features a 6-acre lake with a fishing pier.
Set on the border of Morris and Sussex counties in Hopatcong State Park, Lake Musconetcong offers excellent year-round fishing. In the summer, catch rainbow and brook trout, largemouth bass and sunfish; in the cold months, ice fish for perch and pickerel. Park entrance fees are charged Memorial Day weekend through Labor Day ($6/car on weekdays, $10/car on weekends, $4/person for walk-ins and bicyclists).
At Passaic River County Park in Long Hill and Chatham, you can fish for largemouth bass, catfish and eel, then enjoy a snack at one of the park's quaint picnic areas.