Make your own beer
The hobby of homebrewing offers refreshment for the spirit as well as the palate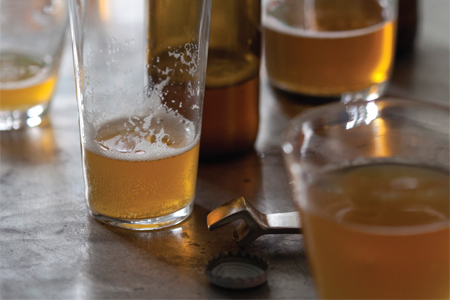 Picking up a six-pack of beer?
That's so old-school. These days, more and more New Jerseyans are brewing their own. "Homebrewing is on a steady upward trend with consistent growth year after year," says Ron Witkowski, coowner of love2brew, a homebrew supply store in North Brunswick.
"I think the interest is often sparked by a love of craft beers," he adds. "Homebrewers are a do-it-yourself kind of crowd. They are the people who enjoy home cooking, hands-on projects and making things."
Jo Ellen Ford, owner of The Brewer's Apprentice in Freehold, says there are two types of homebrewers. "There are those who brew their own beer because they can make their favorite beers less expensively," she says. "Then there are those who enjoy the control and satisfaction they get from making their own product." She notes that enthusiasts remain "young men, to a large extent," but that she sees a number of avid female brewers as well.
For any age or gender, homebrewing—like any hobby—is a natural de-stresser. It's creative: Homebrewers have the flexibility to produce any kind of brew they choose. And its practitioners say once you gather your ingredients and settle in for an afternoon of brewing, your concerns melt away.
Ready to get started? You won't need a large space or much equipment, Witkowski says. "If you get a kit with detailed instructions and follow them, you're going to make a great beer the first time. In that way, it's a very encouraging hobby." Be warned that, although good quality is easy to achieve, producing a consistent product can be challenging. "If I were to brew 10 pale ales in my home, it would be difficult to make the same exact beer twice," Witkowski says.
While homebrewing is not hard, it does take time. "You never just 'whip up a batch of beer.' It'll take the better part of the afternoon, about three to four hours," Ford says. "If you're a parent of small children, for example, you might want to brew at our facility. Then, you won't have to do anything preparatory or worry about cleaning up. It's no-muss, no-fuss, and I guarantee the product."
Indeed, brew-on-premises centers at homebrew shops are increasingly popular. They attract beginners, the time-strapped and those who prefer brewing with fellow enthusiasts. (The Brewer's Apprentice was New Jersey's first such facility; love2brew opened in 2011.)
"To brew on premises, you don't need any brewing experience whatsoever—all you need to know is what you like," says Ford, who notes that customers come in with friends or even on dates. Ford says she loves watching the dynamics among her customers who come to brew on-site. "Brewing is a great equalizer," she says. "I have men coming in from Wall Street with their wingtip shoes and men coming in with work boots, and it doesn't matter. From blue-collar to white-collar and everything in between, their common thread is that they like beer.
"They go into the bathroom, and off comes the tie, on goes the T-shirt," says Ford. "This is where work mode shuts off and personal life kicks in."
To learn more about the process, visit Corrado's Home Beer and Winemaking Center (corradosmarket.com) in Clifton, where you can get homebrewing advice and purchase equipment and ingredients to get you started. For a history of homebrewing, recipes, information about finding a local club and getting started with the hobby and more, see the American Homebrewers Association at homebrewers association.org. —PATTI VERBANAS
5 Steps to Homebrewing Success
When brewing beer at home, you will be following these stages:
Malted barley is soaked in hot water (liquor) to extract the malt sugars that it contains.
This malt-sugar solution is boiled with hops.
The malt-hop infusion is cooled and yeast pitched to start fermentation.
The yeast ferments and eats the sugars, burping out carbon dioxide (CO2) and ethyl alcohol.
Once the fermentation is complete, the beer can be bottled, kegged or casked with a small amount of priming sugar to create some secondary fermentation and thus natural carbonation.
Excerpted with permission from The Homebrew Handbook by Dave Law and Beshlie Grimes (Cico Books, 2012). cico books.com, Photography by Gavin Kingcome