Mark Pizzurro M.D., Andrew Brief M.D., Anthony Delfico M.D., Kevin Roenbeck M.D.
Ridgewood Orthopedic Group LLC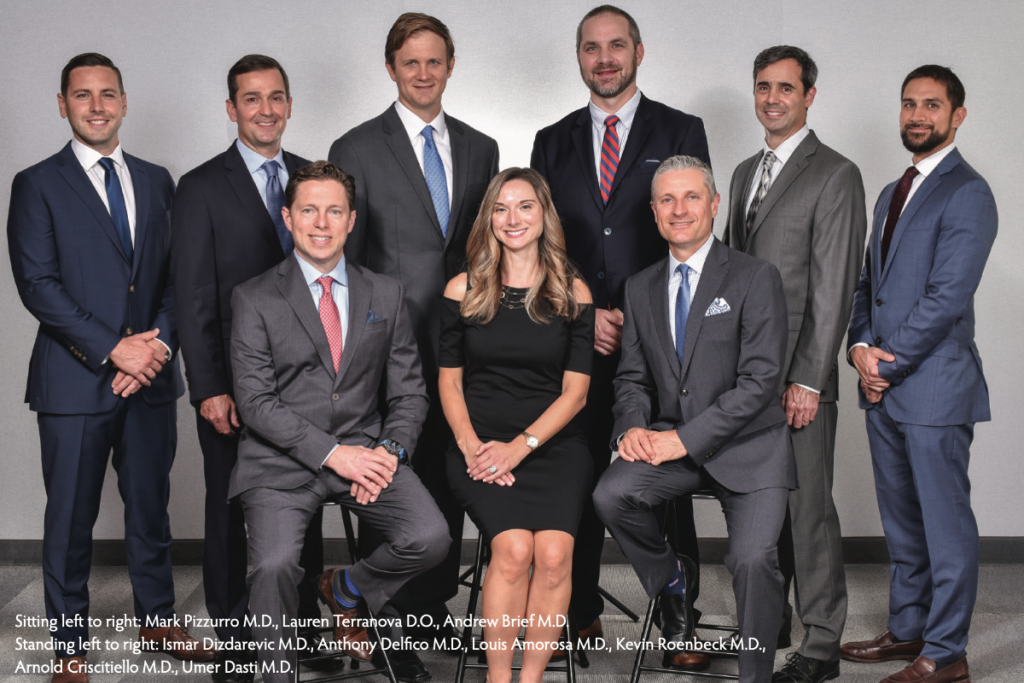 201.445.2830 • ridgewoodortho.com
Founded in 1985, Ridgewood Orthopedic Group is a full-service orthopedic practice serving Bergen County and the surrounding areas. Our practice offers patients of all ages access to state of the art, advanced medical care for all musculoskeletal conditions.
At the core of the practice are 8 board-certified orthopedic surgeons with fellowship training in the following subspecialties: sports medicine, spine, shoulder, hip & knee replacement, orthopedic trauma, wrist & hand, and foot & ankle. We are also happy to have a board-certified physiatrist with subspeciality training in pain management and the nonoperative treatment of neck and back pain.
Integral to the practice are 6 certified Physician Assistants who work closely with the surgeons to provide seamless care in the office and at the hospital or surgery center.
Our modern, recently renovated office space offers on-site parking, a large comfortable waiting room, digital x-ray, physical therapy, and most importantly friendly staff focused on making each patient visit an outstanding experience. When surgery is necessary the practice works with a network of surgical facilities to provide the best possible care in each case. The group is closely aligned with Valley Hospital where we perform the majority of our procedures and provide emergency department coverage. Our providers also have privileges at Surgicare of Ridgewood, Hackensack University Medical Center, St Joseph's Regional Medical Center, and Holy Name Medical Center.
At the start of 2021, Ridgewood Orthopedic Group joined forces with 5 other highly respected orthopedic practices in New Jersey to form Ortho Alliance NJ. As with each of these practices, Ridgewood Ortho will operate as an independent division of the larger group so that we can continue to provide the same personalized care we have always provided for our community. We look forward to the opportunities this important affiliation will bring as we move into the future.