Mark Pizzurro, M.D. • Andrew Brief, M.D. • Kevin Roenbeck, M.D. • Umer Dasti, M.D. • Anthony Delfico, M.D. • Ismar Dizdarevic, M.D. • Lauren Terranova, M.D. • Arnold Criscitiello, M.D.
Ridgewood Orthopedic Group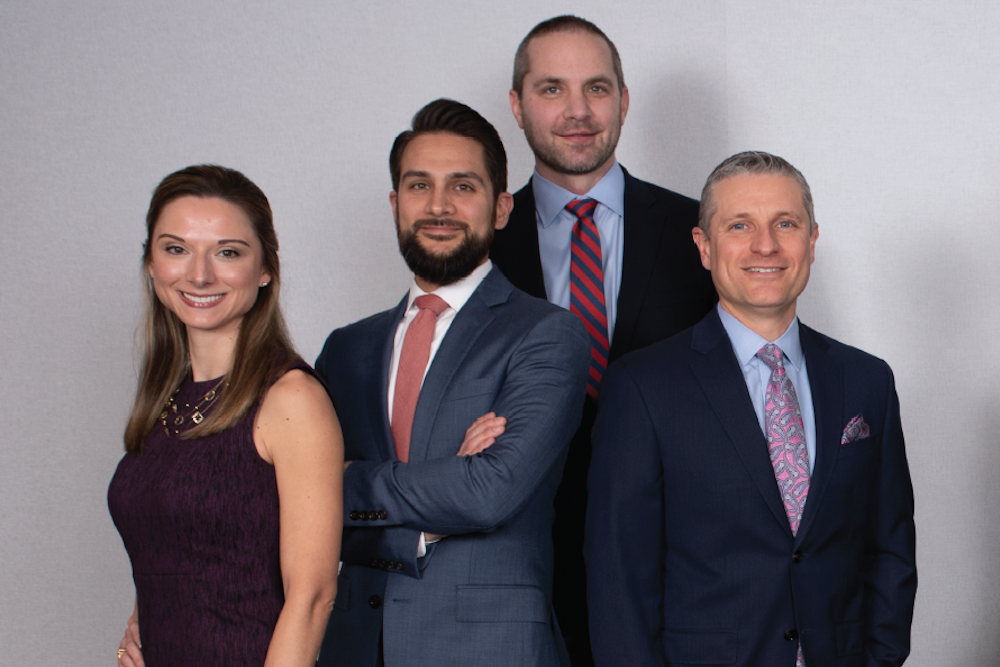 IN 1980, THE LATE DR. JOSEPH P. PIZZURRO bought a building less than two blocks from the center of town, with a vision to establish a renowned practice devoted to orthopedic medicine. Now 38 years later, Ridgewood Orthopedic Group is a multi-specialty team of seven orthopedic surgeons, one physiatrist, five physician assistants and one nurse practitioner. The group specializes in all areas of orthopedics including spine; hip and knee replacements; foot and ankle trauma and reconstruction; elbow, wrist and hand surgery and sports medicine offering patients of all ages access to technologically advanced medical care for conditions that involve sports medicine, back and neck ailments, arthritis and bone fractures.
Ridgewood Orthopedic Group is deeply committed to the advancement of knowledge especially in the field of new hip and knee implant designs and in the improvement of patient treatment protocols, all of which lead to higher quality care and the potential for improved outcomes for patients with arthritis of the hip or knee. The group helped to initiate The Valley Hospital's Robotics Program for hip and knee replacement, the first in Bergen County.
Although highly trained in their respective disciplines, each doctor focuses on the whole patient working in partnership with one another to manage individual conditions with the continual focus on getting better and staying healthy. By engaging in a joint effort approach, they cohesively address patient's needs, ensuring a full understanding of their condition and the steps necessary to live pain-free, healthy lives. The practice has initiated a campaign "Mobilizing the Community" making a big push to promote the value of exercise and movement. "Particularly in the cold weather season, people tend to want to stay indoors and hibernate," says Dr. Mark M. Pizzurro, the son of founder Dr. Joseph P. Pizzurro. "By getting people more mobile, we can enhance the healing process or better yet, decrease the odds of having them suffer from orthopedic problems in the first place." As part of the practice's "keep moving" initiative, the doctors will help lay out an appropriate exercise plan, and when necessary advocate for physical therapy as a way to make the body and joints feel restored and ready for a more active, fit lifestyle. In partnership with patients, the doctors stress physical activity as a way to strengthen bones and muscles; a key component to good orthopedic treatment.
All seven surgeons are affiliated with The Valley Hospital as well as two Bergen County surgical centers. Therapeutic injections for pain management are done in the office. "As a rule, we take a conservative approach to treating most orthopedic conditions. We often try physical therapy, injections and activity modifications before recommending surgery," explains Dr. Anthony J. Delfico, a sports medicine specialist. Our bigger goal is finding ways to manage and treat pain through lifestyle modifications and good health alternatives."
The hardworking physicians and staff at Ridgewood Orthopedic Group are a close-knit group always in sync with patients needs as well as each other's. "Our goals are simple," says Dr. Umer Dasti, a sports medicine surgeon. "We strive to provide top-notch surgical and nonsurgical care for our patients through education and strong patientphysician relationships with a mindfulness on getting patients healthy through good habits, stress management and exercise." Ridgewood Orthopedic Group will do whatever it takes to keep you active to do the things you love and lead the life you deserve.
85 South Maple Ave., Ridgewood, NJ 07450 • 201.445.2830 • ridgewoodortho.com