Marriage of East and West
A New Milford couple's Japanese-style home reflects his passion—and her heritage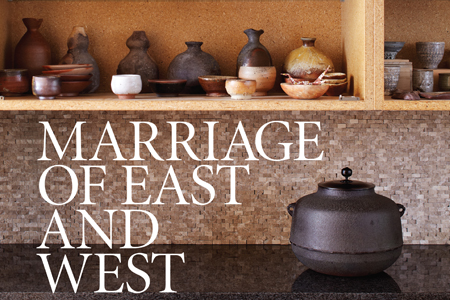 On arriving, guests are offered house slippers—and they may receive a slobbery greeting from Kina, the family's Shiba Inu. A turn to the right leads to a bright, breezy living area with Zen-like sparseness. In the connecting dining room, shelves are lined with handmade ceramic vessels for serving tea and sake. The spacious New Milford home makes a modern statement in the aesthetic language of traditional Japan.
That's natural, you think, knowing that the lady of the house, dressmaker Naoko Arcari, is Japanese-born. But for her, this home actually represents an unexpected rediscovery of her roots.
Originally from Mito, a town about 90 miles from Tokyo, Naoko was drawn to New York City's vibrant fashion scene and its celebration of diversity— a stark difference from her home country, where tradition and uniformity trumped individual expression. In 1988, she made the trek across the Pacific and enrolled at Manhattan's Fashion Institute of Technology. "I left Japan because I wanted to see another world," she says. "When I moved here, I had an instinct I'd be here forever."
"Then she met me, and that sealed the deal," adds her husband, Edward, with a laugh.
An architect from Long Island, he's had a lifelong fascination with Japanese culture and design. As a young boy, he completed one of his earliest architecture projects—a minireplica of the Ginkakuji (also called the Silver Pavilion), a Buddhist temple in Kyoto, which he copied from an image on a postcard. He met Naoko through friends, and the rest, as they say, is history.
"It figures I would come all the way here to meet a man who wants to live in Japan!" Naoko jokes. But that problem was neatly resolved when, after marrying in 1996, the pair purchased this home, where they now live with their children, Risako and Kensho. Its location reflects her dream, its design his passion.
Both Arcaris are knowledgeable guides. In the downstairs bathroom, Edward shows off the ofuro, a steep bathtub made from an aromatic Japanese wood called hinoki. "After showering, which is done at night, it's customary to soak in the tub to symbolically rinse off the stress of the day," he explains.
The home is dotted with souvenirs from the couple's annual trips to Japan to visit Naoko's family. And Japanese tradition is also represented in the outdoor tea house, located in the backyard. It took Edward three years to build this small freestanding space, which is used for performing tea ceremonies, a ritual in which a kimono-clad host offers tea and sweets to guests. The structure is composed of all-natural materials, including wisteria, bamboo, cedar and eucalyptus.
"The concept is that it should be built in a way that allows it to go back to nature eventually," says Naoko, adding that it also contains wood from a neighbor's backyard and reeds from the Meadowlands for a local touch.
According to the couple, it's rare for even the most traditional families in Japan to have a tea house on their property, and fewer than a dozen of these structures exist in North America.
Guests enter the tea house by climbing up and through a narrow, elevated opening on the side of the building. The small size of the entrance, explains Naoko, would require a samurai to remove his armor before joining the townspeople for tea. "It forces everyone to be on the same level," she says.
The couple also loves to host dinner parties, creating special meals made with vegetables plucked from the backyard garden. "Good food for us—and in Japan—is organic and locally sourced," Edward says. "We like to share fresh food, good drink and peace with our friends."
Being able to celebrate Japanese culture in her home, less than 12 miles from the George Washington Bridge, has given Naoko a new appreciation for the country she left behind.
"Now I see the beauty of Japan," she says. "When I was there, I didn't appreciate it. Being here, I know how precious it really is." -Photography by laura moss · written By liz Donovan