Mayan Magic
On Mexico's Yucatán Peninsula, the Grand Velas Riviera Maya is a feast for all the senses in a land of ancient mystery.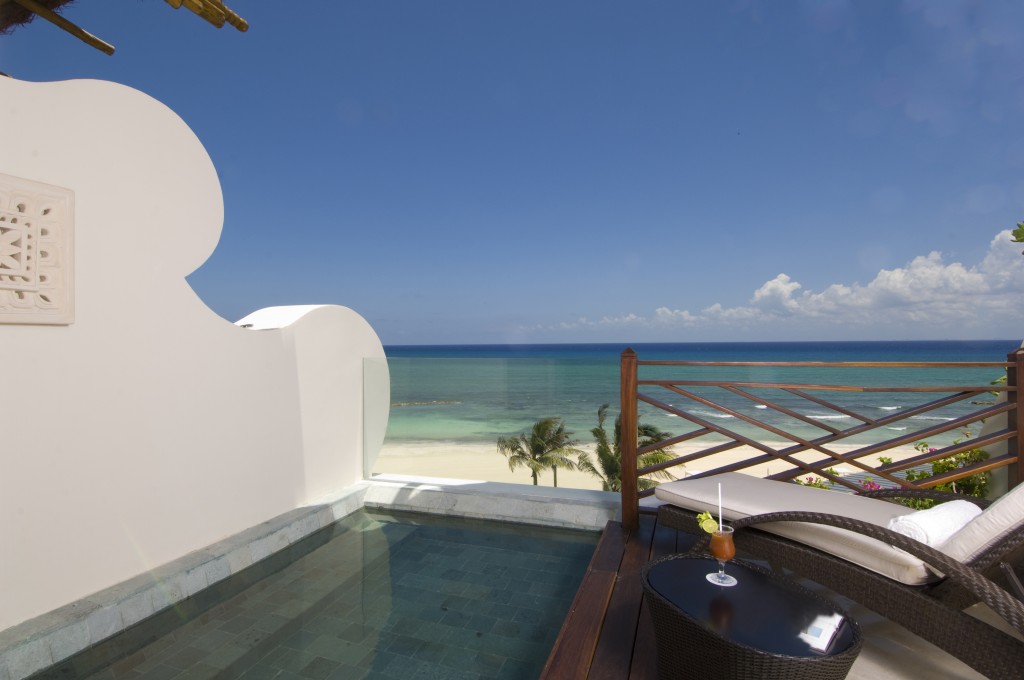 If you're the type who agrees with Teddy Roosevelt that there's nothing in life "worth having or worth doing unless it means effort, pain, difficulty," then watch out. You could overlook the Grand Velas Riviera Maya, an outpost of heaven on the eastern tip of Mexico's Yucatán Peninsula that forgot to play "hard to get." It's just a few hours by air to Cancun International Airport, then a 35-minute ride. That's it. You're there—in a breathtaking natural setting that once was home to the advanced pre-Columbian civilization of the Mayans, and in an oceanside resort of such splendor you may even forget to e-mail home.
Developed only in recent decades, Riviera Maya is a 120-kilometer "tourism district" that runs along the eastern edge of the state of Quintana Roo. And the AAA five-diamond Grand Velas is the perfect place to fall in love—if not with your companion, at least with your surroundings. Nestled suggestively between an untouched tropical jungle and blissfully uncrowded beaches of silky white sand, it features 491 sumptuous suites, each more than 1,000 square feet in size. Many suites offer ocean views, plunge pools, in-room Jacuzzis and private terraces. There's an award-winning spa, and eight fine restaurants are part of the all-inclusive plan.
To many travel-wise folk, "all-inclusive" suggests a cuisine that's merely serviceable. But don't tell that to the chef at Frida, named for the famous Mexican painter Frida Kahlo. It honors the country's culinary heritage with adventures for the palate such as tuna crusted in chili seeds and beef tenderloin in avocado sauce. And its bean soup with Cotija cheese foam, watercress and sesame seed grissini is a memory-maker for sure. Other gustatory standouts? The tapas-style tasting menu at Cocina de Autor, and the distinctive duck marinated in 10 spices at the iconoclastic, Asian-inspired Sen Lin.
"Relax, refresh, restore and renew"—that's the mantra of every spa on earth these days, but frankly, they don't all play in the same league as Grand Velas. In its 76,000-square-foot facility you'll find 40 treatment suites decorated with native artwork. There are couples' suites with hydromassage tubs, a clay room, an ice room and an "experience pool" with waterfalls, a bubbling water geyser and a pebble walkway for happy feet. Massages, body treatments, wraps and facials are on offer here, and treatment options include several inspired by old Mexico—"sacred obsidian stone massage," "coffee and cocoa experience" and "Mayan jade facial."
If you can escape the temptations of the serene beach and the sumptuous resort, there are fascinating environs to explore. The concierge will gladly arrange for you to tour the jungle in the Aktun Chen Natural Park, where you can marvel at thousands of sparkling white stalactites and stalagmites and swim in the crystal-clear fresh waters of the underground river. Venture across suspended bridges, take zip lines over jungle paths or swim in cenotes—gorgeous blue natural wells that have formed throughout this region of porous limestone. Or visit nearby Akumal, "the place of the turtles," which is highly recommended for snorkeling. Just down the road is the Sian Ka'an Biosphere Reserve, a sort of Noah's ark of indigenous flora and fauna whose name, in the original Mayan, means "where the sky is born." If you must shop, Quinta Avenida, or Fifth Avenue, will satisfy. This mile-long pedestrian promenade offers boutiques and trinket shops alike, plus bars and restaurants, including Yaxche, which features Mayan cuisine. And not far from the resort is Xcaret, an "eco-archaeological park" where you can float down an underground river while learning about the animals and history of Mexico.
Speaking of history, the Mayans, who had the only fully developed written language in the ancient Americas, left a number of architectural calling cards that will stir your imagination. The heyday of their city-centered, trade-savvy empire was from 250 to 900 A.D., years when even storied old Europe was mostly primitive. At nearby Tulum, check out the ruins of a temple-topped "castle"—and an ocean view you'll never forget. Then move on to Coba to see a 138-foot pyramid, the tallest on the Yucatán Peninsula. (Chichen Itza, the area's largest and best-preserved Mayan ruin, is a day's journey away.)
Can't do it all? Not in one trip, of course. The luxury of choosing is one of the hallmarks of Grand Velas Riviera Maya—amid many other luxuries.