Measure What Matters
Trackers just might be what the doctor ordered to help you get and stay fit.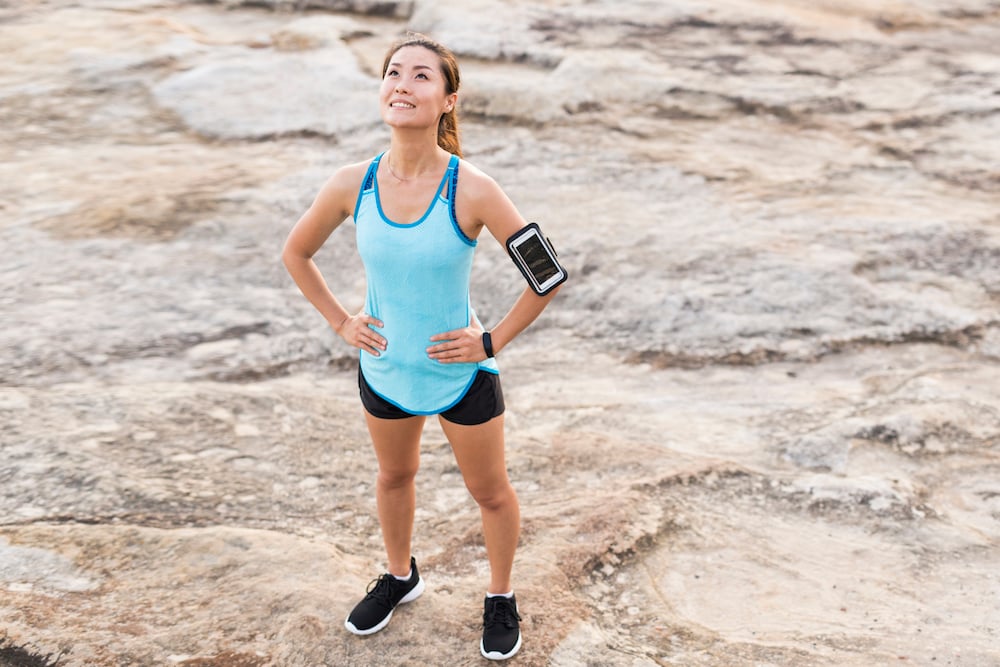 Fitness and wellness trackers are great tools to help you get serious about keeping active. Designed to be comfortable, easy to use and fashionable—most companies offer a range of bracelet styles in varying color. Fitness trackers (also called sportbands) can help you track daily and weekly activity levels and ensure your heart rate stays within a safe zone while working out.
Monitoring gadgets have graduated beyond just counting steps and tracking sleep. Today you can get data on how your body metabolizes carbs and fats, improve your posture, keep stress in check and more.
More than that, fitness trackers and wellness monitors can serve as the motivation you need to keep up your new regimen. They provide encouragement that ranges from a virtual coach who delivers voiced approval while you're exercising to game-like scoring systems that reward you for progress and prompt you to share your accomplishments with friends for positive reinforcement.
But picking the right tracker can be a bit tricky. Sportsbands come in many shapes and sizes, offer varying features and can differ in price by hundreds of dollars.
Begin by identifying the key features you want. If all you need is a device that counts your steps and tracks calories burned, you can get away with spending a lot less. If you want something more advanced—like the ability to track your jogging route via GPS without bringing your phone with you—you'll pay a lot more.
You also should consider details such as battery life—some sports-bands and trackers need to be recharged every few days; others come with a replaceable battery that can last up to a year—and the companion app that's available for your phone. Depending on how serious you want to get about monitoring and improving your performance, these apps can make a big difference. Some simply organize and present information collected by your tracker (which might be all you really need), while others provide detailed reports and in-sights on each of your daily activities, help you set long-term goals and connect you with a network of peers for extra motivation. Typically free, these apps can be downloaded in advance so you can browse their features to get a better sense of which tracker and app are right for you.
We've rounded up a handful of popular fitness trackers and wellness monitors to give you a sense of what's available. They differ widely in form and function but you can be confident that all of them are designed with one primary purpose: to help you become the healthier, fitter version of yourself that you want to be.
Garmin Vivofit 4
$80
Garmin's entry-level fitness tracker covers the sportsband basics, counting steps, tracking distance traveled and calories burned and monitoring your sleep. Its small, non-interactive color screen provides essential information, but to see more details you'll need to open a companion app on your smartphone. The Garmin's biggest selling point is its battery life—up to a year with standard use, at which point you'll need to replace a pair of little lithium discs.
Fitbit Alta HR
$100
From one of the companies credited with starting the fitness-tracker trend, the Fitbit Alta is a blissfully simple and easy-to-understand sportsband designed to gently nudge you toward maintaining a healthier lifestyle. It tracks your steps, distance traveled and calories burned, sends you little reminders to get up and move when you've been stationary too long and even tracks your sleeping habits. What's more is this Fitbit also offers continuous, wrist-based heart rate tracking. It connects to your phone, but you also can see and review key stats on the Alta's bright and clear touch display. You can expect about five days of use per charge.
Upright Go
$80
Working at a computer all day and constantly looking down at smart-phones has made "screen slouch" a common problem. Poor posture can lead to neck pain, back prob-lems, poor balance, headaches and even breathing difficulties, according to Harvard Health Publishing. This growing posture problem was the impetus for the creation of the Upright Go, a posture tracker worn on the upper back. When in training mode, the device emits a gentle buzz when you slouch. When switched into the tracking mode, Upright Go tracks your posture through-out the day through a free smartphone app, which also offers personalized posture training plan with the recommended time you should train each day to improve posture in the long term.
Lumen
$249
With just a breath, a new device set to launch in September 2019 (and available for pre-order now) can detect how your body burns carbohydrates and fat. The Lumen metabolism tracker is simple to use—you inhale, hold your breath for 10 seconds and breathe out into the wand-like device. In real-time, the corresponding smartphone app provides data on your current metabolism. The app also tracks how meals and activities from the day before are affecting your metabolism today and suggests diet adjustments you can make to achieve your goals. By understanding how your body metabolizes different foods, small changes to the way you eat can have a big impact on your weight and energy levels.
Spire Health Tags
$299
Spire Health Tags turn any garment into smart clothes. These little devices work best clipped into undergarments or pajamas and are true "Renaissance men" of health trackers. Spire Health Tags can read heart rate, tell you how many steps you took or calories you burned and break down your night's sleep by light sleep, deep sleep and REM. But, they also measure stress levels and ability to focus, providing data on both physical and mental well-being. The Spire smartphone app collects the data from the device and gives recommendations for reducing stress. These health tags don't need to be recharged—they have a battery life of a year and a half—and you can toss your clothes with tags in the laundry as you would with any washable garment.