Meet the Kiwi
It's the tasty, low-cal, vitamin-rich fruit your grandmother never heard of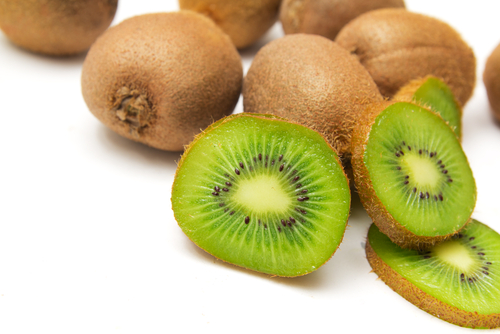 Did you know?
Native to China, the fuzzy kiwifruit or kiwi has a very short history in America. The first U.S. kiwis were planted in 1960, and it was not until the mid-'70s that the fruit started to gain national popularity. The tri-state area's climate prohibits farming kiwis; most of America's kiwi crop comes from the West Coast, but the fruit is also found in Virginia and North Carolina. Worldwide, the leading producers are Italy and New Zealand.
The fuzzy kiwi also comes in a golden form, a less tangy version of the traditionally green fruit. The green and yellow tones often get kiwis classified as a citrus fruit, but they're actually a berry.
Power
The newsletter Environmental Nutrition has named the kiwi one of the "15 super foods for super health"—and no wonder. At an average 92 calories per serving— which is approximately two medium-sized kiwis—this fruit holds double the daily recommended serving of vitamin C. That's more per size than oranges!
Kiwis are also a good source of potassium, fiber, vitamin K and actinidine, an enzyme that breaks down proteins and dairy products and promotes a healthy digestive system.
Though many people peel or scoop out a kiwi before eating, the peel is actually where most of the vitamins are found. The skin is completely edible and just needs to be scrubbed or "shaved" lightly with a peeler to remove the fuzzy hairs of the exterior.
Buy · Store · Grow
There are two ways to tell if a kiwi is ripe: scent and softness. A ripe kiwi will have a strong, tangy fragrance similar to citrus fruit and will yield to slight pressure—just squeeze it lightly between your index finger and thumb.
Once ripe, the fruit stays fresh for about nine days. It should be stored at room temperature, but harder, unripe kiwis can be kept for eight days in a refrigerator crisper.
Prepare
Kiwis have a place in any part of your daily menu. Blend one into a morning smoothie or bake them into muffins. Kiwis can also be chopped up and added to a salad, taco or kebab—even paired with lamb. For dessert, kiwis are often served in ice cream or tarts or even just dipped in chocolate.
To use as a meat tenderizer, simply lay slices on top of meat for 10 minutes. The enzymes will break down the protein and add a subtle, tangy flavor. The versatile kiwi can also be blended into a marinade.
RECIPE
Galbi Short Ribs with Kiwifruit Marinade
Courtesy of Zespri Kiwifruit
Ingredients :
2 oz. brown sugar
2 oz. soy sauce
1 oz. sesame oil
4 cloves crushed garlic
2 green Zespri kiwis
black pepper to taste
2 lbs. beef short ribs (flanken cut)
Preparation:
Blend all ingredients except beef in a blender until smooth.
Do not overpuree.
Marinate ribs in mixture four hours to overnight.
Grill to desired doneness and serve hot.
Related Read: Power Food- Oregano