Meeting the Changing Health Care Landscape
A new medical office building represents the future of medicine.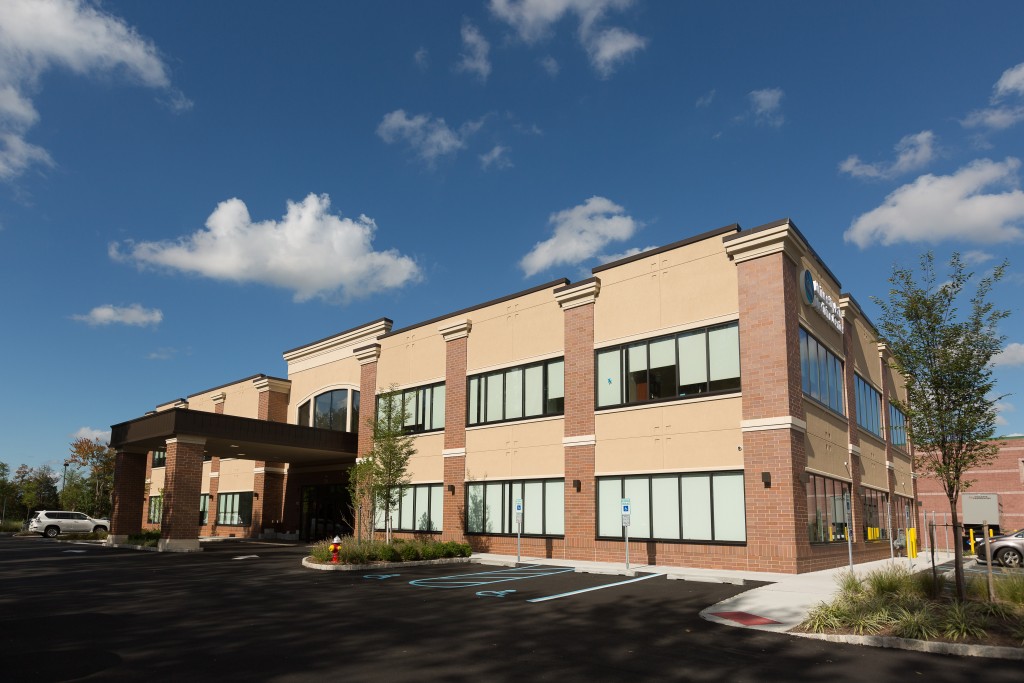 Whether you are for it or against it, the Patient Protection and Affordable Care Act—also known as the Affordable Care Act or Obamacare—has had a seismic effect on the health care industry since it became law in 2010. Its impact reaches all levels of the business and practice of medicine, but if that impact can be distilled into one overarching goal, it is in shifting health care from the so-called fee-for-service model to one that pays for overall health outcomes. Population health, as this is called in the industry, aims to achieve what policy experts call the "Triple Aim" of the new health care world: improving patients' satisfaction with their care, improving the health of populations and reducing the per capita cost of health care.
One way that the business of health care has evolved to hit those three targets is through the consolidation of hospitals and physician practices into a more cohesive network. Hospitals all over the country are acquiring practices and hiring physicians directly, in order to better coordinate care, control costs and thus meet that Triple Aim. Saint Peter's Healthcare System is no different, and as its network of physicians, called Saint Peter's Physician Associates, continues to grow. It also is expanding its physical locations to make it easier and more convenient for patients to get the care they need.
To that end, Saint Peter's recently opened its new location in the Somerset section of Franklin Township, where several practices within the Saint Peter's Physician Associates network have relocated to a newly constructed medical building at 59 Veronica Ave. This is the latest phase of its multi-county expansion throughout New Jersey.
"We are excited to continue providing the same level of expert and compassionate care the public has come to expect in a modern facility that emphasizes comfort and convenience for our patients and their families," said Michael L. Hochberg, M.D., president of Saint Peter's Physician Associates.
Dr. Hochberg, who also serves Saint Peter's as vice president, chief operations officer and chief clinical and academic integration officer, adds that this national trend of hospitals aligning with physicians has been proven to provide better outcomes. "Physicians and hospitals work together for the betterment of patient care and to avoid unnecessary treatment in the hospital," he says. Hospitals, after all, are the most expensive link in the health care chain, so better management of health conditions in outpatient settings ensures patients are less likely to spend unnecessary time and money in the hospital.
"The Saint Peter's philosophy is you will get better outcomes by having physicians more closely integrated with leadership throughout the health care system," Dr. Hochberg says. "The physicians drive the clinical processes and clinical care. Leadership's role is to provide physicians the resources necessary to perform their duties."
This philosophy has worked well, as evidenced by recent accolades that Saint Peter's has earned from two of the most trusted hospital review and accreditation organizations. The hospital was recognized for the fourth year in a row as a national "Top Performer on Key Quality Measures" by the Joint Commission, and it earned an "A" grade in the Spring 2016 Leapfrog Hospital Safety Score, which rates how well hospitals protect patients from accidents, errors, injuries and infections.
Saint Peter's Physician Associates, a multidisciplinary medical group, has been in existence about four years, as an adjunct to the physicians who held faculty positions with Saint Peter's University Hospital and also worked in the hospital. "Saint Peter's Physician Associates was formed as a way for us to better partner with our community physicians," Dr. Hochberg says.
There are 18 practices in all that comprise the group, says Michele Giuliano, senior director, physician practices. They represent all areas of health care, including pediatrics, cardiology, women's health, primary care and urgent care. "We are attempting to provide the full scope of care within Saint Peter's, so patients have an easier time navigating their care," she says.
The practices are being set up in various locations that Dr. Hochberg says represent a "big-box" model—multiple practices co-located at different sites. "Instead of having to see your primary care physician in location X, and your cardiologist in location Z, we want to bring these services to the patients and remove barriers that can exist—and have existed—in getting access to physicians," he explains.
The new location at 59 Veronica Ave. will house physicians practicing primary care, general surgery, gynecology and gynecologic surgery, and gynecologic oncology. (See sidebar for specific practices.) Other practices take up space elsewhere; a few doors down at 51 Veronica, for instance, you will find the Cardio Metabolic Institute. And another new building currently under construction in Monroe, and scheduled to open in mid-2017, will offer orthopedic, gastrointestinal and women's health (gynecologic oncology, breast surgery and infertility) services. "These are all couched in our philosophy of having multidisciplinary groups of physicians working together for more convenient, efficient and effective health care delivery," Dr. Hochberg says.
That's exactly what the ACA hoped to accomplish. "It is all designed to create an environment where we all are working together to help patients," he says. He has seen it work first-hand, in Saint Peter's diabetes patient-centered medical home. It contains medical specialists in endocrinology, endodontistry, podiatry, ophthalmology, nutrition and more, all working together to lessen or prevent the long-term complications of diabetes, such as heart disease, blindness, foot ulcers and amputations. "In that program, we have seen fewer patient visits to the emergency department and fewer admissions to the hospital," Dr. Hochberg says. Such care coordination throughout health care will be better for all. "Managing specific illnesses this way will impact the patient with better quality of life, and have a beneficial financial impact on the health care system overall," he says.
Who's moving?
The Saint Peter's Physician Associates practices that have relocated to 59 Veronica Ave. are:
Andrew Camerota, M.D., general surgery, formerly at 49 Veronica Ave., Somerset
Thomas Magliaro, M.D., gynecology and gynecologic surgery, and Marie Welshinger, M.D., gynecologic oncology, formerly at 78 Easton Ave., New Brunswick
Mahmoud El Banna, M.D., adult primary care, formerly at 1323 Highway 27, Somerset
Archna Parmar, D.O., adult primary care; Haris Rana, M.D., pulmonary/critical care; Nilam Srivastava, M.D., adult primary care; Carmen Tadros, M.D., adult primary care; and James Gaido, A.P.N., adult primary care; formerly at 408 Elizabeth Ave., Somerset
Appointments may be made by phone at the previously listed numbers or by visiting BookMySPDoc.com to book an appointment electronically.
About Saint Peter's Physician Associates
Saint Peter's Physician Associates is a network of affiliated physicians serving central New Jersey and the surrounding community in the areas of primary care, adult specialties, urgent care, cardio health and wellness, pediatrics, women's health and fertility, breast health, surgery, and orthopedics.
Physician Associates offices include locations in Franklin Township, New Brunswick, Edison, Jamesburg, the Skillman section of Montgomery, Monroe, Plainsboro, Freehold, Hoboken and Manhattan. For more information about Saint Peter's Physician Associates, go to spphysicianassociates.com
To find out more about Saint Peter's physician associates, please visit spphysicianassociates.com or book an appointment online at bookmyspdoc.com.
To share this article with a friend or to recommend it on your Facebook page, visit centraljerseyhealthandlife.com.