Mex to the Max
Here's How to Dine in Jersey as if You're Really South of the Border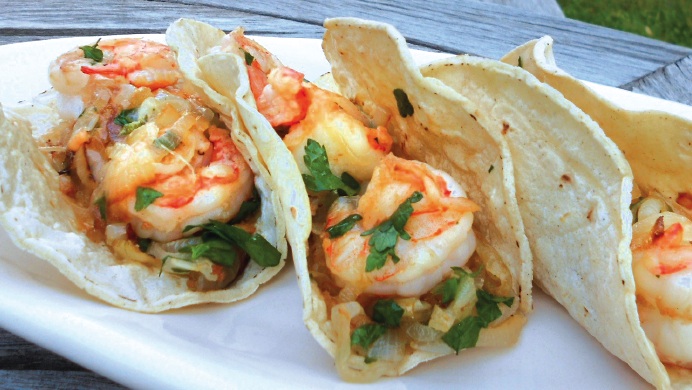 New Jersey Restaurants Offering a True Taste of Mexico
Bahia de Acapulco
Freehold, 732.303.0017
Blue Moon Mexican Café
Englewood, 201.541.0600
Woodcliff Lake, 201.782.9500
Wyckoff, 201.891.1331
Casa Maya
Gillette, 908.580.0799
High Bridge, 908.683.4032
Cinco de Mayo
Fort Lee, 201.947.4780
Costa Chica
New Brunswick, 732.545.2255
El Jose (takeout)
Manahawkin, 609.597.5099
El Meson
Freehold, 732.308.9494
El Rancho Grande
Orange, 973.678.8631
El Tule
Lambertville, 609.773.0007
Grill Poblano
Rutherford, 201.438.2111
Grub Hut
Manville, 908.203.8003
Hacienda
Paterson, 973.345.1255
La Guadalapana
Westmont, 856.858.1414
Rosa Mexicano
Hackensack, 201.489.9100
Who isn't a fan of Mexican food? It may surprise you, though, to learn that those hard-shell tacos, overloaded burritos, deep-fried chimichangas and nachos covered with a thick blanket of melted orange cheese would be unrecognizable to the average Mexican man, woman or child.
That's because they represent Americanized versions of traditional Mexican fare— sometimes even whole new genres, like Tex-Mex (hello, fajitas!) and Cal-Mex (hello, fish tacos!). There's no denying that these creations can be delicious, but traditional Mexican cooking is in general lighter and healthier, employing far less meat and cheese and lots more fresh seafood and vegetables.
If you look hard enough, you can get this sort of authentic, home-style Mexican fare in restaurants across the area. Typically it will be found in small, modest storefronts where families of Mexican heritage proudly dish up the signature fare of their homeland—sometimes even the specialties particular to their home state of, say, Puebla, Oaxaca or Veracruz. In such eateries Spanish is the primary if not sole language both spoken and on the menu, corn tortillas are hand-formed, and tortilla chips aren't put in the fryer until after you're seated.
Guacamole, often made tableside, starts with fresh, perfectly ripened avocados; taco shells come warm and soft; and white is the dominant color of cheese. Sure, service may be leisurely and cash may be the only payment option. But these places are worth seeking out in order to indulge in the delights of a varied cuisine that in 2010 was named to UNESCO's list of the world's intangible cultural treasures.
Mexican cuisine's roots go back 3,000 years to the Mayans, whose staples included the all-important triumvirate of corn, beans and chili peppers, with tomatoes, avocadoes and squashes adding variety. Starting in the 16th century the Spanish contributed rice, wheat (used for flour tortillas), almonds, pigs, sheep, goats and cattle to the indigenous gifts of turkey, wild game, fish and shellfish.
Uncomplicated but benchmark dishes of marinated and grilled seafood, vegetables and meat are easily reproducible at home, as are their emblematic accompaniments of fresh salsa and pico de gallo. They'll feature fresh chili peppers and herbs, especially bright green cilantro. The seafood will be pristine, the vegetables in season, the meat tender and flavorful—all of which signal that bona fide Mexican food should not come cheap in restaurants.
What we call Mexican-style rice for most native Mexicans evinces a red hue, from tomatoes, rather than the bright yellow stuff sometimes encountered around these parts. And while black beans are more ubiquitous in Mexican cooking, pinto beans are a hallmark of northern Mexico and so also have a place at the table. In the home country, time-consuming dishes such as tamales and complex preparations like mole sauces are saved for special occasions and holidays.
In this area, you find them on menus year-round; it's only at the "real deal" places that they are made from scratch. The good news is that the wisest families behind our state's most successful authentic Mexican restaurants diplomatically offer both kinds of fare, the traditional and the Americanized, side by side. Hacienda in Paterson is one such example. For a true taste of Mexico, try grilled salmon fillet topped with diced papaya and salsa verde, or chicken mole with a complex sauce redolent of cinnamon, cloves and sesame.
SHRIMP TACOS WITH GARLIC MOJO (Tacos de Camarones al Mojo de Ajo)
Here the shrimp is sautéed, but a warm-weather alternative is to do as they do in Oaxaca: Marinate the shrimp for about four hours in a mixture of olive oil, chilies, garlic, cilantro and salt and then grill on wooden skewers (soaked in cold water). If you sauté, a splash of tequila or mezcal added to the pan would not be amiss.
Alternatively, the tortillas can be served alongside the shrimp or eliminated altogether. Possible accompaniments include plain or Mexican-style rice, black beans and guacamole in place of the sliced avocado. If grilling, you can throw on grapefruit segments, too, which add a sweet-sour punch to the dish. And you can also employ the grill for a true Mexican street food specialty: corn on the cob grilled then sprinkled with lime juice, chili pepper and queso fresco. At Hacienda in Paterson, a version of this dish contains both jumbo and baby shrimp and replaces the serrano chili with chipotle.
ingredients
6 Tbs. vegetable or olive oil, divided
1 white onion, thinly sliced
1 serrano chili, stemmed, seeded and minced
1 medium tomato, seeded and chopped
3 cloves garlic, minced
1¼ pounds large shrimp, peeled and deveined
¹⁄³ cup cilantro, chopped
Salt and black pepper to taste
6 corn tortillas
1 lime, cut into wedges
1 avocado, sliced (optional)
Preparation
Heat 3 tablespoons of oil in a large skillet over medium-high heat. Add onions, chili and a pinch of salt and sauté, stirring frequently, until onions are a pale gold color, about 5 to 6 minutes.
Add the tomato and cook for 1 minute. Remove vegetables from the pan.
Add remaining 3 tablespoons oil to the same skillet. Add the garlic and cook, stirring, until garlic releases its scent— 1 minute or less (do not allow to brown).
Add the shrimp and cook, turning frequently, until shrimp turn bright pink and opaque, about 3 to 4 minutes.
Add vegetables back to the skillet. Stir until just heated through.
Add cilantro and taste for seasoning, adding salt and pepper if needed.
Warm the tortillas according to package directions.
While they're still pliable, divide the shrimp mixture among them.
Serve with lime wedges for squeezing over the filling, and with avocado slices, if using. Serves 3.
RELATED READ: Tempting Tequila Cocktails