Meyerson, Fox, Mancinelli & Conte, P.A.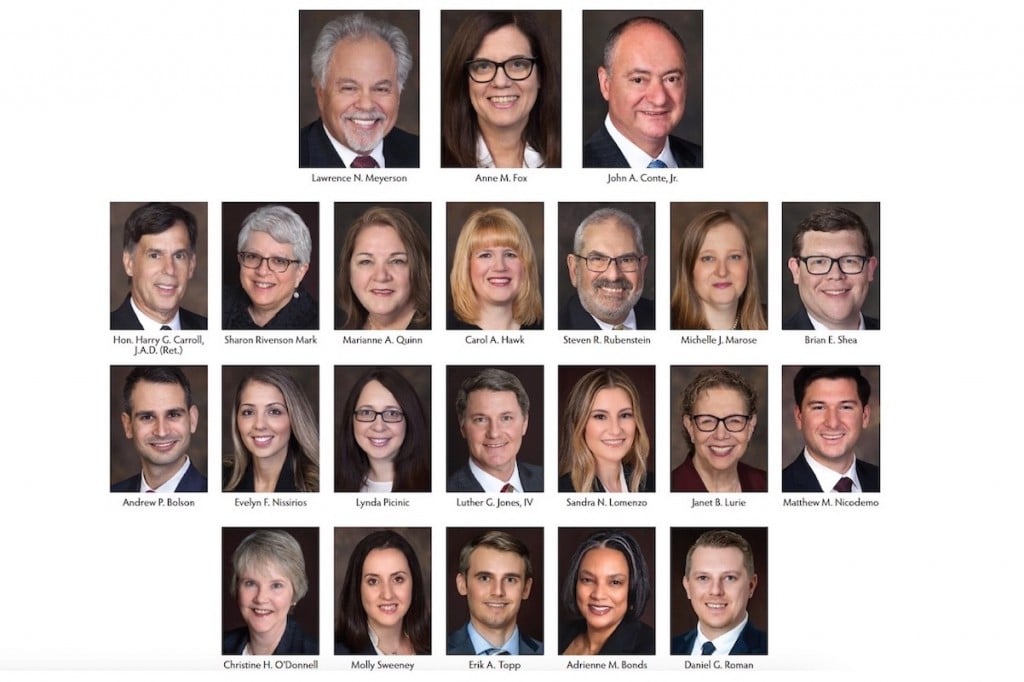 One Paragon Dr., Suite 240, Montvale, NJ 07645 | 201.802.9202 | www.mfmclaw.com
The members of the firm of Meyerson, Fox, Mancinelli & Conte, P.A., congratulate 10 of their attorneys for being named as Bergen County's Top Lawyers: Lawrence N. Meyerson, Anne M. Fox, John A. Conte, Jr., Honorable Harry G. Carroll, J.S.C. (Ret.), Carol A. Hawk, Brian E. Shea, Evelyn F. Nissirios, Janet B. Lurie, Andrew P. Bolson, and Steven R. Rubenstein.
The firm's family law department devotes their practice to divorce-related litigation, mediation and arbitration. We specialize in all matters of divorce and family law, including issues involving alimony, complex asset valuation, the distribution of business interests and all other property, child support, child custody, relocation matters and domestic violence cases.
Our elder law, guardianship law and disability law attorneys have extensive experience in Medicaid planning, nursing home planning and protecting the rights of the elderly, who may be physically or emotionally challenged. We represent individuals with special needs, including children and adults who are developmentally disabled.
The civil litigation department handles commercial litigation matters, including breach of contract cases, personal injury and construction disputes, among others.
The firm's real estate and land use attorneys handle the purchase and sale of residential and commercial properties, represent clients before land use boards with variance and development applications.
Our business law attorneys provide legal services, ranging from corporate formation, to negotiating commercial transactions, such as franchise agreements, contract issues, acquisition of commercial property, shareholder agreements, operating agreements, confidentiality agreements and employment agreements.