Midnight Soirée
Break out the bubbly and count down the minutes while noshing on these elegant appetizers courtesy of five top local chefs. Your guests will thank you.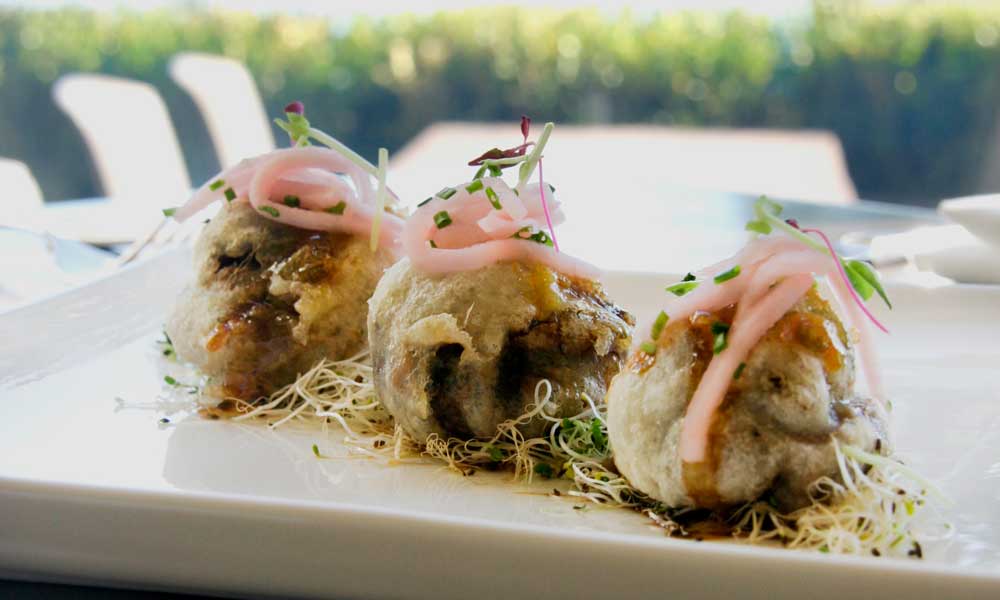 Tempura Duck Stuffed Mushrooms
Haven Riverfront Restaurant & Bar, Edgewater, Chef Ibrahim Sanz
Yield: 6 servings
Ingredients
3 cups tempura batter (see below)
½ cup sweet soy sauce
1/3 cup extra-virgin olive oil
1 small daikon radish
1 cup cranberry juice
3 pieces large duck breasts, with skin
6 large button mushrooms
2 oz. cream cheese
2 cups canola oil
1 oz. alfalfa sprouts
6 Tbs. orange marmalade
Salt and pepper, to taste
For the Tempura Batter
1 cup all-purpose flour, sifted
1 egg
1 cup ice-cold water (chilled with ice cubes)
Directions
Combine all tempura ingredients in a large bowl (be sure to remove ice cubes from water) and mix well. Set aside in fridge.
Thinly slice the daikon and add to the cranberry juice to absorb the flavor; set aside.
Clean the mushrooms. Remove the gills and stems with a small spoon. Marinate the mushrooms in sweet soy sauce and olive oil, adding salt to taste; set aside.
Season both sides of the duck breasts with salt and pepper. Add 1 teaspoon of olive oil to a sauté pan and heat on medium high. Cook duck breasts, skinside down, for 10 minutes or until golden brown, then turn and cook for another 5 minutes; set aside to cool. Chop the cooked duck breasts into small pieces and add 3 tablespoons of sweet soy sauce and salt, to taste, for extra flavor.
Remove the mushrooms from marinade and stuff each with ½ tablespoon of cream cheese. Fill the rest of each mushroom with the chopped duck breast.
Remove the tempura batter from the fridge. In a large pan, heat the canola oil on medium-high. Roll the stuffed mushrooms in the tempura batter and drop them into the oil, frying until golden brown. Remove and place on a paper towel to absorb excess oil.
Spread the alfalfa in the middle of a large plate and top with the mushrooms. Top each mushroom with 1 tablespoon of orange marmalade and sliced daikon; serve.
Red Bliss Potatoes with Caviar
Café Panache, Ramsey, Chef Kevin Kohler
Yield: 4 servings
Ingredients
8 small red bliss potatoes
8 oz. sour cream
Jar of high-quality caviar
Salt and pepper, to taste
Dill sprig (optional)
Directions
Hard-boil the potatoes for 10 minutes, then cool them in an ice bath.
When cold, cut them in half and use a melon baller to scoop out half of the potato to form a cup.
Deep-fry the potato cups until they're golden and crispy.
Season with salt and pepper to taste.
Spoon in sour cream to fill the potato cup and garnish with an espresso spoon–worth of caviar.
Top off with a sprig of dill (optional). Serve hot.
Sausage Palmiers
Chakra, Paramus, Chef Thomas Ciszak
Yield: 20 pieces
Ingredients
1 sheet puff pastry dough
1 lb. hot Italian sausage, crumbled
1 oz. butter
1 oz. flour
Coarse sea salt
Mustard of choice
Directions
With a rolling pin, roll out the pastry dough into a square about 3 millimeters thick. Flour your surface to keep dough from sticking. Refrigerate the dough about 15 minutes until chilled and firm. Spread the crumbled sausage thinly on the puff pastry with an offset spatula, leaving a half-inch on each side uncovered.
Fold two sides of the square dough towards the center so they meet exactly at the middle of the dough.
Wrap log in plastic wrap and freeze for half an hour.
Preheat oven to 450°F. Take log out and slice into ¼-inch-wide pieces. Place slices onto a baking sheet. Melt butter and brush on top of pastry. Sprinkle lightly with sea salt and bake in oven about 8–10 minutes, until golden brown. Cool on a baking rack.
Serve cold or warm with your favorite mustard.
Braised Short Ribs with Chocolate Stout
Bacari Grill, Washington Township, Chef Peter Angelakos
Yield: 12 servings
Ingredients
6 lbs. boneless beef short
ribs, trimmed and cut into 6-oz. pieces
Barbecue dry rub
6 cloves garlic, minced
2 carrots, roughly chopped
1 onion, roughly chopped
4 stalks celery, roughly chopped
2 Tbs. tomato paste
3 cups chocolate stout beer
6 cups veal stock
3 Tbs. vegetable oil
Salt and pepper, to taste
Directions
Pat short ribs dry and season with barbecue rub (or instead with salt and pepper, if desired). In a heavy pot, heat oil over moderately high heat until hot and brown ribs in batches, transferring with tongs to a sheet pan.
Preheat oven to 325°F. Add chopped vegetables and garlic to pot and cook over moderate heat, stirring, until golden. Add beer, tomato paste and stock, and bring to a boil. Season liquid with salt and pepper. Add ribs, including any juices that have accumulated in pan, and bring to a simmer.
Cover and place in oven for 1½ to 2 hours or until meat is tender. Transfer meat to a large sheet pan. Strain and simmer braising liquid, stirring occasionally, until slightly thickened. Return meat to pot and cook over low heat, stirring occasionally, until heated through.
Remove ribs and cut into smaller pieces. Serve over sautéed spinach and polenta, mashed potatoes, orzo or rice. Garnish with crispy onions and microgreens.
Sashimi on Crabmeat
Café Matisse, Rutherford, Chef Peter Loria
Yield: 10 pieces
Ingredients
½ lb. sushi-grade tuna (#1 loin)
½ lb. jumbo crabmeat, cooked
¼ cup wasabi powder
2 Tbs. mayonnaise, divided
½ bag of frozen baby peas, thawed
¼ cup dried wasabi peas
1 bunch scallions
Sesame crackers
Directions
To prep: Slice the tuna paper-thin. Julienne the scallions. In a medium bowl, add enough water to the wasabi powder to reconstitute it and form a paste. Add 1 tablespoon of mayonnaise and combine well; set aside. Then purée the baby peas and mix in 1 tablespoon mayonnaise to create a pea jam; set aside.
To assemble: Arrange 10 crackers on a dish. Roll the crabmeat in the wasabi mayonnaise mixture and then place a generous amount on each cracker. Add one slice of tuna on top of the crabmeat. Add a dollop of the pea jam on top of the tuna slices. For an added crunch, take a handful of dried wasabi peas and finely grind them; sprinkle on top. Garnish each piece with two scallion slices.